Film blog spotlight: Back to the Movies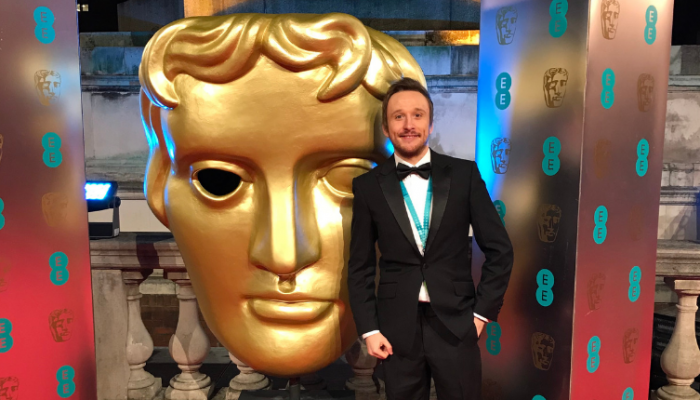 Sean Evans created Back to the Movies as a way to talk about movies in the way you would talk to your friends about them. We spoke to Sean after he was named in the Top 10 Films blogs to find out about the power of Netflix, why brand partnerships are all about creativity, and his predictions for the Oscars.
What's in store for the blog in 2019?
My aim with Back to the Movies in 2019 is to explore outside the realm of just film reviews and news pieces. I'm working closely with brands to expand awareness of their latest movie-related products and as part of my on-going partnership with The Prop Store of London. I'll be diving into the world of movie prop collecting in more detail this year. I will be recording videos and producing content talking about the hobby and how people can own their very own slices of movie history.
Aside from that I'll be attending events, premieres and hosting more competitions than ever as the blog keeps growing each and every month.
Which film are you most excited about this year?
In all honesty there isn't one film this year that I'm really looking forward to. I was speaking to someone from a studio the other day and 2019 does have titles that I of course want to see such as IT: Chapter 2, Avengers: End Game and Zombieland 2 but I can't say I'm overly excited about any of them. Roll on 2020 so I can see Bad Boys 3!
How are the likes of Netflix changing the industry?
The whole concept of having a digital media library at your fingertips still amazes me to this day. Having exclusive TV shows and original feature films on the platform is causing a stir and giving conventional studios a run for their money. Netflix are changing the way we interact with content and with further implementations could also replace a trip to the cinema. No one will choose rustling crisps, mobile phone screens, talking and distractions when they can sit at home in the comfort of their own environment with family to watch the latest films on offer.
Which films/stars will win the big five categories at the Oscars?
Best Picture – I'd love A Star is Born or Vice to Win but I think Bohemian Rhapsody will take this one
Best Director – Hoping  Alfonso Cuaron swoops this one for Vice
Best Actor - Rami Malek 
Best Actress – Glenn Close
Best Screenplay – Green Book
How does awards season affect your content and planning?
Back to the Movies is structured much differently than most film websites. I choose content I'd like to cover and products I'd like to review. A full spectrum is never covered as the people who read my content are reading my personal opinions. I'm not a huge fan of ceremonies so I just tend to focus on the individual titles and drop in a casual nomination comment here and there. When the awards have finished I'll post a list of winners and congratulations but that's about it. I only go into detail with the BAFTAs as I've attended them myself hence why I feel I should be documenting my experience/the night as a whole.
What advice would you give PRs/brands who want to work with you?
Bring me some fun things to do! Lots of creativity within campaigns and interaction with new products and features would be superb. Many PR companies used to send out goodie boxes for each film with limited edition merchandise and throughout the whole of 2018 I received nothing from PR companies in that regards only studios directly. It would be so great to have more hands-on product reviews and events to attend. It keeps me busy and saves me staring at a computer screen all day!
What do PRs do that's wrong?
PRs tend to message and ask to post for free, link to clients for free, post more of this for free. It gets real old real fast. I feel bloggers have to put a lot of work into their content and for established sites I feel PR companies could be more open to compensation. That does not necessarily mean financial compensation but even free promotional products or experiences. Just something to say thank you for the work we do for promoting your products. It's very one-sided and PRs can be very demanding when asking bloggers to work for nothing in return. I'd absolutely love just to be appreciated for the work we do and if the PR task is fun and mutually beneficial, it'll be much better received.
How do you work with different channels for the blog?
It's difficult to juggle different channels as your focus is always split. I tend to spend a month focusing on one particular channel (e.g. YouTube) and then the next month focus on Instagram and try to spread the load evenly so I have everything covered. Twitter ticks along just nicely and Facebook is just there working away in the background. I feel as though I give more attention to creating good quality content and SEO targeting as those are the channels I need. I need Google to look at my content and go "Yup, he vaguely knows what he's talking about" and as a result ranks me higher than I was at say this point in time last year.
What are the best campaigns you've collaborated on?
I created a TV commercial for Acer quite a while ago that was a lot of fun to make and last year I had the privilege of being paid to go to London to work with Sennheiser as we reviewed a binaural audio short horror film they made. This year has already started with a bang as I've been working with LEGO on reviewing some of the new range of LEGO Movie 2 products. As a 27 year old male I never thought I'd have so much fun playing with a LEGO boxset!
In addition to the above I've had the privilege of walking red carpets, meeting huge stars, going backstage at big comic-cons up and down the country so it's certainly hard to just pinpoint one cool thing I've had fun working on!
What other blogs do you read?
I read Karen Woodham's awesome film blog Blazing Minds quite regularly and a few luxury blogs who review hotels, restaurants and more which persuaded me to set up my own luxury blog called amilliondollarblogger.com after I was featured in the Amazon bestseller 'A Million Dollar Blog' which is a book celebrating financially successful blogs. That was quite a special moment in my blogging career and getting invited to fancy hotels or checking out brand new cars and experiences is pretty cool.
Who knows, maybe my luxury blog may even get on a top 10 list in the years to come!
https://www.vuelio.com/uk/wp-content/uploads/2019/02/Sean-Evans-Back-to-the-Movies.png
430
760
Christina Pirilla
https://www.vuelio.com/uk/wp-content/uploads/2019/09/vuelio-logo.png
Christina Pirilla
2019-02-06 14:24:57
2019-02-07 11:55:16
Film blog spotlight: Back to the Movies