Fitness Blogger Spotlight: Faya Nilsson, Fitness on Toast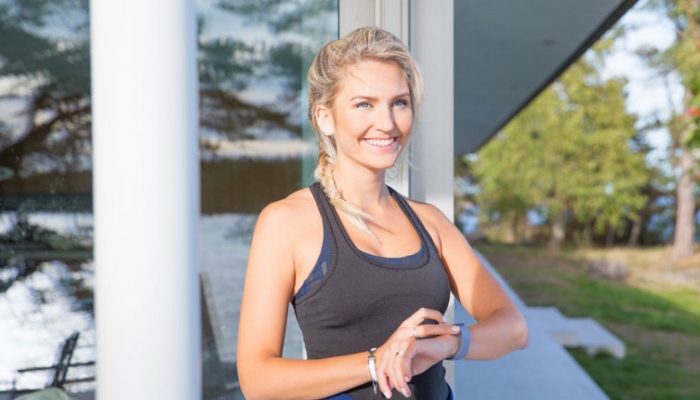 'Stay hydrated', 'invest in sleep' and 'move more' are just some of the top tips for staying in tip-top shape from blogger Faya Nilsson in today's spotlight on Fitness on Toast. One tip Faya has picked up in her time in the fitness industry that she'd advise to stay away from, though? Eating a generous tablespoon of butter every morning… Read on for that as well as more palatable anecdotes from her life as a top fitness blogger.
How did you get started with blogging about fitness?
I originally started Fitness on Toast way back in 2013 as a place to share healthy and unusual recipes, nutritional tips, and to communicate informative workout ideas with my personal training clients, as well as to style fitness fashion looks. It was a way to share a lot of the information I felt I never got the time to share in the short one-hour slot with clients. I also used to take pictures when I was abroad and was often asked about my trips (where I stayed, and how I stayed healthy while travelling, etc.) so wellness escapes and active travel grew to become a thing on FOT, somewhat before the concept was popular. It's awesome to see the world embracing fitness in so many ways.
What's your favourite thing to post about on your blog?
I genuinely think I don't have a favourite. What I enjoy the most is the variation of the different topics which often blend together – travel, fitness, fashion and nutrition. To me, that's the nature of living a perpetually healthy and balanced life, where all aspects of it are underpinned by a wellbeing ethos. That said, telling the story of great travel, on occasion, can be quite standout – writing about an exceptional trip punctuated by world-class hospitality is something that I very much enjoy.
What are your tips for getting back into an exercise routine for those who've fallen out of it?
I've written extensively about this on my blog. My top tips would be…
1) Be realistic when setting goals – realistic weekly goals, as well as a realistic deadline (e.g. a three-month window), then break it down into weekly targets.
2) Be consistent – any change takes time.
3) Nourish your body with the most delicious healthy colourful foods. You don't have to eat bland foods to get results!
4) Stay hydrated – 70% of our bodies are made up of water, so staying hydrated will make a noticeable difference after a few weeks!
5) Invest in sleep – the muscular and mental recovery will compound your ability to perform better during your next session.
6) Move more – it's not 'all or nothing', but 'as often as possible'. Take the stairs, power-walk to get your salad at lunch and just keep moving!
7) Stretch – it aids recovery, balance and releases built-up tension/stiffness.
8) Keep track of your progress – write down your workout so you don't end up doing the same weight every week.
What makes the fitness blogging community different (and better!) than others?
I can't say whether it's necessarily 'better' than other communities; all have their own flavours and purposes. I think the fitness domain comes with its own set of unique challenges. The things I like about the fitness community is it can be very encouraging in the sense that people who genuinely are interested in fitness and have worked in the industry for a while can appreciate each other's good work and spur one another on. I think it's become more welcoming and less intimidating to people who are new to the industry in the sense that people can be very open with their struggles; it is increasingly accessible, and that is increasingly aspirational for more and more people.
Weirdest fitness trend you've tried/heard about?
I haven't tried any of the super-exotic ones, because they tend to be diet-related and I like to pursue a more balanced approach. A client of mine was told to pursue the 'high-fat diet' and 'eat a generous tablespoon of butter every morning' – I thought that sounded pretty horrendous. I'd say I'm happy that some of the more extreme legging fashion trends have passed over now – mega-bold colours and over the top prints induced a sense of 'hypnotic trip' during a trip to the gym, or supermarket alike!
What are the best songs to have on your iPod to get you fired up to work out?
I LOVE Disclosure; the Settle album is still a favourite to work out to. Other than that, you simply cannot beat a bit of Taylor Swift for the spark of energy! And failing that, some classic old school Miguel Migs house will do the job very nicely indeed.
How do you work with PRs and brands?
I have an excellent agent at Storm Model Management, who acts as an intermediary for me. She and her team know the type of content I love to produce, and they help to field the outreach accordingly, which is an enormous help, as there is just too little time in the day to tackle all PR emails properly. When we decide on a super exciting project with an agency, then the fun part begins, and I love to get really hands-on at that point – that allows me to really focus on delivery on the creative side of things. Short-term or long-term partnerships – ambassadorial roles as well as hosting fitness classes. I've laid out the ways in which I work with marketers and PRs on a separate Disclosure page on my blog, which I think is an important manifesto to consider for any blogger.
For PRs looking to work with you and your blog, how would you prefer they approach you?
I would always prefer that PRs reach out via email, copying in my agent at Storm. The address can be found on my Contact page.
What other blogs do you read (whether fitness-related or not)?
I try not to read too many other blogs, as I think it's somewhat of an occupational hazard. I mainly read Swedish politics, if anything online. If not, I stick to the old school traditional paper books. That said, occasionally I'll dip into The Blonde Salad, A Blog To Watch, Sheerluxe, The Food Effect, AJ Odudu's blog.
https://www.vuelio.com/uk/wp-content/uploads/2020/02/Faya-Nilsson-Fitness-on-Toast.jpg
430
760
Phoebe-Jane Boyd
https://www.vuelio.com/uk/wp-content/uploads/2019/09/vuelio-logo.png
Phoebe-Jane Boyd
2020-02-06 12:09:22
2020-02-06 12:09:22
Fitness Blogger Spotlight: Faya Nilsson, Fitness on Toast