'Get Brexit Done': the Conservative Party Conference 2019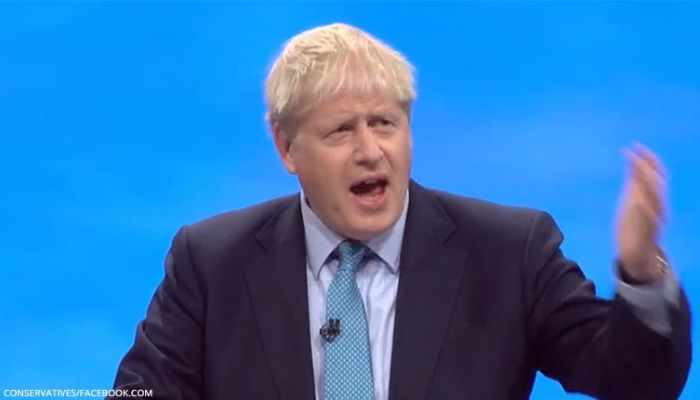 The Conservative Conference will probably be judged by party insiders to have been a success. Certainly, the feedback from delegates in the bars and fringe meetings in Manchester was one of optimism and a determination to get Brexit delivered by the end of October.
The stories about Boris Johnson's private life, either relating to Jennifer Arcuri or allegations by the journalist Charlotte Edwardes that he had squeezed her thigh at a Spectator lunch in 1999, seemed to have very little cut-through with Conservative party members and activists. They queued around the block to hear his first leader's speech and it was well received in the conference hall, even though there was surprise from the press pack that not a single new policy was actually announced, with journalist Gaby Hinsliff calling it 'a triumph of rhetoric over reality'.
It is likely that any new policy ideas are being saved for the inevitable General Election campaign or they will be unveiled in the Queen's Speech on 14 October.
Nonetheless the Prime Minister set out his vision for the UK post-Brexit with his characteristic optimism. His concluded with: 'This country has long been a pioneer. We inaugurated the steam age, the atomic age, the age of the genome. We led the way in parliamentary democracy, in female emancipation. And when the whole world had succumbed to a different fashion, this country and this party pioneered ideas of free markets and privatisation that spread across the planet.
'Every one of them was controversial, every one of them was difficult, but we have always had the courage to be original, to do things differently, and now we are about to take another giant step to do something no one thought we could do.
'To reboot our politics, to relaunch ourselves into the world, and to dedicate ourselves again to that simple proposition that we are here to serve the democratic will of the British people.
'And if we do that with optimism and confidence then I tell you we will not go wrong. Let's get on with sensible moderate one nation but tax-cutting Tory government, and figuratively if not literally, let us send Jeremy Corbyn into orbit where he belongs.
'Let's get Brexit done. Let's bring our country together.'
The conference also gave Mr Johnson's newly appointed cabinet ministers opportunities to speak from the main stage and many were impressed with Sajid Javid's authentic greeting to his mother, who was in the audience to see his first conference speech as Chancellor.
Thank you mum #CPC19 pic.twitter.com/rRPT2Xximx

— Sajid Javid (@sajidjavid) September 30, 2019
He spoke briefly in Punjabi as he addressed his mother who was in the audience attending her first ever Conservative conference. He said she had been proud when the first Asians moved into Coronation Street in Manchester 20 years ago, but now his family were the first Asians to move into Downing Street.
Another proud British Asian, Home Secretary Priti Patel also delivered a powerful address during the four-day conference, which made it clear how important restoring a sense of law and order will be to this Government, building on the Prime Minister's ambition to recruit an additional 20,000 new police officers over the next five years.
The Home Secretary set out her ambition to end the free movement of people once and for all.
She concluded her speech with this rallying cry: 'This party, our Conservative party, is backing those who put their lives on the line for our national security.
'So, as we renew our place as the party of law and order in Britain, let the message go out from this hall today: To the British people – we hear you; to the police service – we back you; and to the criminals, I simply say this – we are coming after you.'
Away from the conference hall, Vuelio hosted a panel session with Prospect magazine on how social media is changing the relationships between MPs and the public, where Nicky Morgan admitted to no longer reading her messages or notifications due to online abuse.
In another fringe meeting, the Chancellor hinted that he is prepared to look at scrapping or reforming inheritance tax as he 'understands the arguments against that tax'. Principally, these are taxing the value of someone's money, property and possessions upon their death, when they have potentially already paid tax on it during their lifetime.
Also briefly dominating the conference media coverage on Tuesday was the altercation that took place in the International Lounge within the conference centre's secure zone involving a senior backbench Conservative MP.
Sir Geoffrey Clifton-Brown was asked to leave the conference after he tried to enter a room with a guest without the relevant pass. He described the incident as 'a minor verbal misunderstanding'.
The fracas resulted in a lockdown of part of the Manchester Central Convention Centre. The MP later apologised unreservedly, and a Conservative party spokesperson said: 'The incident was totally unacceptable'.
Within hours of the conference concluding, the media discussion was dominated not by the PM's speech, but by the release of his latest proposals to leave the EU with a deal. We await to see how they proceed and when MPs might get a vote on these proposals, possibly before or more likely after the EU Council meeting with a potential crunch Saturday sitting on 19 October.
While this is also the final day for a formal extension to be made to the EU to ensure the UK doesn't leave on a no-deal basis, we are very unclear as to how the Government will proceed with this given they repeat that they will comply with the law but also that the Prime Minster has absolutely no intention of asking for such an extension.
The Vuelio team spent the week in Manchester and have put together a Canvas highlighting key speeches, fringe coverage and the top media reaction.
https://www.vuelio.com/uk/wp-content/uploads/2019/10/Boris-Johnson-CPC19.jpg
430
760
Vuelio UK
https://www.vuelio.com/uk/wp-content/uploads/2019/09/vuelio-logo.png
Vuelio UK
2019-10-04 12:35:52
2019-10-24 15:59:05
'Get Brexit Done': the Conservative Party Conference 2019