Global PR industry profit expectations are almost 50% higher than last year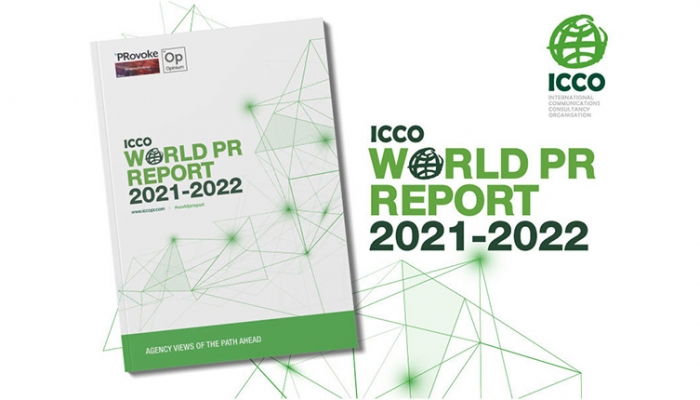 The International Communications Consultancy Organisation (ICCO)'s World PR Report for 2021 – 2022 shows expectations of high profitability for the industry as well as great positivity for the future.
Produced in partnership with Opinium, the trends, opportunities and ongoing issues highlighted in the report include the impact of the pandemic, mental health, technology, the decline of AVE as an important metric and the growing importance of reputation and CSR.
Key findings from the report include:
– 79% of practitioners cited the pandemic as having an impact on their agency's client fee income over the last year
– Agency heads pinpoint corporate reputation, purpose, CSR, and strategic consulting as potential high growth trends over the upcoming five years
– Formal mental health and wellbeing support for staff is only offered by 48% of global firms
– While the industry continues to search for new and meaningful metrics to measure success, global AVE usage is on the decline
– The most important technology for PR organisations in the future is Artificial Intelligence, according to report respondents
– Retaining top talent is the biggest industry challenge, according to 52% of respondents
– PR leaders polled in North America, Eastern Europe and Africa had the highest levels of agreement on the difficulties in differentiating between fake news and accurate information
When it comes to recovery following the devastation of the ongoing pandemic, results revealed in the report are good. Expectations of future profitability are particularly high in the United Kingdom, North America and Asia-Pacific, with 95% of all respondents expecting an increase in client income – a rise of 50% from last year's report. In terms of optimism for the growth of the public relations market, the global average among PR leaders was 7.3 in a 10-point scale.
Where this growth could be triggered, according to respondents responsible for making the big decisions across our industry – IT and technology, healthcare, and financial and professional services. Among these areas of opportunity, the online needs of clients are a main consideration – three of the top four areas PR firms are planning to invest in are digitally-focused (social media management, multimedia content creation and influencer communications).
'The numbers within this year's ICCO World PR Report show a resurgent industry, growing again, and having proved that its fundamentals were absolutely sound,' said ICCO chief executive Francis Ingham. 'They also show an industry that continues to have the best of both worlds -old school skills are still heavily in demand, but insight, corporate reputation management, and strategic counsel continue to power ahead.
'Against the backdrop of such positive news, it is of course important to be realistic. Challenges of ethics, fake news, talent, mental health and diversity remain.
'While our industry is recruiting again at scale, there will be practitioners reading this report who lost their job and who are yet to find a new one; agency owners and managers whose agencies didn't make it; people who have been scared mentally by this period. But to them, I would say that I hope the picture painted here provides grounds for optimism about the future.'
Find more information about ICCO's World PR Report, and download the findings, here on the PRCA website.
Planning for a successful 2022 in comms? Check out how Vuelio's Insight and Stakeholder Management services can help you.
For more data on this year in PR, and what's coming up in 2022, read our overview of the latest UK PR and Communications Census from the PRCA.
https://www.vuelio.com/uk/wp-content/uploads/2021/11/ICCO-World-PR-Report.jpg
430
760
Phoebe-Jane Boyd
https://www.vuelio.com/uk/wp-content/uploads/2019/09/vuelio-logo.png
Phoebe-Jane Boyd
2021-11-17 10:01:18
2021-11-17 11:01:47
Global PR industry profit expectations are almost 50% higher than last year