GTA V and James Bond rescue UK's entertainment retail
Grand Theft Auto V, Daniel Craig as James Bond in Skyfall and FIFA '14  attracted enough takers in 2013 to pull the UK's entertainment sector out of the doldrums.  According to preliminary year-end figures released by the Entertainment Retailers Association (ERA), UK's entertainment retail grew for the first time in five years in 2013 thanks to an uptake in digital products and services. 
The music, video and games market pegged at £5.4bn in 2013, depicts a 4% rise from 2012 when it was worth £5.1bn.
The sales figures reflect the overall shift in content consumption patterns with digital categories leading the growth for the entertainment sector.  According to ERA, subscriptions on Netflix, Amazon's LoveFilm and downloads on Apple's iTunes grew by 40.2% to reach £621.4 million. Music streaming via the likes of Spotify, Deezer, O2 Tracks and bloom.fm, grew by 33.7% to £103 million. Meanwhile, digital games, which covers mobile gaming as well as PC and console downloads, grew by 16.4% to £1.18bn.  
The biggest-selling individual entertainment title was Grand Theft Auto V while the best-performing physical formats were Blu-ray video up 10% to £251.8 million and vinyl albums whose sales more than doubled (up 101%) to £14.6 million, the release said.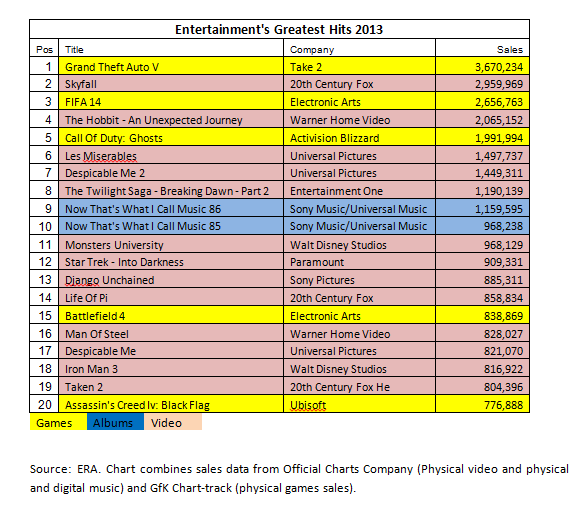 ERA director general Kim Bayley was quoted saying: 'This is a stunning result after at least five years of decline. Retailers have invested hundreds of millions of pounds in new digital services and these numbers suggest the public is responding in their droves. New technologies have historically presented challenges to the entertainment business, but these results show how our members are helping music, video and games companies find new markets.'
Priyanka Dayal
https://www.vuelio.com/uk/wp-content/uploads/2019/09/vuelio-logo.png
Priyanka Dayal
2014-01-02 12:53:08
2014-01-02 12:53:08
GTA V and James Bond rescue UK's entertainment retail