Helping out with eating well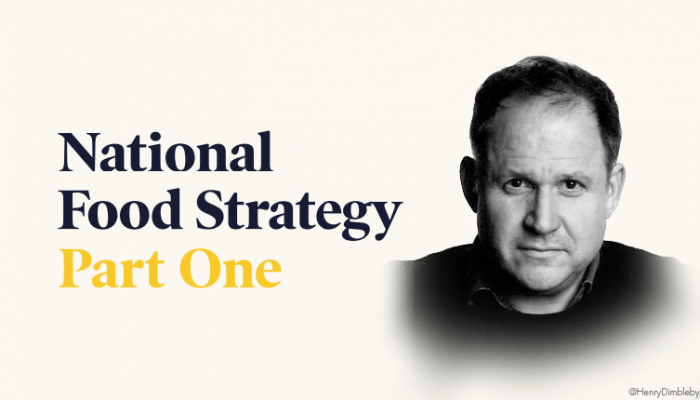 Today sees the publication of Part One of the National Food Strategy, written by Henry Dimbleby [pictured], son of broadcaster David Dimbleby, but, more relevantly, founder of the restaurant chain LEON. The report was commissioned by Michael Gove during his tenure as Environment, Food and Rural Affairs Secretary, but its scope goes well beyond that department's powers.
Today's instalment focuses on two highly topical issues – food poverty, which has gained a new salience in light of the economic ramifications of the COVID-19 crisis, and food standards in new trade deals, already the subject of great political dispute.
Indeed, these pressing circumstances have changed the report's schedule. Part One had originally been envisioned as a diagnostic document, with proposals for reform of the UK food system to follow next year; instead it now makes a series of urgent recommendations, though a full strategy is still scheduled for 2021. The rapidly changing circumstances have also led to revisions to the report right up to its publication – recommendations on advertising of unhealthy food were excised after the Government unilaterally announced them on Monday as part of its obesity strategy.
The report therefore fits nicely into the wider discussion about ensuring that the UK builds back better after the pandemic. As it identifies, 'in the age of COVID-19, a poor diet is almost as great a threat to life as cancer or old age'. Dimbleby explores a wide range of aspects that have led to poor diets: 'individual', in which he splits the population into six groups with shared characteristics; 'social', noting that the UK doesn't put as high a social value on food as other European countries; and 'material', claiming that the free market is 'the single most important force that shapes our food environment' and outlining the factors that drive companies to produce and market unhealthy food, using Marks and Spencer's Percy Pigs as an example.
The complexities of the food system are well demonstrated by even the limited number of recommendations that Dimbleby makes at this stage, crossing a number of different policy areas.
Reflecting on the need for an increased 'nutritional safety net' for children given the impact of COVID-19 on employment, he calls for the expansion of Free School Meals provision and the Holiday Activity and Food programme (both Department for Education schemes), increased value and eligibility of Healthy Start vouchers (a Department for Health and Social Care measure), and an extension to the work of the Food to the Vulnerable Ministerial Task Force (which is led by the Department for Environment, Food and Rural Affairs but also involved the Ministry of Housing, Communities and Local Government and the Department for Work and Pensions).
Turning to Brexit, his recommendations cross the responsibilities of both DEFRA and the Department for International Trade. He rejects the 'globalist model' of trade, insisting that the UK should have 'lines we will not cross' and that 'standards are not the same as protectionism'. Under his approach, the Trade and Agriculture Commission would set core standards on animal welfare, the environment and climate, and the Government would only agree to cut tariffs on products that meet these, with verification programmes to prove that foreign producers are doing so. There would also be improved scrutiny of trade deals, with statutory duties to commission independent reports and to give Parliament enough time to examine proposed agreements. He also calls on the Government to 'be bolder' and 'go faster' with its new Environmental Land Management scheme.
The challenge for Dimbleby now will be to put together a comprehensive set of recommendations, drawing together all these different policy streams to create an all-embracing vision for the future of the British food system. But the real challenge isn't Dimbleby's at all – it's the Government's, both in choosing how to respond to his initial recommendations, but also in ensuring that his final report is acted on, and the UK builds the 'healthier world' he calls for.
Need policy monitoring or political support? Find out how Vuelio can help. 
https://www.vuelio.com/uk/wp-content/uploads/2020/07/National-food-strategy.png
430
760
Thomas Stevenson
https://www.vuelio.com/uk/wp-content/uploads/2019/09/vuelio-logo.png
Thomas Stevenson
2020-07-29 15:21:30
2020-07-29 15:21:30
Helping out with eating well