How Heathrow used an integrated campaign to win its third runway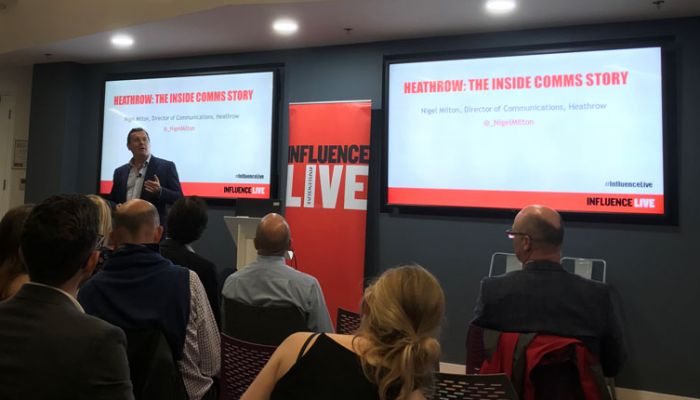 Nigel Milton, director of communications at Heathrow Airport, recently spoke at the CIPR's Influence Live event and explained how the airport went from being called 'Heathrow Hassle' to having its third runway approved by Government.
Heathrow airport is the busiest in Europe, with some 78 million passengers passing through it in 2017. It's also recently had plans for a third runway approved – fulfilling the UK's need for increased air traffic capacity.
But getting to this point wasn't an easy journey; while a third runway was initially supported by Gordon Brown's Government in 2009, the policy and politics all changed when the coalition Government came to power and immediately scrapped it.
Milton told Influence Live that when he joined in 2010, the airport already had the reputation of a 'national embarrassment', with 'Heathrow Hassle' in the lexicon. This made finding political supporters almost impossible.
So, how did they manage to turn it around? With the help of an international event, the London Mayor and an integrated campaign like no other.
In 2012, London hosted the Olympics and Heathrow became the official airport of the games. For Milton, it was an opportunity to reset the dial as the Games could effectively make or break the airport's fortunes. In Milton's own words, they 'nailed it'.
Part of the success was leaving nothing to chance. Not only did Heathrow prepare for the oddly-shaped luggage carried by international athletes (oars, bikes, racquets etc), it also increased spending on toilet maintenance because, bizarrely, the number one factor that makes a difference to someone's opinion of an airport is the cleanliness of the toilets.
Major incident-free, the London Olympics were a huge success for Heathrow and, what's more, the Government had changed its position on the need to expand UK airport capacity. This policy reversal was, in no small part, thanks to the London Mayor at the time, Boris Johnson.
While Johnson may have more recently been elected as MP for Uxbridge and South Ruislip with the promise there would be no third runway at Heathrow, he was at the time considered the airport's champion politician – Milton said, 'Without Boris, we wouldn't have secured a third runway'. Johnson had argued that London needed more airport capacity, favouring the creation of an island in the Thames. While this wasn't realised – his desire for more capacity was and so the long road to an extra runway began again for Heathrow.
The success of the Olympics put Heathrow in a strong position for its runway plans, as it could now trade on its national and international reputation of excellence, making it the frontrunner for expansion.
Milton's approach was two-fold, a public relations campaign was designed to bring everyone, from its staff and local residents to Scottish businesses, on board and a public affairs campaign to gain political support.
The airport's four business priorities were at the centre of its PR campaign:
Mojo – getting staff onside by making the airport a great place to work and risk-free when increasing staff numbers
Service transformation – proving it can deliver the best service for passengers and airlines
Beating the business plan – staying ahead of its plans so it could meet deadlines and expectations
Sustainable growth – working with local communities to impact them negatively as little as possible and positively as much as possible
The campaign was complex, with thousands of stakeholders to be considered, influenced and managed. It required a national strategy, and the airport reviewed both passenger and freight journeys, so it could prove that it wasn't just London's airport, but Britain's airport. It got Scottish business to back the plans, explaining the benefits locally because, Milton explained, 'My accent saying Heathrow expansion is good for Scotland, in Scotland, means nothing compared to a Scottish accent saying it'.
The PR fed into the public affairs, Heathrow using the wins up and down the country to gain additional political support. It also polled politicians to show MPs they were not alone in their support. With a comprehensive integrated campaign that took everything into consideration, Heathrow was successful and a third runway has now been approved.
But the challenge isn't over yet, as Milton is all too aware. When Vuelio asked if he was planning for a change in Government, Milton responded that yes – administrations and policies change and Heathrow was still preparing for every eventuality.
Do you want to run successful campaigns that combine public relations and public affairs? With Vuelio, everything you need is in one place, on one platform. Find out more.
https://www.vuelio.com/uk/wp-content/uploads/2018/09/Heathrow-influence-live.jpg
430
760
Jake O'Neill
https://www.vuelio.com/uk/wp-content/uploads/2019/09/vuelio-logo.png
Jake O'Neill
2018-09-17 11:56:02
2018-09-17 11:56:02
How Heathrow used an integrated campaign to win its third runway