How to win PR awards, with Taylor Herring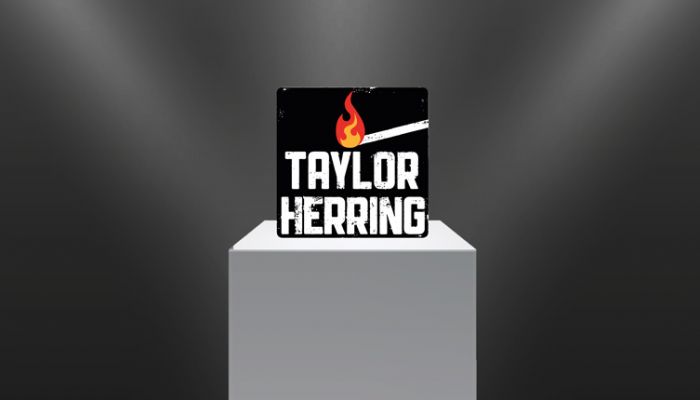 Taylor Herring is a multi-award-winning agency, known for disrupting the news cycle and getting its creative campaigns onto the front pages. Whether its Greggs' Gregory and Gregory or Samsung's QuickDrive, Taylor Herring's work pushes boundaries and the agency is reaping the rewards.
Here, co-founder James Herring tells us what it takes to win awards including PR Week's Agency of the Year and Campaign of the Year, and the Drum's Best PR Strategy.
Taylor Herring has won a lot of awards (49 since 2014!), what's behind the success?
Creativity. Creating a work culture that thrives on bold and brave ideas to solve client problems. With no risk, there's no reward.  This only comes by having client partners that are prepared to do things differently and take a few calculated risks.
For example, last year Greggs came to us and said, 'We've had a balanced choice range for the last three years but no one knows about it because ultimately our steak bakes and sausage rolls are so famous they drown out the conversation about the rest of the range.'
We needed to find a radical idea to get the balance choice range front and centre, so we pitched Greggs the idea of putting four people on a Greggs-only diet, for one month, eating just from the balance choice range (but with a sausage roll and doughnut treat once a week). It was a reverse Morgan Spurlock Super Size Me idea, and, to their credit, Greggs took very little persuading. Recently we took Greggs undercover at a gourmet food festival, under the name Gregory and Gregory, to promote their salad range and in the immediate aftermath, sales of the featured product line rose by 200%.
I'm also really proud of the work we have done for Samsung. They take an 'agency neutral' approach to where ideas come from and, as such, alongside our PR work we are now making TV ads, cinema spots and designing billboards. Last year, we pulled off the UK's longest-ever TV commercial. It featured a locked-off shot of a washing machine drum in a homage to slow TV. The follow up was to commission Hollywood pianist Michael Nyman to compose a 72-minute score for a wash cycle – and then stage a West End premier of 'Washing Machine The Movie.'
The same with Pimm's. We run an efficient press office but as their lead creative agency we also produce all the content for their social media channels and their digital outdoor.
Another example is easyJet, who wanted to raise their family-friendly credentials. We did a piece of research that revealed the number of children reading books on holiday was at an all-time low. So, we turned an entire fleet of planes into 'flybraries' by putting 7,000 children's book onto planes – turning them into holiday lending libraries. A purposeful campaign loved by flyers and the media, which has helped drive brand love and sales to that distinct audience.
Campaigns that come from the heart rather the head are the ones that win awards.
Campaigns that come from the heart rather the head are the ones that win awards. It's a question of finding the right clients to go on that journey with you.
Do you ever turn clients down?
Yes, all the time.
We did a big piece of work last year into who our sweet spot client was. I think most agencies can relate to the fact that you waste a lot of time on pitches you should never have got involved with in the first place. Cash-grabbing short termism is a distraction.
We looked back at the pitches we didn't win from the previous 12 months and the types of client they were and saw a pattern. The sweet spot for a Taylor Herring client is a 'bold, enlightened challenger'. They need to have that same fire in their belly that you'd expect to see from a start-up. They want to stand out within their category and to do things differently. When gauging if the client is the right fit, we're looking for evidence of a disruptive passion that runs right through the business from the CEO down. Sometimes the PR department are desperate to shake things up – but there might be some conservative voices in the c-suite who just don't get the value and power of earned of media.
Is PR doing more work for brands than before?
Yes – I think we're living in a golden age of PR. The advertising industry is under so much pressure from technology that's cutting out ads; 90% of people fast forward through TV commercials, 25% of us have an ad blocker on their phones. It's becoming harder to reach people with interruptive advertising.
Also, the emperor's new clothes of the paid influencer, which lasted all of 18 months, is over, thank god. People have realised that lobbing £30K at a YouTuber to say, 'wow I love this lipstick' just doesn't cut it any more. It's bad for consumers and bad for the brand. The news media will always be the most valuable of influencers because they apply the all-important credibility filter to brand communications. If you're going to work with social media stars – they need to be fully immersed in the campaign and 100% credible. Otherwise, save your money.
I suspect the ad industry will raise their game and get better at PR because they have to. I read an opinion piece in Campaign magazine from a top ad exec saying: 'what's the point of doing a campaign if it doesn't cut through the news cycle?' That's what the PR industry has been telling the marketing industry for the last hundred years! We've always been the best story-tellers. If you can make it entertaining and interesting, put a smile on people's face or open their eyes to seeing the brand in a different light, it delivers.
There are two great expressions I've heard from features departments that sum it up. The Sun's features department says when they're deciding if a story is good enough to run, it needs to pass the 'F*ck me Doris' test. It's based on two archetypal Sun readers, Mr and Mrs Smith let's call them, and Mr Smith is reading a feature in the paper and says, 'F*ck me, Doris, have you seen this?'. I love that.
The Daily Telegraph features department calls that their 'marmalade dropper' moment, which feels quite appropriate for the stereotypical Daily Telegraph reader; the vicar or headmaster splutters reading a story while their toast and marmalade goes all down their front.
Is that the approach that makes Taylor Herring successful?
Very much so. Our challenge is to deliver a story that makes a news editor, features editor or special correspondent say, 'people are definitely going to share that' or, 'that's going to drive online conversation and comments'. And we're definitely getting better at it.
If you do a campaign that does well, the phone rings off the hook for the next week because people will want to reach the people who did it.
Good work delivers more clients.
We haven't ever cold called for clients in the history of Taylor Herring because doing good work brings success.
James Herring also spoke to us about how to break the news cycle and why he purchased top PR blog, PR Examples.
https://www.vuelio.com/uk/wp-content/uploads/2018/06/Taylor-Herring-Awards.jpg
430
760
Jake O'Neill
https://www.vuelio.com/uk/wp-content/uploads/2019/09/vuelio-logo.png
Jake O'Neill
2018-06-11 10:51:10
2018-06-11 10:59:54
How to win PR awards, with Taylor Herring