The UK's Top PR Blog, PR Examples, has a new owner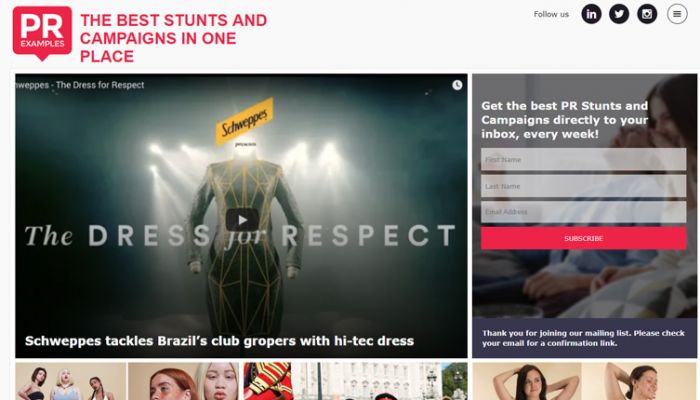 PR Examples was created in 2011 by Rich Leigh, and will be familiar to the industry for listing the best examples of creative PR stunts, campaigns and events. It has also topped the Top 10 UK PR Blogs several times and was recently a finalist at the Vuelio Blog Awards 2017.
In January, Rich sold PR Examples to James Herring, who is the co-founder of top PR agency Taylor Herring. We caught up with James to talk about the agency, which you can read here, as well as Taylor Herring's acquisition of the top blog in the UK. He told us about the blog's rebrand, the problem with car and perfume ads and how he sees PR Examples evolving.
What drew you to PR Examples?
I've always been a fan of PR Examples, in fact a week or so before it went live, I launched a Tumblr site, called Stunt of the Day, which did kind of the same job. Rich Leigh, who has become a pal of mine, called me up and said, 'You won't believe it but I'm literally on the brink of launching PR Examples!'
We both had a keen, geeky, likeminded interest in collecting up great brand work and curating it somewhere. A place where anyone working in comms can dip in to see how different brands are using creativity to land a message or solve a client problem. Rich got in touch at the back end of last year and said, 'I think it's time for me to move on' – his agency has been going from success to success – and for us it was a bit of a no brainer really.
Big credit to Rich for building the foundations of a resource that's well-used by agencies and in-house teams.
How was the rebrand gone?
The rebrand seems to have gone down well; we modified the logo and some parts of the site – mostly we focused on making it fully responsive so it would work as well on mobile as it does on desktop.
We also paid some attention to the newsletter and had a growth spurt in the newsletter subscribers; we're now approaching 7,000 which is encouraging. Plus, we have around 60,000 unique readers a month.
Not everyone in the industry is going to be interested in the type of content that's on PR Examples, so if you work in City PR it's probably not for you and if you work in Internal Comms you probably have other challenges. We know we're not for everyone but it's a fun project.
As an agency, we've always started the morning by saying, 'Who's seen something good?' and in our morning paper review, we've always been spotting work, campaigns and ideas that might inspire and fuel what we do. It wasn't too much of a stretch to turn that into a quick 200-word blog to share with our readers.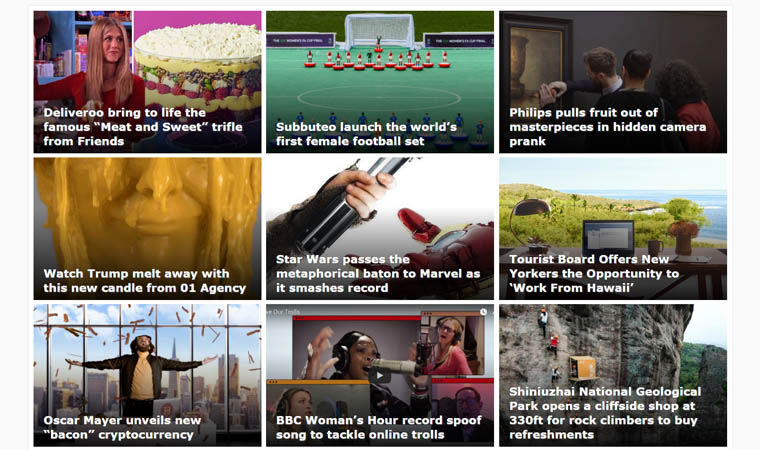 In terms of the content and contributors, have you changed anything?
Rich is still one of our contributors, though he hasn't actually been very active of late so I need to name and shame him for that! There are three or four people at Taylor Herring who are regularly blogging at the moment. We change the team working on it from time to time, but we're also talking to other agencies to get them involved as well: W Communications have put two people forward, as have Frank and Premier.
The end goal would be to have a regular team from a broad range of disciplines and sectors who were regularly contributing. Our next challenge is to index the work so people can easily find stuff. So, if you work in retail and you want to see what creative campaigns supermarkets have done of late, it would be easy for you to find them.
We came up with a groanworthy word for this the other day – a 'Newseum' of great creative campaigns.
Ultimately, the thing that makes the work that appears on PR Examples different to what you may see on other trade sites is that it has cut through into through the news cycle or generated good engagement on social.
So, it's definitely not about beautiful car adverts, which – along with perfume ads – are the worst kind of advertising there is in my opinion.
Why?
OK this is a generalisation but there's no innovation in car and perfume ads. They live in a weird, vapid, self-obsessed world that is of no interest to anyone but themselves.
We're interested in campaigns that have cut through into the news cycle and have got people talking. We're looking for something that's different or surprising.
Have you got an example?
One of the Chinese National Parks put a shop halfway up a climbing wall on a mountain, which someone from the agency spotted in Metro and asked, 'Do you think it's a PR stunt?' And it was! And, even better, no one had spotted it for that. The story had a mountain, rock climbers and a shed bolted to the cliff face where you can purchase bottle of water or energy bar. A lovely creative idea and that's what the site's about. Celebrating cool ideas.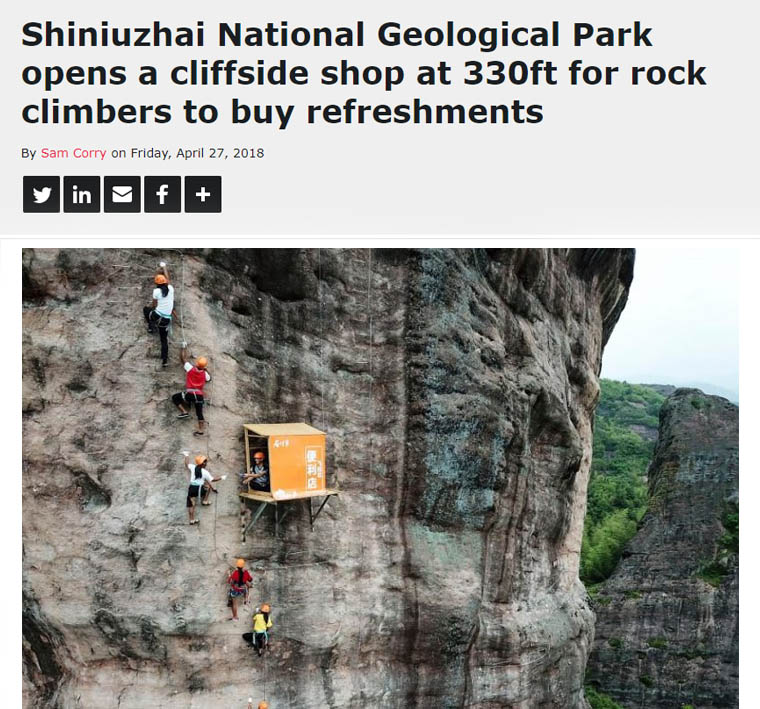 With other agencies contributing, will you ever get to a point where you stop them writing about themselves, if it's too advertorial?
I think people are generally self-aware on that kind of content. No one feels comfortable blowing their own trumpet. We're interested in the inside story – how you came to the idea, the barriers and challenges. That's what would make it different. We, at Taylor Herring, need to work out how we're going to do that too. We have to resist the temptation to talk about ourselves too much but I think we've managed to tread the right side of the line so far.
We'd actively welcome agencies or in-house teams to write a first-person, inside track account of what the campaign was like to work on.
Is PR Examples driving business to Taylor Herring? Is it making money like your other site The Poke?
It's not been built to drive business to Taylor Herring – in fact the link is hard to find. It's buried at the bottom of the FAQ page. The discipline of scouring the internet every day to find creative work is very valuable to us and our daily work. Analysing and scrutinising those kind of projects gives you a good insight into what does and doesn't work.
Our video production company, St Mark's Studio, has become the temporary sponsor of the site because we're hoping other agencies, in-house teams and brands might need some help creating low cost entertaining video content. Which is what St Marks is set up to do.
We originally took on PR Examples because we thought it might be a good fun thing to do and we are in the business of being fascinated by creative comms.
Currently St Mark's is sitting in that sponsor slot. However, there are enough service providers in the industry that could potentially step up and help us meet the running costs. It would be nice to think our newsletter could have a sponsor and we could work with companies on native content editorial, things like that.
PR Examples, at this scale and with its number of page impressions, is quite easy to manage.
We decided we're not going to try and monetise it for the first 12 months, we're just trying to make it good.
If people like it, we might be more ambitious.
Final Word?
We are actively looking for new contributors – so interested parties should get in touch. They can blog as little or often as they want to.
https://www.vuelio.com/uk/wp-content/uploads/2018/05/PR-Examples.jpg
430
760
Jake O'Neill
https://www.vuelio.com/uk/wp-content/uploads/2019/09/vuelio-logo.png
Jake O'Neill
2018-05-16 10:36:58
2018-05-16 10:36:58
The UK's Top PR Blog, PR Examples, has a new owner