No influencers allowed – the Vuelio Blog Awards 2018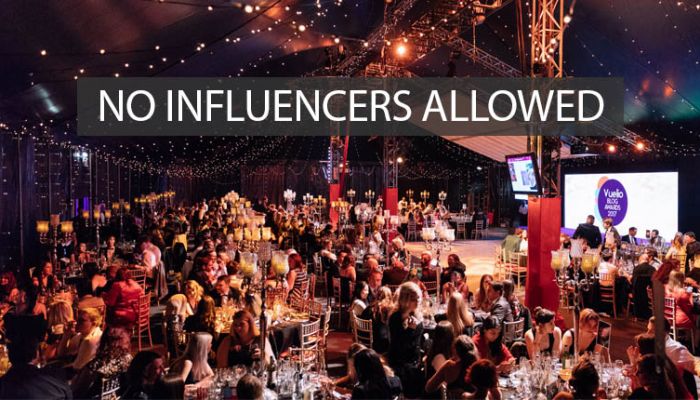 The Vuelio Blog Awards are the biggest celebration of bloggers in the UK. Taking place on 30 November 2018 at the Bloomsbury Big Top in London, this year's event promises to be even bigger and better than ever before, and there's only one rule – no influencers.
Bloggers, vloggers, Instagrammers, tweeters, Facebookers, YouTubers, writers, content creators, makers, editors, publishers, photographers, directors and small business owners – all are welcome to the greatest night of the year. So are PRs, comms pros, practitioners, officers, creatives, account managers and copywriters.
But influencers? I don't think we're the event for you.
Our winners from the last three years – from political supremo, Guido Fawkes, and super parent, Slummy Single Mummy to interior design guru, Mad About the House, and fashion goddess, Inthefrow – do many things; they run businesses, they write books, they tell stories and, yes, they influence their audience.
But Spielberg doesn't call himself a ticket tout, Gordon Ramsey doesn't call himself a tummy filler and Jessica Ennis-Hill don't call herself a sportswear seller. When did we stop taking pride in the work we do to focus on the results we create – often for other people?
We speak to the blogosphere all the time and recently we've been asking them: what do you like to be called? And do you know what they don't say? Influencer. Many tell us they're not influencers or they don't want to be called influencer.
That's why The Vuelio Blog Awards don't require a minimum social follower count to be shortlisted, you don't have to enter yourself and we will never ask bloggers to secure votes to help them win.
Instead, we bring together a diverse panel of judges, all leaders in their respective industries, who pore over every finalist to determine the winners. They may consider how influential a blog is, but what they're looking for is quality of content, relevance to the topic, beautiful aesthetics and uniqueness – something that makes a blog stand out against everything else in the field.
That means that when you win, you know your prize is truly deserved because your blog is outstanding. We reward the work you put in because we think this industry is hard, and the very best bloggers, vloggers and content creators deserve to be recognised.
So, if influence is just a result of how awesome you are at your job, the Vuelio Blog Awards 2018 will take place on 30 November at the Bloomsbury Big Top. Save the date.
https://www.vuelio.com/uk/wp-content/uploads/2018/05/No-Influencers-Allowed.jpg
430
760
Jake O'Neill
https://www.vuelio.com/uk/wp-content/uploads/2019/09/vuelio-logo.png
Jake O'Neill
2018-05-16 12:00:22
2018-05-16 15:47:21
No influencers allowed – the Vuelio Blog Awards 2018