'Inclusion isn't a bolt-on': Interview with PRCA LGBTQ+ Network co-chairs Katie Traxton and Emma Franklin-Wright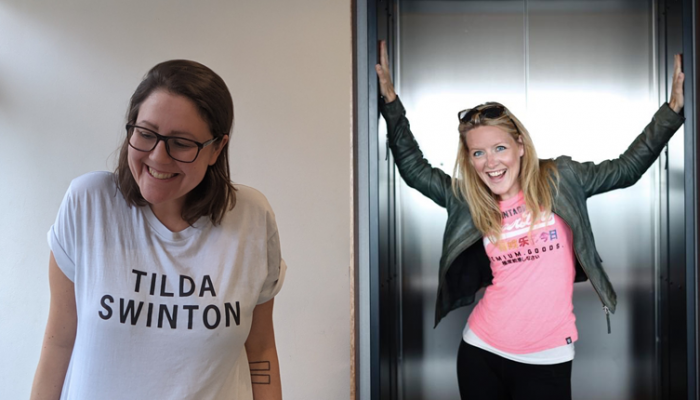 Pictured: Emma Franklin-Wright (left) and Katie Traxton (right).
'We need to make sure that the industry understands the work we're doing is integral to creating an inclusive community that is better for the individual and better for organisations,' says Katie Traxton, co-chair of the PRCA's LGBTQ+ Network.
Having relaunched the network in March of this year, Katie and co-chair Emma Franklin-Wright are ready to make real change in the industry. Read on for what's coming up from the group and which organisations and campaigns are getting it right with representation.
What prompted the relaunch of the LGBTQ+ Network?
Katie Traxton: I took over running the PRCA's LGBTQ+ group in mid-2019. At the time we were starting from scratch. Since then – including navigating moving online during the pandemic – we've built firm foundations, discovering what works well, how we can make the biggest possible impact and assembling a committee who are now raring to go!
Of course, the most important change in that time was Emma joining me as co-chair. We all need allies, in work as in life, and I so value being able to put our heads together on how best to make a positive difference. With all that in place, it seemed like the ideal time to relaunch as a network ready to gather as much momentum as possible over the weeks, months and years to come.
Emma Franklin-Wright: I've been involved in the network for about a year, and in that time have realised that to fulfil the potential for positive impact we can have on our industry, we needed to grow. That's partly about having shared resource and support, but also different points of view both across all identities within the LGBTQ+ community and different types of PR and Communications professionals. A small independent agency has different challenges in inclusion to a global network which is in itself different to an in-house division.
It was obvious Katie and I couldn't cover everything ourselves so we wanted to relaunch the network, bring in a new committee, and really see how we can make a difference to the industry.
What are your big aims for this year?
Katie: Raising our profile is a must, but we don't want attention for attention's sake. It's important we have something substantive, relevant and actionable to share. We also need to make sure that the industry understands that the work we're doing isn't a 'bolt on'. It doesn't sit alongside everyone's day-to-day. It's integral to creating an inclusive community that is better for the individual and better for organisations.
Emma: Katie and I have created two work streams for this year, one around raising our profile and creating educational and informative external events and blog posts, and one around creating research and resources that help employers in PR and Communications understand how to create inclusive workplaces. I'm leading the latter so obviously I'm going to say I'm most excited about that! We have seen a record number of new agencies start up in the last two years, so creating a tool kit of resources that means it doesn't matter if you are in a large agency with a dedicated DE+I team, or a small start-up, you can create an inclusive environment for LGBTQ+ staff.
Why did you want to get involved with the LGBTQ+ Network? 
Katie: Creating inclusive, welcoming, accessible cultures is important to me and it's my belief that to be inclusive we all need – and need to be – active allies. It's so much easier to speak up on someone else's behalf than on your own. For me, having the chance to work with an incredible group of people to help the PR and communications industry 'show up' for the LGBTQ+ community as colleagues and consultants was one I couldn't pass up. It isn't an opportunity that only relates to the LGBTQ+ community, either. We should be aware of all under-represented groups in our workplaces, the benefits of having input from diverse minds and championing an environment where everyone can thrive.
Emma: Katie asked me to join a PRCA panel in early 2021 – I'm something of a serial joiner, so afterwards when she asked if I would join the committee I, of course, said yes. The PR and Communications industry has such power to shape the narrative around LGBTQ+ inclusion. I see so much incredibly frustrating reporting and representation – especially around trans and non-binary inclusion – and just think if as an industry we harnessed our potential to impact on this we could make a real difference.
Are the comms and creative industries doing enough to support LGBTQ+ members of their workforce?
Katie: It's hard to define 'enough'. The simple answer is 'no', but the real question isn't about where we are now, which we can all judge based on personal experiences, it's about what the plan for progress is. I'd like to see industry-wide commitments to creating inclusive work and workplaces.
Emma: The workplace advocacy report we ran with YouGov last year suggests things could be better – 20% of respondents said they had been discriminated against based on their gender or sexual identity and 29% of respondents were not aware of any LGBTQ+ colleagues holding senior leadership positions. Really though the only people who can answer this question are those leading the workplaces. They need to ask themselves this question, and not only look at what is happening in their workplaces now, but ask some tough ''what if'if' questions as well. What if a member of your team comes out as trans or non binary – is your workplace set up for them? What if someone raises an instance of discrimination to you – how will you handle it?
Is the comms industry inclusive enough in its creative and campaign work?
Katie: Again, it's hard to treat the entire industry as one entity. There will be pockets of great, inclusive work, there will be places where unfortunately work does still tend to be exclusive of under-represented groups, and then there'll be the times where 'inclusive' creative and campaign work is borne from a desire to be perceived as inclusive rather than from an inclusive reality. Work can therefore become tokenistic or guilty of virtue-signalling, which is a step in the wrong direction. It's easy for all of us to get wrapped up in our own communities and concerns, but it takes the same amount of energy to look out for someone else as it does for yourself, so if we all look out for each other, then we don't lose anything and we gain a lot.
Emma: I agree with Katie – it varies hugely. Often, we need to communicate a lot in a short space of time so we fall on stereotypes to make sure people 'get it'. For an industry that talks so much about impact we often forget that crucial element – what is the human impact on the people we are representing?
Which brands/organisations in particular do you think have been doing a good job on inclusion with their campaigns and approaches over the last few years?
Katie: My background before working in wider sport and entertainment was the automotive/motorsport industry and I loved the Renault Clio ad that told the love story of a same-sex couple over multiple decades, showing real depth, emotion and making you care.
The Gillette ads where a father shows his transgender son how to shave are also really powerful, taking the most ordinary of daily activities and infusing them with human connection. Of course, lots of other brands/organisations do great creative work that celebrates other under-represented groups; I love the Maltesers ads featuring disabled actors. They're brilliant.
Beyond the connection you may feel to a single piece of content or even a campaign that makes you care though, what's important is – what next? Is the brand recognising its responsibility? Is the content underpinned by a commitment to act and support groups who are often marginalised? I think that the most important lesson you learn when campaigning for inclusivity is what questions to ask yourself and others. No one has all the answers – I definitely don't – but remembering to ask the important questions and hold yourself to account is a big step in the right direction.
Emma: I think authenticity is key – the Clio ad Katie references made sense as they were celebrating thirty years of the car model. There was a nostalgia and emotion to the story that just made sense.
The one that really gets me is the Starbucks ad where a young trans guy is getting dead named by friends and family then you see their joy and relief in seeing their name written on a Starbucks cup. The 'what's your name' moment, and writing on the cups, is intrinsically linked to Starbucks so as an ad concept it makes sense. What's as important is they backed it up with in store donations to Mermaids. That's authentic representation and brave representation.
As a football fan I also loved a really sweet advert by Deutsche Bahn called 'The Fan' from a few years ago where you see a football fan follow his team all over the country then at the end you realise the star striker is his boyfriend.
For more on inclusion in the PR, comms and media industries, catch up with our accessmatters sessions here.
https://www.vuelio.com/uk/wp-content/uploads/2022/05/Emma-and-Katie.png
430
760
Phoebe-Jane Boyd
https://www.vuelio.com/uk/wp-content/uploads/2023/09/vuelio-logo-200px.png
Phoebe-Jane Boyd
2022-05-12 09:41:54
2022-05-12 10:51:53
'Inclusion isn't a bolt-on': Interview with PRCA LGBTQ+ Network co-chairs Katie Traxton and Emma Franklin-Wright