Influencer Insight: Maddie Moate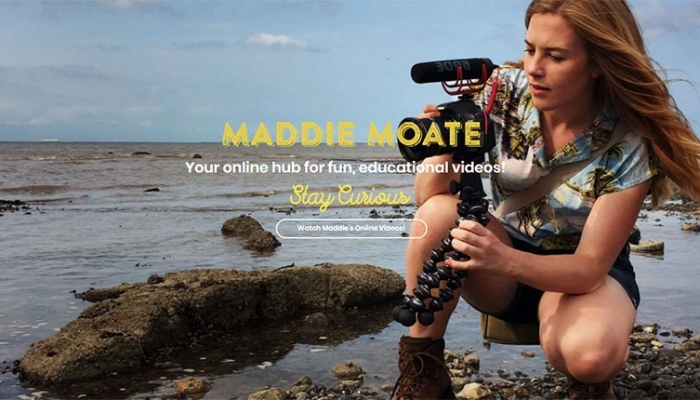 'When we started at the beginning of March 2020, never would we have dreamt of its success and the community we have built,' says presenter and YouTuber Maddie Moate of the success of her show for families: Let's Go Live.
Highly Commended in the Disruptor category at the 2020 Online Influence Awards, Maddie has been busy with daily live science shows for parents homeschooling in and out of lockdown. Read on for what kick-started her passion for her subject and how she likes to work with PRs and brands.
How did it feel to be Highly Commended in your category at the Online Influence Awards last year?
My partner (Greg Foot) and I have worked extremely hard to create content for families in need during lockdown and it's really wonderful to have that recognised by the awards. Our YouTube family science show Let's Go Live is now on to its 60th episode! Never when we started it at the beginning of March would we have dreamt of its success and the community we have built.
What started your passion for your subject?
The content on my YouTube channel varies from travel videos to live science shows packed with activities, but at the heart of all the content is curiosity and a passion to get out, explore and answer questions about the world. I love variety, new experiences and seek a bit of adventure in my life, so answering questions about the world and traveling to go in search of them ticks all my boxes!
How has the pandemic impacted your work?
Hugely! On the first day of lockdown, we pivoted from making videos based on location to hosting daily live science shows from our spare room. Let's Go Live was a direct response to the fact parents needed help with homeschooling and we were well-positioned to become not only surrogate science teachers but familiar friendly faces that families and children could rely on.
What do you love most about being a blogger/influencer?
Being on YouTube is just a small part of my job as a whole, but I hugely enjoy that it's an aspect of my career I have full creative control over.
How do you like to work with brands and PRs?
Carefully and considerately. I have a predominantly young audience so advertising is something I am extremely cautious with. I think this caution pays off though, as when I do collaborate with a brand whose values align with mine, I really enjoy the process of recommending and featuring their work as I'm genuinely excited about them!
The most efficient way is through my agent at Mirador Management. Brief messages via social media accounts appear to be less trustworthy or serious. As for content, I'm open to suggestions but I'm not particularly interested in simply holding up products and talking about them – anything I advertise has to fit into a larger creative idea.
The way I collaborate with brands depends on the brand and its campaign. For example, if the brand is going to appeal to my adult/parent audience I might consider collaboration on Instagram or Facebook over YouTube as that is where my parent audience is most active. I also prefer to work with brands on a long-term basis. I feel this creates room for more creativity and is overall more trusted by my audience.
What plans do you have for 2021?
We'll have to wait and see how and when the world opens up!
Which other media do you always make time for?
I listen to a lot of podcasts and audiobooks when I'm pottering about or traveling. I hugely recommend Surprisingly Brilliant, a science history podcast, and my guilty pleasure would be listening to A LOT of podcasts about theme parks! I'm pretty nerdy when it comes to themed entertainment!
https://www.vuelio.com/uk/wp-content/uploads/2021/01/Maddie-Moate.jpg
430
760
Phoebe-Jane Boyd
https://www.vuelio.com/uk/wp-content/uploads/2023/09/vuelio-logo-200px.png
Phoebe-Jane Boyd
2021-01-05 15:57:46
2021-01-05 15:57:46
Influencer Insight: Maddie Moate