Influencer marketing and the law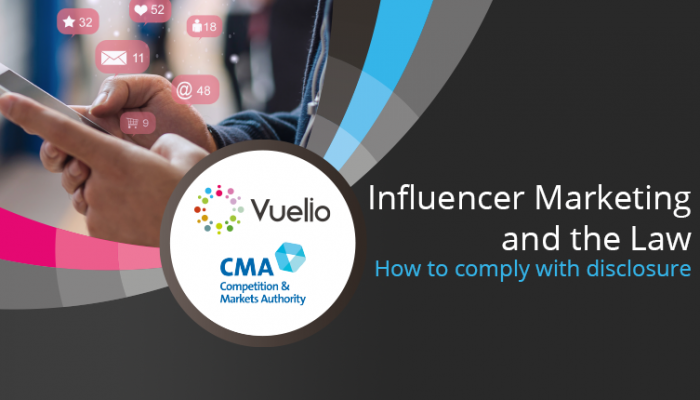 Influencer marketing is an industry worth today some £4.5bn, expected to reach £18.4bn by 2024. It has grown fast, driven by an exponential take up of social media and explosion in online publishing across multiple channels.
From Facebook to Twitter, YouTube, Instagram, TikTok and Medium, we're in an age where seemingly anyone can be an influencer – whether an 18-year-old producing makeup tutorials in their bedroom or the 98-year-old Iris Apfel who was signed this year to IMG.
Inextricably linked to the rise of the internet and social media, influencer marketing is built on processes and ways of working that are themselves relatively new. We're at the birth of an industry where influencers, from bloggers and vloggers to podcasters and Instagrammers, and the PRs, brands and marketers collaborating with them are still working out the rules and determining best practice.
To help you understand your responsibilities and how you can comply with the law, Vuelio and the CMA have put together an exclusive guide: Influencer Marketing and the Law, which outlines best practice for influencers, PRs and marketers.
It is full of practical guidance around consumer protection law, terms of contract, social media posts and disclosure tools, and can improve how you approach brand partnerships and help you to achieve best practice.
We're also indebted to John Adams from Dad Blog UK, the guys at Daddy & Dad, Kate Everall from LesBeMums, Hayley Hall, Elle Linton from Keep it simpElle and Jo Middleton from Slummy Single Mummy, who have each contributed their own experiences of disclosure and compliance.
https://www.vuelio.com/uk/wp-content/uploads/2019/10/Featured-image.png
430
760
Vuelio UK
https://www.vuelio.com/uk/wp-content/uploads/2019/09/vuelio-logo.png
Vuelio UK
2019-10-17 11:35:11
2019-10-17 11:35:11
Influencer marketing and the law