Interior Design spotlight: Kimberly Duran, Swoon Worthy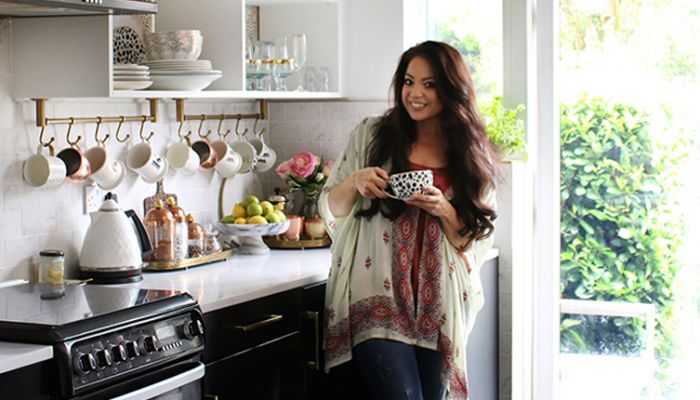 Kimberly Duran is the creator and author of Swoon Worthy, which has recently been ranked in the top 10 UK interior design blogs. With her love of bright colours, textures and animal print, Kimberly spoke to us about how she brings her style to her blog, her favourite room in her house and how she likes to work with PRs.
How has your blog changed over time?
I've been blogging since 2010 so both my blog and the landscape has changed dramatically – almost unrecognisably – over those eight years. In that time, the quality of my posts has certainly improved. I cringe at some of my early photography! There were also so many posts that where I was simply rambling about life with no real objective to why I was posting but, I suppose, it was a great way to get into it. I had time to find my writing voice, to understand who it was I was actually talking to. Over the years, my photography has come on leaps and bounds but also my design skills have really improved – years of practice definitely helped! I also know my audience much better now and so I try to have an objective every time I post – what are my readers getting out of this? Are they learning something new? Are they being inspired? Are they simply being entertained? I now consider my audience so much more in my content than what I did when I first started.
How would you describe your style?
I always describe my style as 'Eclectic Boho Glam'! I am an unashamed maximalist who loves interiors with personality: I love to mix contemporary with vintage, glamorous gold luxe finishes, cheeky animal prints, touchable textural fabrics, bold pattern mixing and a touch of vintage and bohemian-style comfort.
What makes a great interior design blog?
My favourite blogs are ones where I not only leave feeling inspired and like I've learned something new but those where the personality of the writer really shines through. Most of my favourite blogs are those where I feel like I 'know' the person writing, where I can get a sense of who they are as a person and how they express themselves through interiors. It makes me far more invested in what I'm reading and ensures I'll be back for more.
What's the split between your own creations/designs and featuring others'?
It's probably about a 90%/10% split. Almost everything I show is my own photography and my own spaces. It hasn't always been like that, but I do think as a content creator, it's important to share my own vision and my personal style to my readers as that's what they come to my blog for.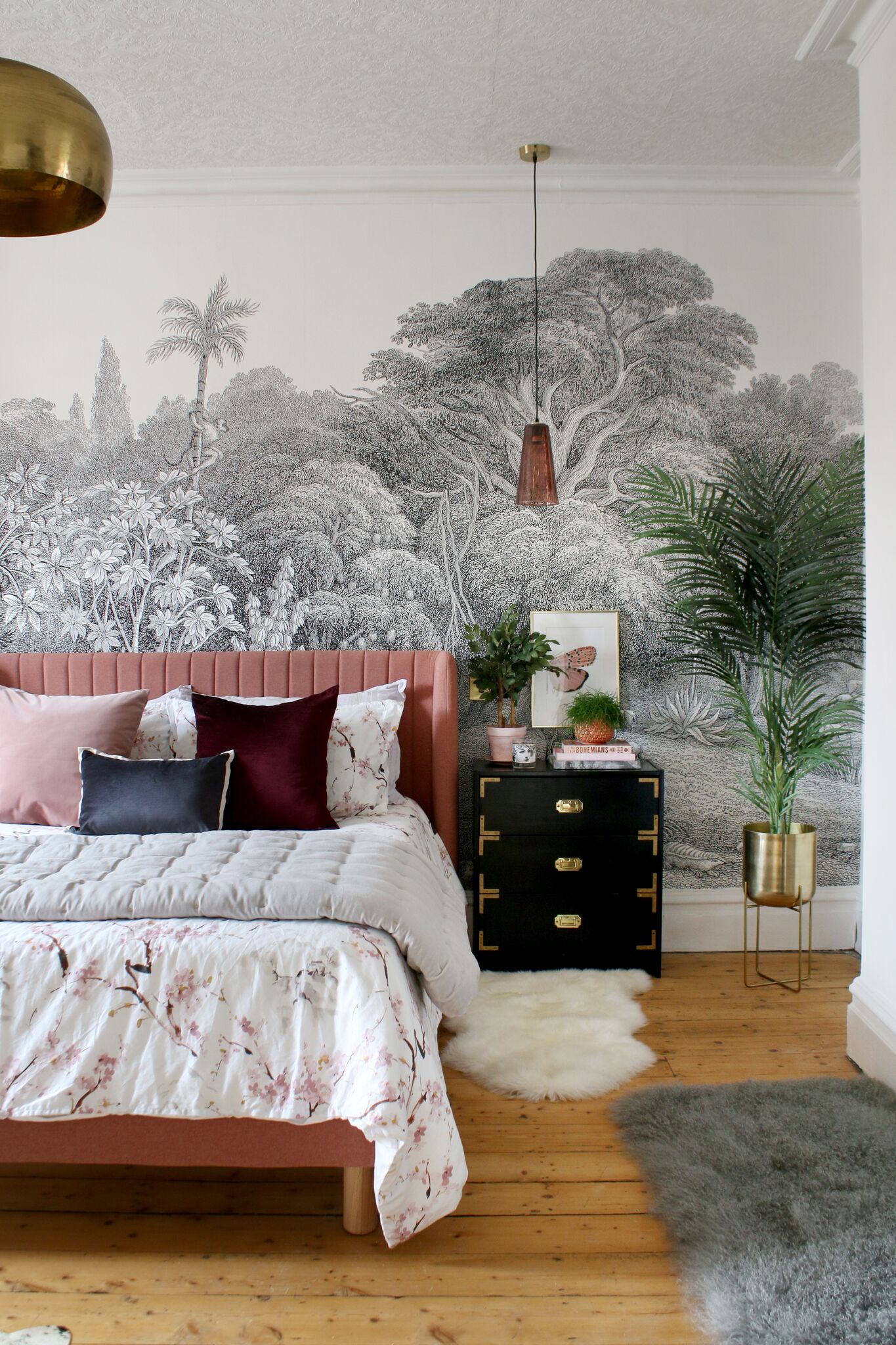 What's your favourite room in the house and why?
At the moment, it's my bedroom but that's really because it's the only room in the house we've actually been able to redesign so far! We moved into our home in March so it's all a long and slow-going process. More spaces will be completed over time and my favourite room always tends to be the one I completed last so that answer will probably change! But for now, it's fantastic to be able to settle down and wake up in a room that truly feels like a reflection of my tastes right now.
How do the seasons affect your content?
Over the year, my content tends to be about whatever it is that I or my readers are probably thinking about and a lot of that is weather or season-related! In the summer months, it might be entertaining at home, sprucing up the garden or travelling. Over the colder months, it's all about creating a cosy and warm nest in your home and getting the most out of the space you have.
What's your favourite household object/item? 
Oh, that's a really hard one – it's like choosing from my children! But I think it would have to be the vintage 1970's Pierre Vandel brass and glass shelving unit that I have in my living room. I wanted one for years and a blogger friend had picked up one from Paris. She'd had it for years herself and I'd always admired it and when she was moving house and realised she no longer had the space for it, she gave it to me. I may have actually cried when she did that. It really means the world to me – it's a beautiful piece and just represents how thoughtful and kind the community really is.
What one thing should PRs/brands know about you?
That I'm incredibly picky about who I work with – it really must be the right fit for my blog, my aesthetic and my readers for me to agree to a collaboration and that's only because I want any collaboration to be a huge success across the board. And if it is the right fit, I'll work my socks off to make sure everyone is happy!
What are the best campaigns/collaborations you've recently worked on?
I worked with Made.com recently where they provided a desk and some accessories and then I and a few other bloggers styled up the spaces accordingly. We then photographed them and Made sent them to a psychologist to have them analysed! It was all about 'what your desk says about you'. It was a light-hearted piece and lots of fun and it was great to see how different all our styles really were as well as a little scary how spot on the psychologist was about our personalities!
I also recently supported the #GoGreener campaign by Push Doctor where they were highlighting the benefits that nature has on our wellbeing. For that one, I took my readers houseplant shopping with me where I shared my tips on what to choose, how to pot plants and how to ensure they thrive. It was a monster of a post but so fun to create. I really enjoyed that one.
Do you think bloggers need their own industry association?
I think it would be an amazing idea. There are so many experienced and knowledgeable people out there that coming together can only be a good thing. Individually, we are all just trying to work things out on our own and learning from our mistakes. The power of community is an incredible one and I know how much I appreciate the blogger groups that I'm a part of. That kind of support is invaluable.
What other blogs do you read?
Oh, there are so many although my blog keeps me very busy so I don't always get the chance to read as much as I'd like to! Some favourites include: Mad About The House because Kate is so knowledgeable and has such a great writing style, Making Spaces because I always learn something new from Karen, Dear Designer's Blog because Carole finds the most gorgeous spaces to show off, Apartment Number 4 because Victoria is a such an inspiring entrepreneur, French for Pineapple for Bianca's amazing style and energy and Forever Amber because she always makes me laugh.
https://www.vuelio.com/uk/wp-content/uploads/2018/01/Kimberly-Duran-Swoon-Worthy.jpg
430
760
Holly Hodges
https://www.vuelio.com/uk/wp-content/uploads/2019/09/vuelio-logo.png
Holly Hodges
2018-09-12 11:08:59
2018-09-12 13:43:27
Interior Design spotlight: Kimberly Duran, Swoon Worthy