Interiors Blogger Spotlight: Stacey Sheppard, The Design Sheppard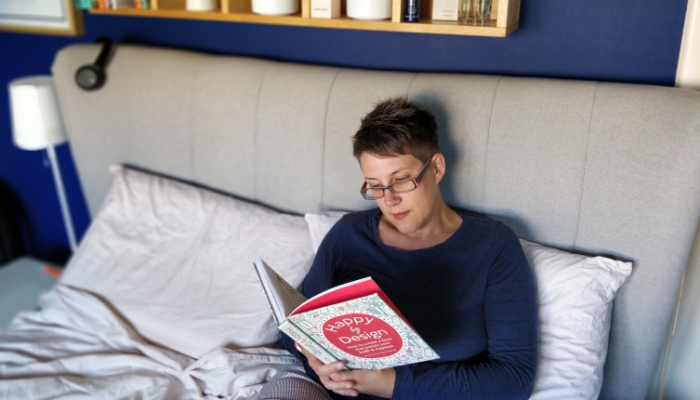 Stacey Sheppard is the blogger behind The Design Sheppard – originally created in 2009 as a place to store the content Stacey gathered while researching for articles, and now a space for interior design inspiration and one of the top ten blogs in the sector.
We spoke to Stacey about blogging as a job, the importance of keeping things honest in the blogging industry, and being a self-appointed cork ambassador (it's totally a thing – you'll see).
How do you describe what you do to other people?
I always say I'm a freelance writer and blogger. I started my career as a staff journalist on a print publication and worked as a magazine editor for a number of years before I started my blog. I find that the response I get is less confused if I say freelance writer first. There are still a lot of people out there who don't actually understand blogging and how it can be a job.
How much of a community is there around interiors bloggers?
For me, the community is the best part of being an interiors blogger. I don't know what it is like in other niches but in interiors it is so open, welcoming and supportive. I've made lifelong friends through blogging, some of whom I've only actually met once or twice in real life but who I speak to every single day. I find the interiors blogging community to be really uplifting, inspiring and positive and that makes me proud to be part of it.
What's the best thing about being a freelance writer and blogger?
The best thing about it is getting to do something that I love every single day. I wake up each morning excited for the day ahead, eager to get to work and see what opportunities will open up for me.
It's also the freedom of being able to write about anything I'm interested in and sharing those things with my audience. I've come across so many talented people since I started blogging and I've had the pleasure of interviewing so many great designers. I love being able to give these people a platform to show off their skills.
What does the future of blogging look like?
This is a tough question and I think we've all been asking ourselves this recently. The rising popularity of Instagram has obviously sent waves through the blogosphere and left many of us wondering how our blogs can compete. However, we have to remember that we are in complete control of our blogs and no algorithm changes can destroy what we have built or reduce our visibility – that can't be said for Instagram accounts. In fact, we've started to see lots of larger Instagram accounts now creating blogs alongside just to safeguard their future.
Another thing that is changing the industry is the tightening rules and regulations around advertising and brand partnerships. The ASA is continually bringing out new guidelines and regulations in an attempt to create transparency for our audiences and to ensure that they know when they are being advertised to. There was a lot of confusion at first but what is expected of us with regards to disclosure is becoming clearer. There are a lot of bloggers out there who aren't playing by the rules though. I think it's a dangerous game to play and in the long run it will be damaging. We gained our followings because people trusted us, they liked our authenticity and they believed that we had their best interests at heart. Those who don't properly disclose their relationships with brands are disrespecting their readers and in the long run, this can only have a negative outcome.
How do you describe your style?
I hate being asked this question as I really don't know the answer. Some bloggers have a really distinctive, recognisable style that is instantly identifiable. I don't have this. I like industrial interiors, I like Scandinavian style, I like mid-century modern. My style also changes from room to room and from week to week. I tend to just go with whatever I'm into at the time. At the moment, that is biophilic design and incorporating lots of natural materials and greenery into my home.
What's your favourite room in the house?
I'd probably say my bedroom. Now that my kids are mostly sleeping through the night, they aren't invading that space so much. It's starting to feel more and more like our own private sanctuary again. It still needs work before I'm totally happy with it, but plans are underway.
How long do you leave a redesign before wanting to do it again?
I'm actually not that big a fan of change. I like consistency at home and a feeling of stability and I couldn't get that if I was constantly redesigning and redecorating. I tend to spend a really long time working out how I want a room to make me feel and how I want to use the space before making any changes. Then once I do it, I'm in it for the long haul because I've put the hours in working out a scheme that I will love. Of course, I make small changes every now again, like changing cushions, adding shelves and expanding my plant gang. But big changes are few and far between.
What's the best collaboration you've worked on with an agency or brand?
I recently worked with The Colour Flooring Company who took me on a trip to Portugal to see the cork harvest and then to the production plant to see it being processed. I've loved cork as a material for many years and I'd always wanted to see the harvest. It was such a fun trip and I came back so full of enthusiasm for this remarkable material. I've pretty much appointed myself as a cork ambassador.
What advice do you have for PRs looking to get in touch?
Drop me an email and let's talk.
What other blogs do you read?
Swoon Worthy, Apartment Number 4, Archie & The Rug, fabric of my life, Dear Designer's Blog, Seasons in Colour, Hello Peagreen, Well I Guess This Is Growing Up, Boreal Abode, In Two Homes, The Interior Editor, Nordic Notes, grillo DESIGNS and new favourite Raspberry Flavoured Windows.
https://www.vuelio.com/uk/wp-content/uploads/2019/10/The-Design-Sheppard.jpg
430
760
Holly Hodges
https://www.vuelio.com/uk/wp-content/uploads/2019/09/vuelio-logo.png
Holly Hodges
2019-10-29 14:00:39
2019-11-07 18:07:04
Interiors Blogger Spotlight: Stacey Sheppard, The Design Sheppard