I don't think you're ready for this Jelly
Jelly is a new app from Biz Stone, co-founder of Twitter. Created as a new kind of search engine, Jelly aims to crowdsource answers to 'picture' questions from your existing social following.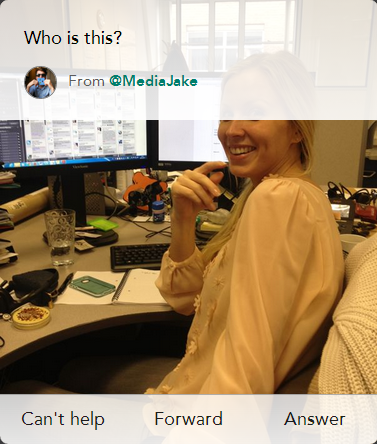 For example, I download Jelly and connect it to my Twitter account. I then take a photo of Vuelio's community manager Kirsti Kauronen with the caption 'Who is this?'
Two of my helpful answers point out that she's using Vuelio Social Media, and one responds 'Your mum?'
So far, so predictable.
These people are not part of my social network, but followers of followers. Jelly claims that the 'six degrees of separation' is now down to four. It therefore follows that we're all connected to someone who knows the answer to any of our questions. In theory.
Jelly's fishy
The concept of Jelly is basically Yahoo Answers with pictures. While most people probably get on to Yahoo Answers through Google (due to its high page rank), Jelly has no such functionality.
Ironically, searching is out of the question. Jelly doesn't currently allow you to find a particular person, topic or anything else specific. The questions you can answer appear randomly and, despite being warned that if you dismiss it you'll never see it again, repeatedly.
There are also questions on the increasing amount of memory the app takes up, and through use we've seen it as a drain on battery power.
So what purpose does Jelly have?
Asda has reportedly created a Jelly account in order to ask followers for input and ideas about their products. It may therefore have value for market research, though I doubt Asda will want the input 'Your mum' for any of their products.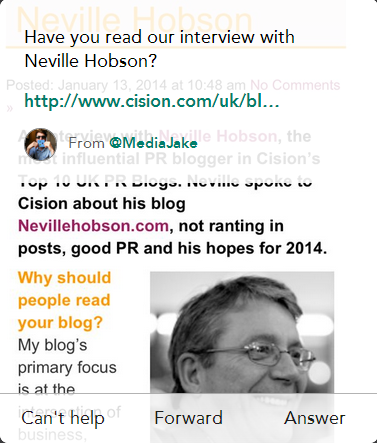 I've also tested out Jelly as a means of sharing content. With a screenshot of Vuelio's Neville Hobson interview, I simply asked, 'Have you read our interview with Neville Hobson?'
I'm currently on four responses:
One from Neville (which surely doesn't count).
Arié Moyal said, 'No and I'm not sure why this is a question you'd ask here unless you're trying to drive traffic'.
@AllthingsIC said, 'Yes, particularly liked the quote re: "concentrate entirely on what you want to say, and say it naturally and informally as if in conversation"'.
Lee Stacey left the same answer he has on the rest of my questions: 'Feta cheese'.
While @AllthingsIC seems to have responded well to my link, there's little I can do about it on Jelly. Another issue the app has is a lack of conversation. Once someone answers your question you have limited options – 'Thanks', 'Don't Like', 'Report as Inappropriate' or share. The fundamental element of a social network has therefore been removed and Jelly's longevity without it is questionable.
If Jelly follows the commercial models of other social networks, it is likely to start offering promoted questions to reach a wider audience. Before that stage though, Jelly has to be seen as a valuable tool that people spend their time on, and at the moment it's just too much of a gimmick without enough purpose. That said, some people had the same problems with Twitter when it first launched, and look at that now.
Though Twitter probably didn't have someone who answers every question, 'Feta cheese'.
Do you think you're ready for this Jelly? Let us know in the comments below.
Priyanka Dayal
https://www.vuelio.com/uk/wp-content/uploads/2019/09/vuelio-logo.png
Priyanka Dayal
2014-01-13 13:51:01
2017-11-02 12:15:57
I don't think you're ready for this Jelly