Speedy Spotlight: Neville Hobson
An interview with Neville Hobson, the most influential PR blogger in Vuelio's Top 10 UK PR Blogs. Neville spoke to Vuelio about his blog Nevillehobson.com, not ranting in posts, good PR and his hopes for 2014.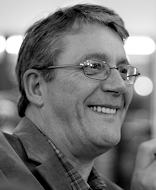 Why should people read your blog?
My blog's primary focus is at the intersection of business, communication and technology. I discuss trends, behaviours and practices in digital communication to help you understand what they mean for people and organisations. I offer a mix of news, commentary and opinion that shed light on contemporary issues such as the future of communication, how public relations is changing, the evolving role of employee communication, what social business means to business, the impact of the collaborative economy, and more.
What makes your blog different?
What some people tell me is that when I write about certain topics – new and emerging technologies, for instance, and their connections with organisational communication: relatively complex matters to some – I do it in a way that they easily understand, especially why it matters. I avoid jargon as much as possible and rarely take an opinionated view on a topic. No rants here! I like to balance views and offer opportunities for anyone to agree or disagree in the comments or anywhere else across the social web. I started blogging in 2002; over the past decade, I've developed a clear and confident writing style, one reason why my content is widely syndicated especially in the US.
What's your favourite blog and why?
I don't have one single favourite blog. I regularly read the content published in around a dozen blogs that embrace topics as diverse as mobile technology, corporate finance, cooking, and of course, public relations. In addition, I scan a further two dozen or so blogs when I have time. Collectively, they all provide me with a terrific sense of what's going on in the world, far richer in my view than I get from any mainstream medium. I also read the papers, by the way, online.
What advice would you give to someone who wants to start a blog?
Forget about SEO, audience targets, thought leadership, keyword placements and other marketing-related stuff that make most blogs that start out with those manufactured things in mind utterly sterile. Instead, concentrate entirely on what you want to say, and say it – naturally, informally, as if you're in conversation with just one or two people. Write with confidence and above all, with passion.
How does a good PR work with you?
First, he or she reads my blog. Not all 3,700+ posts but enough to get a sense of what it's about. That will help them determine if what they want to talk about is likely to be what I might also want to talk about, or not. They note how I like to be approached (it says so in the blog). If they do all that, I guarantee a positive reaction from me.
What do PRs do that's bad?
Bulk emails dressed up as personal communication which have little or no relevance to me, my blog or the PR's client. You should see my black list of individual and corporate names, all of which should know better!
What was your blogging highlight of 2013?
According to WordPress' Annual Report 2013 on my blog, the most popular post – the one that attracted the most reader engagement – was: Don't ignore social voices, Knight Frank #LostMyGiggle.
What will be big in your blogosphere in 2014?
As more and more opinion and commentary is published online, it's getting harder to find great content amongst all the noise. In 2014, I hope it will be a year for really great content that is easily discoverable.
Editorial information on Neville Hobson, Nevillehobson.com and thousands of other media contacts and outlets, can be found in the Media Database.
Priyanka Dayal
https://www.vuelio.com/uk/wp-content/uploads/2023/09/vuelio-logo-200px.png
Priyanka Dayal
2014-01-13 10:48:12
2015-08-26 12:04:50
Speedy Spotlight: Neville Hobson