Today's advent blogger is Paul Steele, author of BaldHiker. In 2013, BaldHiker came first in the Top 10 UK Travel and Tourism Blogs. Paul also has over 518,000 followers on Twitter.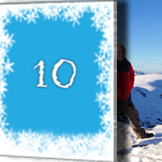 As for all the advent bloggers, we asked Paul two very special seasonal questions:
What is the worst Christmas present you have ever received?
Ha ha! I am a big believer in saying there is no such thing as a bad present. Whatever it may be, whether useful or not, they have put effort into it and thought about me, that is always surely a nice thing.
What's your new year's resolution?
To seek new challenges and vary more of what I see and do. To learn lots more new things.
Congratulate Paul on his inclusion in the 2013 Advent Calendar on Twitter @paul_steele, and check out his advent calendar entry here.
Priyanka Dayal
https://www.vuelio.com/uk/wp-content/uploads/2023/09/vuelio-logo-200px.png
Priyanka Dayal
2013-12-10 10:30:01
2013-12-10 10:30:01
#JingleBlogs: BaldHiker