#JingleBlogs: Fleet Street Fox
Today's advent blogger is Fleet Street Fox. 'The Diaries of a Fleet Street Fox' was published in February, after Susie Boniface officially announced that she is the anonymous Fox. She commands a huge following of over 60,000 on Twitter @fleetstreetfox.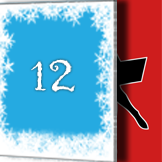 As for all the advent bloggers, we asked Fleet Street Fox two very special seasonal questions:
What is the worst Christmas present you have ever received?
The worst present I ever got was a scented candle. Smelled like Harpic and showed person in question had no idea what I might like, which was 'not a fucking candle'.
What's your new year's resolution?
My New Year's resolution is to not make any stupid resolutions.
Fleet Street Fox wrote a guest post for Cision in July titled, 'Some PRs are just plain nasty'. The post discusses the state of PR and media relations in Fleet Street Fox's trademark style. 
Congratulate Fleet Street Fox on her inclusion in the 2013 Advent Calendar on Twitter @fleetstreetfox, and check out her advent calendar entry here.
Priyanka Dayal
https://www.vuelio.com/uk/wp-content/uploads/2023/09/vuelio-logo-200px.png
Priyanka Dayal
2013-12-12 09:27:50
2013-12-12 09:27:50
#JingleBlogs: Fleet Street Fox