Journalist Spotlight: Jonathan Pryce
Jonathan Pryce talks to Vuelio about beards, working with PRs and how London is better than Paris.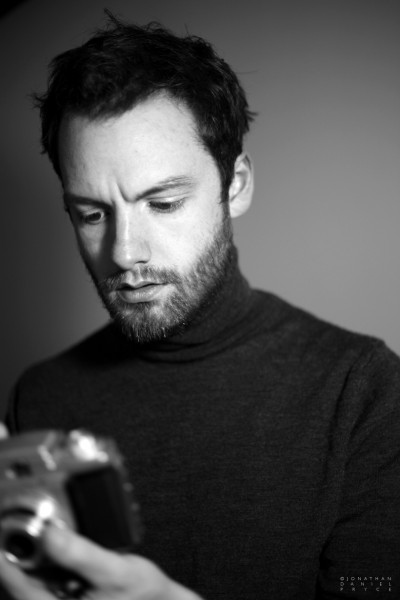 Jonathan Daniel Pryce is a freelance fashion and lifestyle photographer, and a digital marketing consultant. He described his combination of roles as a nice partnership because he works with fashion brands: 'With digital media, so much of the content is visual but since winning Photographer of the Year, clients have really focused on my editorial and street work.'
What's your blogging experience?
In 2009 I set up Les Garçons de Glasgow, a street style blog that was my first foray into blogging but Another Garçon is my new baby. It gets 30,000 hits a month and focuses on menswear because that's what I'm most interested in and a lot of my clients are based in the men's industry.
I started a new project and blog called 100 Days 100 Beards in July 2012. It does what it says on the tin – for 100 days I photographed 100 bearded guys. I published a book of the project which sold out of its first print and its now on its second run.
What's the next project?
Everyone keeps asking me, but I have no idea. I've actually been thinking about taking the context of 100 Beards somewhere else; I was talking to someone the other day who said I should do a Kickstarter project to fund it. I'm thinking of doing a road trip across the United States for 100 days and going to as many cities as I can to document the beards that I find.
There is a new project I'm working on called The Inside Man, which I see this as more of an online magazine than a blog. It is going to be a series of interviews and photographs of interesting men that work in fashion. I think there are a lot of unsung heroes in the fashion industry which is mainly female-dominated. Other than the male head designer, there are a lot of men who work for the brands – PRs, pattern cutters or assistants to the designer – who don't get the limelight.
How do you pitch projects?
I've been doing street style so long that people come to me. I won photographer of the year at the Scottish Fashion Awards last June and that was a turning point because it got me the press and credibility that I didn't have before. At the London Collections: Men I noticed a big difference: I had about five clients pitching against each other which hasn't happened before and I felt very grateful. I've also had a couple of quite big publications email me to set up meetings about doing further fashion weeks.
While street style is what I'm known for, I'm also building up the editorial side and lookbooks. I'm focused on street style but in terms of longevity the whole trend has only exploded in the last five years and if it ended in a year, two years, a month then what would I do? That's what I'm thinking about.
How do you approach people for street style?
At Fashion Week, people dress because they want to be photographed or pretend that they don't and just pose. That's a whole bizarre world which is amazing and fascinating. What I love though, is regular street style where you have to explain what you're doing. I see someone on the street and as I approach them I make the decision in my head whether I'm going to stop them or not. I ask if I can take their photograph and tell them I do street style, I love what they're wearing (a compliment always helps), they say yes or no and then I take their photo.
What's nice about that is you're really making their day, you're giving them a compliment, they're telling their friends and it makes them feel special. Whereas at fashion week, it's not cool to be excited about things so they don't care, they're like: 'Yeah, take my photo, whatever'.
How do you work with PRs?
I would never regurgitate a press release or talk about fashion news, but I would be interested in receiving press releases so I can see what brands are up to, which could lead to future collaboration.
All the photography on my website is my own so I won't upload PR pictures but if I really believe in the brand and like the product, I'll happily photograph it and send it back – I'm not expecting to be given stuff. A lot of my interaction with PRs is them wanting to use my photographs, maybe if it's a photo of a celebrity, actor or singer at fashion week. They'll want to use the image to promote the brands they're wearing.
What's the best way to reach you?
Email, I don't read a lot of them but I am happy to scan my inbox and a great subject line is key to getting my attention. If the subject line includes a brand I'm interested in, I'm more likely to open it.
What item of clothing could you not live without? 
A roll neck sweater. I nearly always wear one to the point of it being a style rut because they are comfortable, smart and I don't have to faff around with a shirt and tie.
Where is better for photography, London or Glasgow?
London. When you get a super city like New York or London there's a constant stream of new traffic, whether it be tourists or people moving here, and I always have new subjects to photograph. Glasgow is great and a very creative place but you see the same people all the time because it is small. I lived in Paris for a short period as well and I think London is better than Paris. You don't really see great street style in Paris outside fashion week because people stick to the rules and always wear navy, grey and black. Although it looks very chic, and the people look very beautiful, it's not very inspiring.
Do you have any surprising hobbies or interests?
I feel like I should make something up that has a bit of pizzazz… I think when you're a photographer (or anyone self-employed) it's such a competitive industry you work every hour god sends. I do love fine art and playing cards with friends.
What would your super power be?
Invisibility, because it would mean you could take photographs and no one would know you were there. I'm reading a book called The Ongoing Moment by Geoff Dyer, and he published a lot of street photography from the 1920s-1970s when everyone used film. Back then you would take a photograph of somebody on the street and there wasn't an expectation of being able to see the photo or deleting it; people were less self-aware. I would like to be invisible because now people are so self-aware that I take the photo and they want to see if it's good or not. There's no letting the moment happen.
Who would play you in a film?
My name is Jonathan Daniel Pryce and there's a famous actor who has the same name, Jonathan Pryce (hence me using my middle name). If he was to play a future me (because he's quite a bit older) they wouldn't even have to change the name.
Editorial information on Jonathan Pryce, Another Garcon as well as thousands of other media contacts and outlets, can be found in the Vuelio media database.
Priyanka Dayal
https://www.vuelio.com/uk/wp-content/uploads/2019/09/vuelio-logo.png
Priyanka Dayal
2013-02-13 10:54:02
2017-11-02 14:23:32
Journalist Spotlight: Jonathan Pryce