Journalist Spotlight: Jules Pearson
JuIes Pearson is the founder and editor of

London On The Inside

, a blog reviewing chic London lifestyle
By day Jules works in travel PR for The Massey Partnership but by night she turns blogger and reviews hotels and restaurants. She was a contributing editor for HotelChatter and has written for various magazines and websites.
London On The Inside was set up two years ago and alongside Jules there is Sarah, the fashion editor, Ben, the music editor, and about five or six regular contributors throughout London. It was named one of Elle's 'Best London Blogs' in June.
How do you work with contributors?
With the food reviews, I like to have the pick of the bunch obviously, but if I've got an invite to a restaurant that I don't want to do or an event I can't attend I'll offer it to a contributor. We can't pay them because we don't really make any money so that's like a bonus for writing for us.
We don't really work with new freelancers because it takes up too much time when it comes to managing them and editing posts. We don't have our own offices and we're all working our own full time jobs. That's the thing about London On The Inside, we all work in industries we write about. Sarah the fashion editor actually works in Selfridges, I work in travel PR and Ben the music editor is in a band – because we have all these other things going on we don't have time to manage too many other people.
If it's someone who can write and has a good background we're always on the lookout for more people but we get a lot of random emails from people we can't work with who clearly have never really read the site.
How does your PR role work with London On The Inside?
The Massey Partnership does PR for luxury hotels and if it's something that would be of interest to the readers I would put that PR material on the blog. I won't just put on anything though; there is no point posting things if it's not going to get us hits or be of interest to our readers.
They know I do the blog and when I am invited to a travel event I can build relationships with journalists outside of work which I can then pitch The Massey Partnership clients to. It really goes hand in hand – it is the perfect relationship.
We have a few PR agencies that we work really closely with, some that are better than others, but as a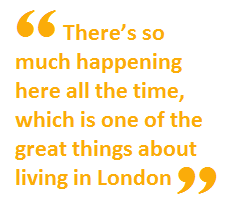 PR I know how to approach PR agencies, so if I need something I'll approach them. It's mainly emails; obviously I don't like to take phone calls because I'm working full time. 
Where does your love of London come from?
I'm from the North, Middlesbrough – I feel like I almost should be ashamed when I say that. I'm actually from a small town called Guisborough, which no one knows. London is somewhere I've always wanted to move to, it's the capital city and you hear so many great stories, especially coming from a little town.
Working in communications allowed me to find out about so many events that no one else knew about, which lead to the creation of London On The Inside. There's so much happening here all the time, which is one of the great things about living in London. You never get bored.
What drives traffic to your site?
We do a monthly roundup for Time Out online of the top 5 things we're looking forward to in the coming month. We don't get paid but we have link backs and the Time Out post gets a lot of traffic so it's really worth it.
In September we had just under 100,000 visits. I think it's going to be even higher in October because we're growing all the time. I find that Twitter and Facebook are useful to measure audience engagement and popularity of the blog.
What are your future plans for the blog?
We don't make a massive amount of money, £250 in a standard month, but we're not in it to make money. We're in talks with someone to expand it to Newcastle and we're launching a phone-friendly version of the site as an app in 2 weeks' time. We're creating a section called 'Londoners' where we interview interesting people maybe who work in a clothes shop or are in a band, and see what makes their London and what their top tips are.
Jules' top places
The last restaurant I ate at was really amazing, the Angler in South Place Hotel. It had amazing fresh fish and good service. Every single course was really nice and it was quite fancy but not too fancy – I had sherry trifle for dessert. I am big for comfort food; I think it's a Northern thing.
My top recommendation is London Fields on a Saturday in the summer; it's one of the few London parks where you can have your own barbecue and the atmosphere is great. London Fields is my favourite place in London.
Editorial information on Jules Pearson, London On The Inside and thousands of other media contacts, can be found in the CisionPoint media database. 
https://www.vuelio.com/uk/wp-content/uploads/2019/09/vuelio-logo.png
0
0
Priyanka Dayal
https://www.vuelio.com/uk/wp-content/uploads/2019/09/vuelio-logo.png
Priyanka Dayal
2012-10-31 09:30:46
2012-10-31 09:30:46
Journalist Spotlight: Jules Pearson