Skyfall: Social Media Analysis
Friday saw the release of the 23rd official [we don't include Never Say Never Again or the 'original' Casino Royale] James Bond outing in Skyfall.
Needless to say, there was a great deal of excitement and chatter on social media. As the internet and online opinion sharing becomes a more significant part of people's lives, the success of commercial products such as Skyfall can be tracked through social media.
The first graph shows the online mentions of 'James Bond' and 'Skyfall' on the internet in the last 30 days.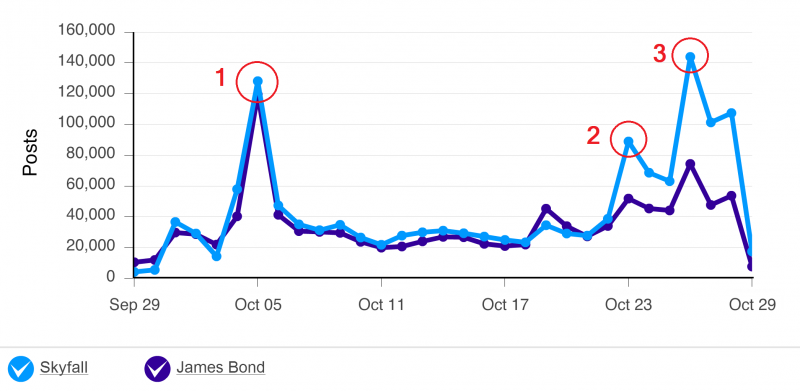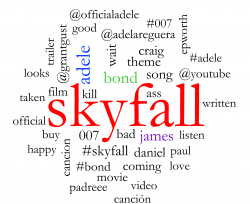 The first big spike on 5 October coincides with Global James Bond Day and the release of Adele's theme song. Unsurprisingly it is Adele who dominates the conversation on this day as can be seen in the conversation cloud. The keywords 'Adele', '#adele', '@officialadele' and '@youtube' can all be attributed to her song. The word 'bad', appearing 952 times should be seen in relation to the word 'ass', which appears 413 times, often coupled to describe the Adele track, rightly or otherwise as 'bad ass'.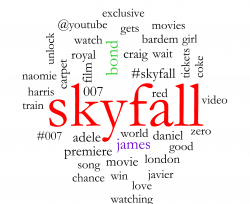 The second peak was on 23 October, the night of the royal premiere. Here the word Skyfall dominates the conversation with nearly double the James Bond mentions. The conversation cloud reveals people's focus on the red-carpet stars with 'daniel' 'craig' being joined in online discussions by 'naomie' 'harris' and 'javier' 'bardem'. Many words highlight the 'royal' 'premiere' being the main interest but 'coke', 'zero', 'unlock', 'chance' and 'win' all point to a successful viral advert created by Coca-Cola associated with the film's release.
The third peak came on Friday with the release of Skyfall. Having taken $32.4m at the UK box office over the weekend (mostly through the price of my tickets I'd imagine) and $77.7m in total (it is yet to release in many countries including the USA), it is little surprise that 143,827 mentions of Skyfall appeared online on Friday, with the whole weekend seeing 352,393.
The UK alone saw 103,331 online mentions, which is the equivalent of an impressive 313 box-office-dollars a mention.
Thanks to Box Office Mojo for the cinema takings. 
https://www.vuelio.com/uk/wp-content/uploads/2019/09/vuelio-logo.png
0
0
Priyanka Dayal
https://www.vuelio.com/uk/wp-content/uploads/2019/09/vuelio-logo.png
Priyanka Dayal
2012-10-29 12:56:46
2020-03-10 17:53:40
Skyfall: Social Media Analysis