Journalist Spotlight: Tom Evans
Tom Evans is the head of channels at MSN UK. He spoke to Cision about MSN's future, digital media and his 21ft sailing boat.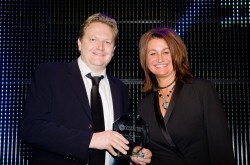 Tom started his media career as a runner at Thames Television's Teddington Studios in 1995, which produced business television programmes for CNBC under the Financial Times brand. The boss of what was called Financial Times Television loved technology but didn't always know how to work it. Tom had been messing around with computers since the Sinclair Spectrum and got roped in early on to fix his battalion of Palm Pilots and computers and this led to a job working on the website.
The parent company, Pearson Television, also wanted some websites produced for their major television programmes, so Tom subsequently ran a small team setting up and running websites for programmes like Neighbours and The Bill. He said: 'I was even posted on a challenging mission to build a website for Bay Watch in Hawaii'.
As it was a new industry, they really didn't know where to put him, and Tom ended up reporting to the finance director Nick Humby (who went on to be the finance director of Manchester United). Tom said: 'It was lucky because he was very busy and he let me get on with it'.
He then worked briefly at NTL, and then was business development director at the agency Object 1.  In the dog days of the dotcom disaster, Tom worked in a variety of consultancy roles before deciding that he enjoyed writing, which led to a year-long course at the University of Westminster for a diploma in journalism.
He joined MSN UK in 2004 to work on their Cars and Money channels, which eventually turned into just working on the Cars channel. He said: 'That was a lot of fun as I got the chance to drive some amazing cars and have some incredible motor-journalism-style experiences in some exotic places. After some years of doing that, during which I'm pleased to say we won a number of awards, I was promoted to become head of channels at MSN UK.'
What does the head of channels do?
All the various channel websites that make up MSN UK, such as MSN Entertainment, MSN News, MSN Sport, the lifestyle channels including MSN Her, MSN Him, MSN Tech and indeed MSN Cars, all report to me. We have around 35 people in the team, and my role involves coordinating activities, allocating our resources properly, man and team management, tracking progress on our many targets, dealing with marketing and PR, and working with sales colleagues on large new sponsored channels projects, of which we have some already (like our Food channel with Sainsbury's), with more to come, as well as conventional ad deals with our big clients and agencies. 
Visiting clients and agencies is one of the most exciting bits of my job and one of the parts I enjoy the most.
I'm also constantly thinking of ways we can produce our content more efficiently and productively, and I've spent a lot of time in the past year leading an effort to allow selected freelancers to contribute directly to our CMS, a move which has given us much more flexibility, especially out-of- hours.
Some news stories and events can legitimately go into more than one area, for example, our Celebrity channel and our Fashion channel. Usually a story would go on one or another but not both; it's not an uncommon problem, and I have to adjudicate that.  I also currently run our SEO efforts.  I enjoy SEO and love it when we end up 'on top of the page' – but we have more to do.
MSN UK also operates a flexible inventory management for our advertising sales; we drive traffic towards the pages we can sell for the most money. We also have quite a lot of takeover activity where an advertiser buys up a section on one channel or lots at the same time. It's my job to ensure we deliver the required amount of traffic to those sections.
How does a takeover work?
Takeovers can affect nearly all of our channels and we have to deliver a certain number of impressions to the advertiser in a 24-hour period. It's my job to make sure that happens. Luckily we have a very large network and network traffic, including our very popular homepage, Outlook.com and other Microsoft Online websites, which means we can deliver on our promises perhaps more easily than many other digital publishers.
Advertisers want to be sure big campaigns placed with us will move their dial, as it were, and obviously being one of the most popular websites in the UK, we're one of the few players which can drive big commercial messages for advertisers to large numbers of consumers.
What did winning the AOP Award and Online Media Award mean to MSN UK?
It was very exciting for us to win both awards. A lot of people associate MSN with being an old-style portal, or the days of MSN Messenger.  We have been busy reinventing ourselves at MSN UK over the last 18 months, and our new mantra is 'The best of now'.
We want to move that conversation on, not just for our 20 million existing UK users, but new ones too. MSN UK is now a key part of people's digital day and ensure that they know when they come to the site they will have all the most up-to-date news, entertainment and information at their fingertips. Winning these awards really helps to change the perceptions with our users, advertisers and the internet industry in general. It helps us to position ourselves as very much part of the future, and it's a testament to the whole team that we won them.
What is that future?
Well clearly things like social are very important so it was very nice to win the AOP Use of Social Media 2013 award for our #socialvoices initiative. Social is clearly a key part of everyone's internet experience these days and we're aware the fact that we need to have a high profile and be part of that conversation, be it on Facebook, Twitter or elsewhere. It's where a lot of people spend a lot of time and if our users are spending a time on social, we need to as well.
How does MSN UK compare to traditional media websites?
Because we have so many users we can make the advertising model work well. We don't intend to charge and we never will. We also don't have the legacy costs and the legacy hassle of having a withering print operation to worry about.
Microsoft websites represent the world's second largest online network and we get a lot of network traffic from that.  And we have the resources and technology expertise of the parent company too. Microsoft is a forward thinking digital company and has been right there from the beginning.
What does MSN UK have to look forward to?
We're very excited about moving our entire website to mimic the Windows 8 app experience. The Holy Grail is when we create the same content with the same look for any platform. We've already made a start, and over the
next year or so MSN UK is going to be very heavily involved with moving to that place, which will produce substantial advantages to the production end and bring a lot of benefits to our users.
It will produce many efficiencies as well as creating a much more uniform experience over all Microsoft digital properties i.e. not just MSN but also Xbox, Windows 8, Skype, Surface, Office, Bing and many others.
How do you work with PRs?
They sometimes contact me and I will be happy to point them in the right direction. The email addresses and phone numbers of most of the team are listed on CisionPoint. The team are receptive to phone calls; it's part of the job. As long as the offer is interesting and not purely a follow up to a press release.
Priyanka Dayal
https://www.vuelio.com/uk/wp-content/uploads/2023/09/vuelio-logo-200px.png
Priyanka Dayal
2013-07-01 14:39:23
2013-07-01 14:39:23
Journalist Spotlight: Tom Evans