Twitter Lessons from Marketing Week Live
Marketing Week Live was a chance for marketers to catch up with the industry and see what the future possibly has in store. Dara Nasr, head of agency sales at Twitter, delivered an insightful presentation titled 'Twitter – an "Interest" Network with "Social" Qualities'.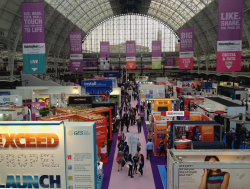 Using screenshots and videos, Dara sold Twitter as the perfect way to entertain, inform and respond to clients and prospective clients for the modern marketer.
There are 10 million users in the UK, which is the highest ratio of users to population in the world. That number is probably active users, as this Guardian article reports, but there is no mention of multiple accounts or a split between brands and individuals. It is worth remembering therefore that a majority of people do not have a Twitter account and are not part of the 'Twittersphere'.
Twitter is useful for media relationships and coverage, with outlets regularly including tweets to gauge public opinion and report on celebrity tantrums. There's a big audience of media contacts on social media, with 80% of UK journalists on Twitter*. The social network may, therefore, be a good way to influence the masses, albeit it via a third-party 'traditional' outlet.
The examples Dara gave were from social media giants, such as Oreo, KitKat, Natwest and Lynx. Trying to replicate the success of Oreo's legendary Superbowl blackout tweet, or Natwest's suggestion to Kim and Kanye that their baby should be called 'Nat', is a pipedream a majority of brands will never attain it. There are, however, some lessons that can be learnt from the big brands doing it right. O2 is often lauded for its Twitter engagement. Responding to every tweet, using humour towards some customers and sincerity for others, O2 has reminded brands that good customer service can be good publicity in itself.
Dara also advised that brands, and individuals for that matter, should never be 'mean' on Twitter as the wider audience doesn't respond well to any form of rudeness. Interacting with competitors can also boost both accounts' followers. Dara revealed that 40% of peak-time Twitter traffic is also watching TV, which gives brands plenty of opportunities to cash in.
*Statistic from Cision's Social Journalism Study 2012.
To find out how your company can use social media monitoring, check out Cision Social Media.
https://www.vuelio.com/uk/wp-content/uploads/2019/09/vuelio-logo.png
0
0
Priyanka Dayal
https://www.vuelio.com/uk/wp-content/uploads/2019/09/vuelio-logo.png
Priyanka Dayal
2013-06-28 14:31:22
2013-06-28 14:31:22
Twitter Lessons from Marketing Week Live