Weekend of events: social media analysis
As Sunday was the hottest day of the year so far, the weekend was the perfect time to head out to an event or, for those that are sun shy, tweet along from the comfort of your living room.
With Wimbledon, the Tour de France, Gay Pride, the British Grand Prix, and Glastonbury, there was really something for everyone (unless your interests lie elsewhere). But which event was the most popular on social media?
Using Cision Social Media, we know that between them, the five events managed over three million tweets from Friday to Monday.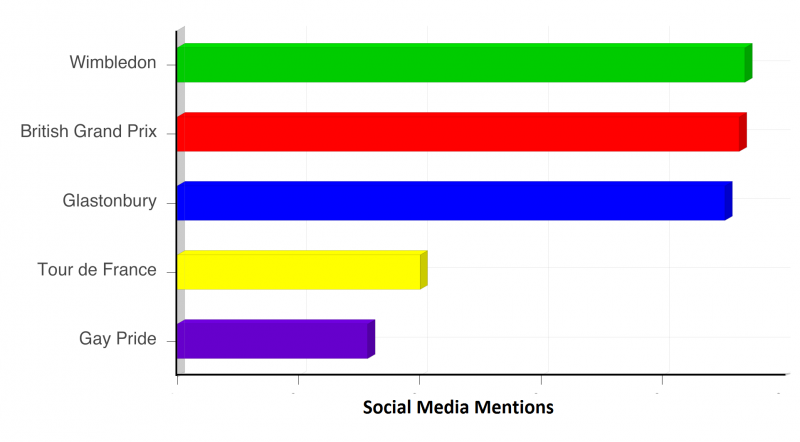 Out in front was Wimbledon, benefitting from global appeal and Andy Murray playing on Monday. The British Grand Prix had only a small window of opportunity for tweets, as the main event was only two hours long. To get a clearer understanding of popularity, we can break down the data further to reveal peak-time Twitter traffic for each event.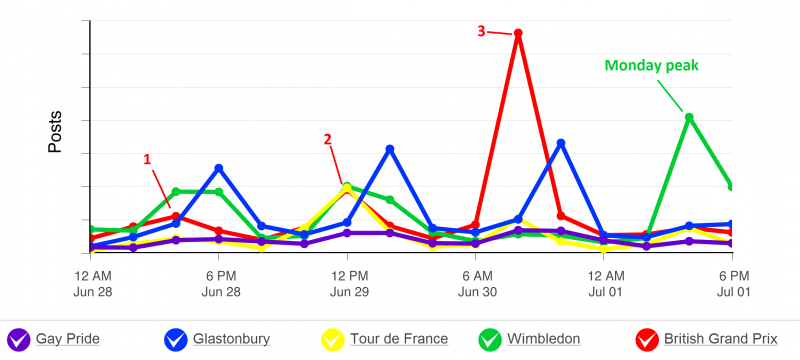 The most popular event seems to be the British Grand Prix, which peaked three teams: 1) during Friday practice; 2) during Saturday's qualifying; 3) during the race. Glastonbury manages a similar pattern of peaks – rising over Friday, Saturday and Sunday evening – though the BBC's limited coverage may have hampered the festival's chance to top the social media mentions.
40% of peak-time Twitter users are also watching TV, which is reflected in these results. Wimbledon had over 35 hours of terrestrial television coverage across the four days, with Monday's peak making up for no play on the tournament's middle Sunday.
Glastonbury had 15 hours of terrestrial coverage with a further 14 on BBC3 and BBC4. Though this is more than the British Grand Prix's 10 hours (nine on terrestrial and one on BBC3), nineteen hours or 65% of Glastonbury coverage aired after 10 o'clock. The Tour de France had nearly twenty hours of coverage exclusively on ITV4.
Gay Pride didn't feature on any terrestrial of Freeview channel, and as such the large volume of tweets is testament to the event itself and the global attention it receives.
Graphs and charts made with Cision Social Media analysis via CisionPoint.
https://www.vuelio.com/uk/wp-content/uploads/2019/09/vuelio-logo.png
0
0
Priyanka Dayal
https://www.vuelio.com/uk/wp-content/uploads/2019/09/vuelio-logo.png
Priyanka Dayal
2013-07-02 09:10:37
2013-07-02 09:10:37
Weekend of events: social media analysis