Labour leader and deputy contests move to second stage as hustings begin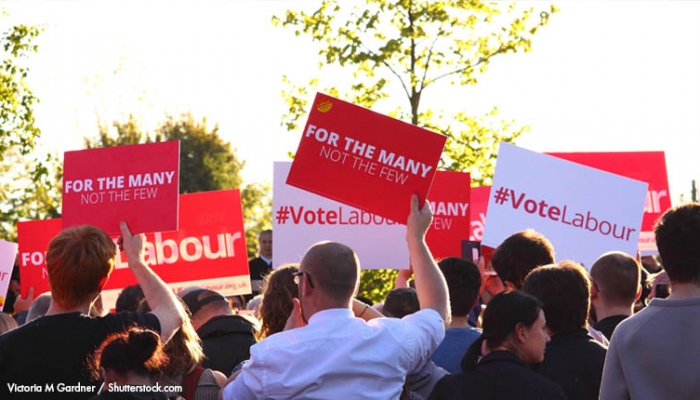 As nominations for the Labour party leadership closed this week, five candidates made it through to the next round of nominations, and a further five candidates will contest the deputy leadership vacated by Tom Watson. The party has arranged a series of hustings starting in Liverpool on Saturday 18 January.
The next stage in the contest, with a deadline of 14 February, requires candidates for both leader and deputy, to secure the backing of 5% of local Constituency Labour Parties (CLPs) or at least three affiliates – two of which must be unions. This Twitter account is keeping track of CLP nominations and of the first nine, Keir Starmer has six nominations and Rebecca Long-Bailey has three.
So far the country's largest union, Unison has backed Keir Starmer, the National Union of Mineworkers (NUM) has backed Lisa Nandy and the Bakers Union has backed Rebecca Long-Bailey. Of the affiliated organisations, environmental organisation SERA (formerly the Socialist Environment and Resources Association) has endorsed Keir Starmer, with further announcements from other organisations expected over the coming weeks leading up to the mid-February deadline.
Shadow Treasury minister Clive Lewis withdrew from the contest shortly before nominations closed, though he had put forward a radical manifesto that included supporting a second Scottish Independence referendum 'if the Scottish people want one' and pledging to set up 'democratic Assemblies for the English regions, with real powers and budgets'.
Sir Keir Starmer is the clear favourite in terms of nominations from the party's MPs and MEPs with 89 out of 203 MPs nominating him.
Shadow BEIS Secretary Rebecca Long-Bailey has received the backing of the Momentum grassroots campaigning organisation and has been dubbed the 'continuity Corbyn candidate', though she received only 33 MP nominations. The Momentum online poll of members was overwhelmingly in favour of Rebecca Long-Bailey but oddly she was the only candidate offered with 70.42% voting in favour of endorsing her and 52% endorsing Angela Rayner for deputy leader. Just over 7,000 members of the organisation took part in the ballot with many presumably boycotting it due to only being offered one option. Ms Long-Bailey launches her campaign in Manchester this evening.
Wigan MP Lisa Nandy received 31 MP nominations with Jess Phillips and Emily Thornberry both receiving 23 nominations from their colleagues.
Emily Thornberry launches her campaign in Guildford today. Having first won her Islington South seat in 2005, she is the only candidate who was actually in the House of Commons when Labour was last in Government. She will say in her launch speech: 'I'm standing to lead our party, because I want to be the woman, and I know I can be the woman, who stands up and leads the fightback against Boris Johnson.'
Whilst starting from a low base in terms of support in terms of early polling and MP nominations, Jess Phillips has built a big name recognition for herself through various interviews and TV appearances as well as her campaigning on education cuts and violence against women. She has said in a letter to party members: 'The way to begin is to tell the truth. No more pussyfooting or pretending – we have to provide a version of the future that fills our hearts while being rooted in fact'. Her campaign slogan is 'Speak Truth, win power'.
Keir Starmer launched his campaign in Manchester and has already generated a lot of attention with a video setting out his background as a lawyer taking on a wide range of pro bono work for trade unions, and environmental or human rights campaigns. He rose to national prominence as Director of Public Prosecutions and Head of the Crown Prosecution Service from 2008 to 2013.
Lisa Nandy has already made a foreign policy focused speech this week with a passionate defence of free movement and 'the opportunities and benefits it brings', but added that 'this would have required recognising it has flaws, and not dismissing concerns as simply racist anti-immigrant sentiment.'
She also was critical of Donald Trump's decision to pull the US out of the Paris Agreement and has indicated that the UK should refuse to sign off on a US-UK trade deal until this is rectified, adding: 'We must use trade to support climate action, not hamper it'. She is the first of the five candidates to face a grilling from Andrew Neil on his BBC show.
An article on HuffPost claims that Nandy's team has a 'preferential strategy', taking into account the AV voting system used in the contest, to appeal for second preferences from Jess Phillips and Emily Thornberry supporters, which would bolster her tally if those candidates drop out at earlier stages.
As in the previous two contests won by Jeremy Corbyn in 2015 and 2016, non-Labour members have been able to sign up as registered supporters over a two-day period this week. In what could be a blow to the Rebecca Long-Bailey campaign seeking to build on the previous Corbyn surges in supporters of 180,000, only 14,700 paid the £25 to take part in this contest.
All eyes will turn now to the contest itself and whether the turnout of members, affiliated union members and registered supporters reaches the high turnouts of 76.3% in 2015 and 77.6% in 2016 when 422,871 and 506,438 respectively took part in the contests.
The Deputy leader candidates who all achieved the 22 MP nomination threshold are Angela Rayner on 88 nominations, Ian Murray on 34, Dawn Butler on 29, Rosena Allin-Khan on 23 and Richard Burgon on 22.
The results will be announced at a special conference on Saturday 4 April.
https://www.vuelio.com/uk/wp-content/uploads/2020/01/Labour-leadership.jpg
430
760
Sam Webber
https://www.vuelio.com/uk/wp-content/uploads/2019/09/vuelio-logo.png
Sam Webber
2020-01-17 16:27:01
2020-01-17 18:37:39
Labour leader and deputy contests move to second stage as hustings begin