Reject the 'perennial prophets of doom' or embrace 'real zero' emissions?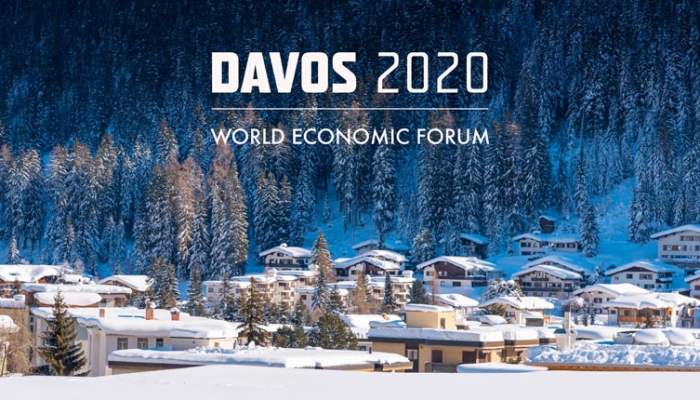 The World Economic Forum (WEF) taking place in Davos, Switzerland is dominated by discussions about new global trade deals and reducing the impact of climate change. The annual gathering first established in 1971 and formalized in 1974, sees 3,000 of the world's richest and most powerful people gather in the Swiss resort to discuss global affairs affecting business and the economy.

Observers have been encouraged that the Forum is at last tackling environmental issues, with 17-year-old climate and environmental activist Greta Thunberg giving a keynote address.
Her speech, as reported by the New York Times, was critical of distant net zero carbon reduction targets: 'We don't need a low carbon economy. We don't need to lower emissions. Our emissions have to stop if we are to have a chance to stay below the 1.5-degree target. And, until we have the technologies that at scale can put our emissions to minus, then we must forget about net zero. We need real zero.'
She repeated her warning to the political generation of today to take real action or to face their children knowing that an opportunity to change course on emissions had been missed: 'Our house is still on fire. Your inaction is fueling the flames by the hour. And we are telling you to act as if you loved your children above all else.'
Sky News' Economics Editor Ed Conway reported that Thunberg will later be meeting the Prince of Wales, who is also attending and speaking at the WEF on climate change. Clarence House has issued a tweet confirming the meeting.
Perennial prophets of doom
President Trump's message seemed to be directed at Greta Thunberg despite not directly naming her: 'This is not a time for pessimism. This is a time for optimism. To embrace the possibilities of tomorrow, we must reject the perennial prophets of doom and their predictions of the apocalypse. They are the heirs of yesterday's foolish fortune tellers.
'They want to see us do badly, but we don't let that happen. They predicted an overpopulation crisis in the 1960s, mass starvation in the 70s and an end of oil in the 1990s. These alarmists always demand the same thing: absolute power to dominate, transform and control every aspect of our lives. We will never let radical socialists destroy our economy, wreck our country or eradicate our liberty.'
Donald Trump's presence at the Forum is interesting given Boris Johnson issued a ban to his ministers from attending this year's summit, not wanting to be part of the global elite as his re-elected Government sets about delivering Brexit and levelling up spending across the entire country. Only Chancellor Sajid Javid has been allowed to attend and he was mocked by a CNBC journalist for doing so: 'Thank you very much for coming, and drinking champagne with billionaires here at the World Economic Forum'.
Trade deals
Despite doubts that the UK can achieve a trade deal with the EU before the end of 2020, Javid said he recognised the narrow window to conduct the trade negotiations, but that nonetheless the Government would not commence formal trade discussions with the US government on a trade deal until an EU trade deal was in place: 'I have held a number of discussions with European colleagues and there is a strong belief on both sides that it can be done. Both sides recognise that it's a tight timetable, a lot needs to be done. It can be done, and it can be done for both goods where we want to see zero tariffs and zero quotas, and also services'.
US Treasury Secretary Steven Mnuchin was disappointed to learn that the UK Government was prioritising an EU trade deal over one with the US but seemed confident one could also be agreed in 2020: 'We are very much looking forward to a new trade agreement this year with the UK, it's a big priority for us.'
Javid said of the UK's ambition to conclude a trade deal with the US as well, ideally before the US election later this year: 'A trade agreement between the sixth largest economy in the world and the largest economy in the world could benefit all consumers in terms of jobs and prices. It's hugely important.'
Whether the UK can achieve these two major trade deals within the next 12 months is unclear, but what is expected is that the agreements will be conducted in phases and that an initial agreement will be completed this year, with the rest of the detailed negotiations conducted gradually over the years ahead.
https://www.vuelio.com/uk/wp-content/uploads/2020/01/Davos-2020.jpg
430
760
Sam Webber
https://www.vuelio.com/uk/wp-content/uploads/2019/09/vuelio-logo.png
Sam Webber
2020-01-22 18:27:27
2020-01-22 18:30:47
Reject the 'perennial prophets of doom' or embrace 'real zero' emissions?