LGBTQ+ Blogger Spotlight Kate Everall, LesBeMums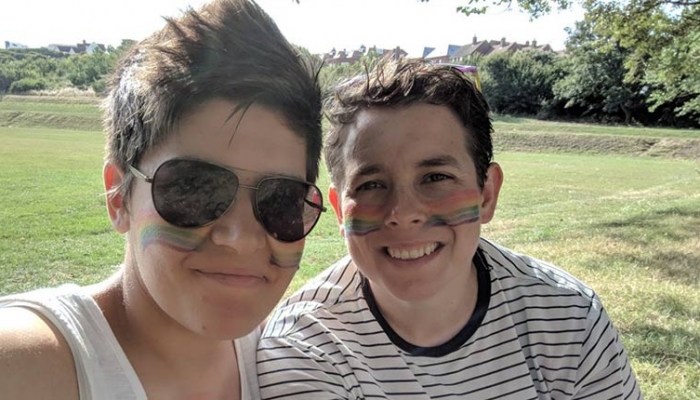 'Listen and learn! The best thing people can do is educate themselves on basic terms such as pronouns and to not make so many assumptions,' says Kate Everall, who blogs about LGBTQ+ issues and life with her wife Sharon and their family at LesBeMums.
Read on for how Kate continues to campaign for her community despite the COVID-19 lockdown and how to celebrate Pride from home in August.
How did you originally get started with writing about LGBTQ+ issues?
Pretty much as soon as we started trying for a baby! We've always been active members of our community, but we never put pen to paper. So, when we started documenting our conception journey (and then later our family life) it was rare that we didn't speak about comparisons with heterosexual families and how LGBTQ+ people are still underrepresented.
What's your favourite thing to post about and why?
Just like any other parent, I LOVE talking about my child, but second place to that are LGBTQ-related topics such as LGBTQ-inclusive books for children or ways people can be better allies to our community. Anything that will basically increase visibility and raise awareness.
How have you had to change your approach to blogging, or your content, during the COVID-19 crisis?
I've certainly had to balance my time a bit better and make use of scheduling tools! Children don't quite understand the terms 'deadlines' or 'Mummy needs to jump on to a Zoom call'. Plus, with my wife also working from home, our poor WiFi has been stretched to the limit!
How did you celebrate Pride this year?
Virtually! With the cancellations of Pride events we had to take our campaigning to social media. Jamie (Daddy & Dad) and I even set up 'Pride At Home UK' to encourage rainbow families and allies to get together at the end of August to wash social media with rainbows.
Have you been covering the intersection of race and LGBTQ+ issues on your blog?
I've always thought our blog was inclusive and diverse, but we could absolutely do more! My main outlet for getting messages out there has primarily been on social media, as blogs aren't often fast enough to get a message out there, but over the next few weeks I intend on writing about ways I plan to tackle racism and how I can be a better ally to BIPOC communities. This is so I can hold myself accountable as well as encourage others to have the same conversations.
What is one thing you wish straight cis people would take on in their day to day lives to be better allies to LGBTQ+ people?
Listen and learn! It's no longer acceptable to automatically think that families are made up of one husband and one wife. Even today I find myself coming out to people, having to correct their assumption that I have a husband or that my son has a father. The best thing people can do is educate themselves on basic terms such as pronouns and to not make so many assumptions.
Do you think people should boycott Harry Potter books in light of JK Rowling's sharing of harmful ideologies?
I was devastated when I read what JKR had written about the Trans community, but that didn't make me want to burn all my Harry Potter merchandise. I think people should avoid giving people like JKR a platform, but the universe she's created is still important as it's a community in itself. There are people who have become the people they are today by reading Harry Potter and I think it still deserves a space in society. That being said, I may think twice about endorsing anything in future that may line her pockets!
How do you collaborate with brands and which kind of brands do you really like working with?
Collaborations seem to come like buses at the moment. I can go months between campaigns (which is a perfect time to do some admin!) and then suddenly I'm working flat out, so I don't really have any advice in regards to keeping the work flowing. For me though, the most important thing about working with brands and building those relationships is being genuine. We only work with brands we genuinely like, and more often than not, I've been a customer of theirs in the past anyway. Engage with their content and show them what you have to offer.
I love working with family brands who are inclusive and diverse, as well as those who are generous with their time and transparent with disclosure! It's so reassuring to see a contract that says work MUST be suitably advertised as such and when I've been given ample time to create the best work. Some of the best collaborations have been when respect is given from both sides.
For PRs looking to work with you and your blog/website, how would you prefer they approach you and with what kind of content?
Most the time, my DMs are always open on social media, but once the conversation starts to go down the route of collaborations (and money!) I prefer to move onto email.
We're a pretty mixed bag content wise (although we haven't yet ventured much into YouTube), but if you want a bright and colourful family to showcase your brand (or holiday resort! Haha!) then look no further. Being an LGBTQ+ family, we like to think we bring something different to the table.
What other blogs do you check out regularly?
Gosh, where do I start? My reading list is ever-changing, but at the moment I'm currently reading (and watching) Sareta Fontaine and the back catalogues of Tinuke Bernard, who was previously CircusMum.com. I also love catching up on the adventures of Two Dads UK.
https://www.vuelio.com/uk/wp-content/uploads/2020/08/Kate-Everall-LesBeMum.jpg
430
760
Christina Pirilla
https://www.vuelio.com/uk/wp-content/uploads/2023/09/vuelio-logo-200px.png
Christina Pirilla
2020-08-13 11:03:20
2020-08-13 11:03:20
LGBTQ+ Blogger Spotlight Kate Everall, LesBeMums