Liz Saville Roberts: The nasty party is well and truly back – the Remain alliance offers a stark contrast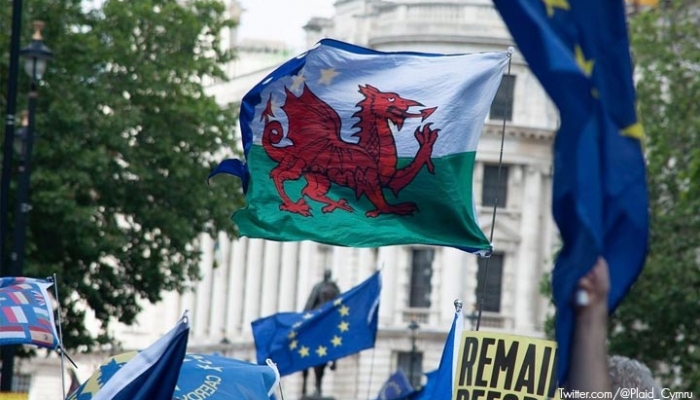 Plaid Cymru's Westminster Leader Liz Saville Roberts writes that 'the last few days have seen the mask slip for the Conservative Party' and argues that her party's agreement with two other Remain parties to work together in 60 key seats 'offers a stark contrast'.
Politics is pointless if it is not underpinned by principles. The values which we hold define our world-view. The last few days have seen the mask slip for the Conservative Party and the arrogant, yahoo, old boys' club mentality that they have desperately tried to distance themselves from returned to centre stage.
The election race has barely begun, and we have already seen Conservative Party candidates taking deplorable moral stances and engaging in dubious backtracking.
A day-one resignation marked the beginning of their election campaign this week.
The Secretary of State for Wales Alun Cairns was forced to stand down when he lied about 'categorically' having no prior knowledge of a former aide's role in collapsing a rape trial.
This deplorable behaviour exposes the lengths to which the Conservative Party will go in order to cover their tracks, not only demonstrating a flagrant disregard for our justice system, but also a disturbing lack of morality, let alone empathy.
My only hope is that his resignation brings some comfort to the victim. But a fundamental question still remains: if it was bad enough for Mr Cairns to resign as Secretary of State, why does he think himself fit to stand again for public office?
Mr Cairns' resignation follows Jacob Rees-Mogg's horrendous comments regarding the victims of the Grenfell Tower tragedy. Mr Rees-Mogg alleged that leaving the building was the 'common sense thing to do'.
From these comments we can only conclude that Mr Rees-Mogg believes the advice of either the Fire Brigade lacked common sense, or the victims of fire themselves did.
This not only shows a fundamental lack of empathy on Mr Rees-Mogg's part, but also calls into question his views on public services such as the Fire Brigade, seemingly presuming he is above the advice of those trusted with protecting us in dangerous situations. Or possibly that those who follow the advice of these services have no one to blame but themselves.
His equally repugnant Tory colleague, Andrew Bridgen, proceeded to exacerbate the situation when he leapt to defend Mr Rees-Mogg, claiming the comments were a 'by-product of what Jacob is'.
These comments reflect precisely what 'Jacob' believes he is – a man whose over-inflated sense of intellect and authority makes him believe he is above any of the trials faced by those of us who weren't born-to-rule.
Mr Rees-Mogg later stated that he was 'profoundly sorry' for the comments and that he would have in fact 'listened to the fire brigade's advice'. However, I'm sure these words ring hollow for those who witnessed the horrors of Grenfell first hand, especially when coming from a man so far removed from the harsh reality of the situation.
The actions of these two men not only showcases their incompetent and negligent attitude, but also draws attention to a much greater issue at the heart of the Conservative Party: a reckless disregard for those they hurt. An entrenched belief in victim blaming. A party so enamoured of the old boys' network mentality of 'anything goes' that they are not only permitting but encouraging damaging and disgraceful behaviour toward the public. A party whose interests are solely their own, and to hell with who they hurt in the process.
These are values we cannot allow to find their way back into our politics.
So, slogans and Facebook adverts aside, this Tory party is far from modern and relevant. More back to the past than forward to the future.
It is a leap to past principles that even if they were not eradicated from our politics, parties should be embarrassed to harbour.
The grown-up principled politics of my party, Plaid Cymru, in coming to an agreement with two other opposition parties to field one pro-Remain candidate in key seats offers a stark contrast.
We have put our countries before parties, where others are putting their parties before all else. In the case of the Conservative party, it could even be argued that they are putting themselves before their party.
This is a guest post from Rt Hon Liz Saville Roberts, Plaid Cymru's Westminster Leader and the party's candidate in Dwyfor Meirionnydd.
https://www.vuelio.com/uk/wp-content/uploads/2019/11/Liz-Saville-Roberts-post-.jpg
420
720
Phoebe-Jane Boyd
https://www.vuelio.com/uk/wp-content/uploads/2019/09/vuelio-logo.png
Phoebe-Jane Boyd
2019-11-08 15:45:44
2019-11-08 15:45:44
Liz Saville Roberts: The nasty party is well and truly back – the Remain alliance offers a stark contrast