Media Response and Controversy Behind Channel 4's Privatisation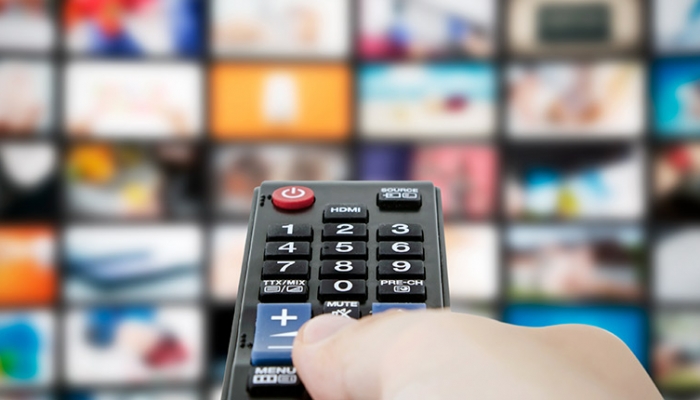 The Culture Secretary Nadine Dorries announced that the Government is privatising Channel 4 in response to increasing pressures from streaming giants like Netflix and Amazon. Dorries believes a change of ownership will grant Channel 4 the 'freedom to flourish' and allow it to 'thrive as a public service broadcaster long into the future' (via Twitter, 04.04.22).
In the week that followed the announcement on 4 April, we tracked broad, large-scale media coverage as well as a sample of articles from 280 journalists across 356 UK-based publications. 104 international publications also reported on the growing spectrum of controversy arising from this decision.
Mutual Consensus Across UK and international Media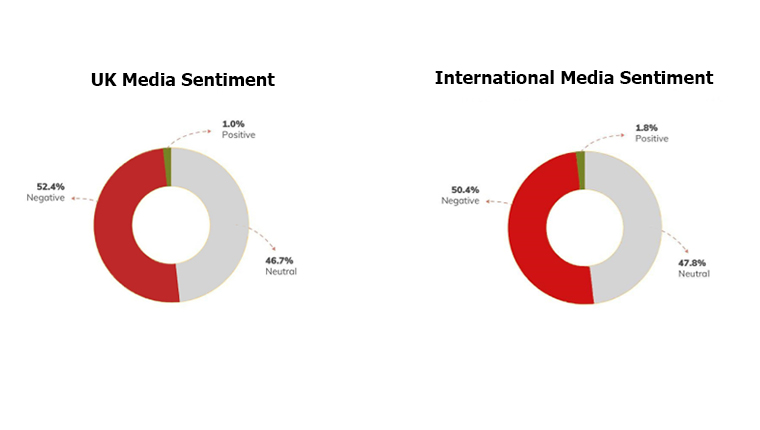 Opinions towards the sale were relatively mutual between the UK and international coverage, with an almost even split between negative and neutral sentiment. As Conservative MPs expressed their shared concerns, The Telegraph commented on the rarity of such widely-shared agreement across the media and political parties, describing it as 'very odd' (The Telegraph, 07.04.22). With multiple layers of controversy embedded in the decision, very few have attempted to outline a positive response.
Trending areas of controversy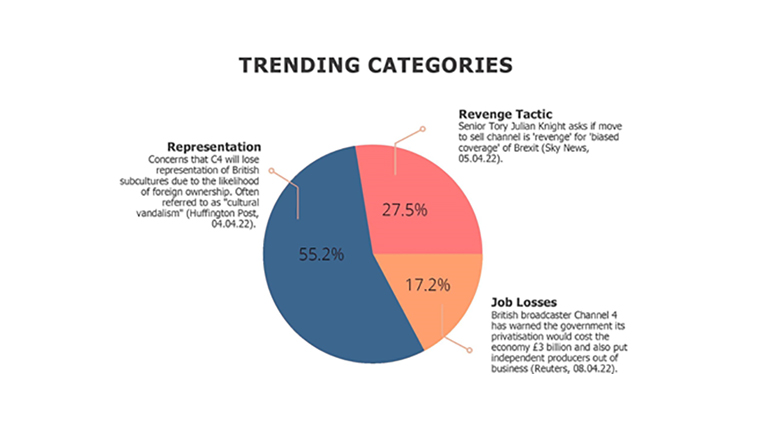 Among the 4,186 headlines that emerged in the UK in the five days that followed, three focus areas gained significant attention in the media: representation, revenge and job loss.
In a sample taken from the top international, national and business news sources, over half referenced the concerns of 'cultural vandalism' that may occur from likely foreign ownership. Dorothy Byrne, former head of news and current affairs at Channel 4, has had a particularly strong voice in this area; 75 journalists across the UK quoted her extensive opinions on the matter.
Byrne exemplified her concerns in stating: 'We would no longer, for example, hear "gay people in Glasgow" on the channel. Mass [global] audiences don't want to hear the perspective of the nations and regions of Britain particularly' (iNews, 05.04.22).
Similarly, Kirstie Allsopp has also held the spotlight for her opinions as an established Channel 4 presenter. Several UK news articles embedded her viral tweet, which concluded that 'Profit will be king and the passion & inclusion of Channel 4 will be lost' (BBC News, 06.04.22).
Many journalists have also opted to outline the chronological timeline of Channel 4, referencing Margaret Thatcher's goals to serve the 'underrepresented voices' (The Guardian, 06.04.22). The topic is by far the most popular for reach among the public, with one trending article titled 'Hands off Channel 4 – it helped me embrace my sexuality' (The Independent, 06.04.22).
An act of revenge for Brexit bias?
With a strong adoption by US media, 27.5% of the sample focused on speculations that the sale is an act of 'revenge' due to Channel 4's loaded commentary and 'bias' in coverage against both Brexit and Boris Johnson (Sky News, 05.04.22). Back in 2019, Channel 4 made the news for replacing Johnson with a melting block of ice during a debate he was unable to attend (referencing his lack of response to the climate emergency). This led to a "threat" from the Conservatives, who said they would review Channel 4's broadcasting remit if they won the election (The Guardian, 28.11.19).
With this decision now confirmed, 770 publications quoted Conservative MP Julian Knight (also chair of the influential Commons Digital, Culture, Media and Sport Committee), who initiated the concerns that this could be an act of strategic retaliation. He said the Government's decision to push ahead represents 'a big risk" with uncertain benefits (Sky News, 05.04.22).
Impact of privatisation on Scottish production companies
Scottish production companies have also been highlighted as an area of emphasised loss by UK media, particularly in the job sector. Since 2007, Channel 4 has played an 'important role' in the 'growing success of the screen sector in Scotland', including £200 million for Scottish-based productions and support for 400 jobs (The National, 04.04.22).
Following Armando Iannucci's opinion piece in The Guardian on April 6th, 557 media outlets across the country reported on his views. He is a prominent Scottish writer and producer with an established relationship to Channel 4. Iannucci tweeted 'Why do they want to make the UK's great TV industry worse? Why? It makes no business, economic or even patriotic sense' (Sky News, 05.04.22).
The 'Red Meat' Agenda
In an interview with Times Radio, the aforementioned Dorothy Byrne also accused Boris Johnson of 'throwing red meat to right-wing voters' (The Independent, 05.04.22). Since the discussion, this has been a trending phrase in 127 media outlets across the UK and United States.
Huffington Post further added that this will please the PM's 'Brexiteer base', who have expressed a growing displeasure for the 'pro-Remain, left-of-centre' news coverage by Channel 4 (Huffington Post, 05.04.22).
Over 300 news sources shared excerpts from Health Secretary Sajid Javid's interview with LBC Radio, who expressed his joy for the sale. Javid was often quoted saying the sale will 'set it free' to 'compete in what is a fast-changing landscape' (The Independent, 06.04.22). Additionally, Dan Wootton, the GB News presenter known for his opposition to left-wing views, took to social media to share his optimism for the sale: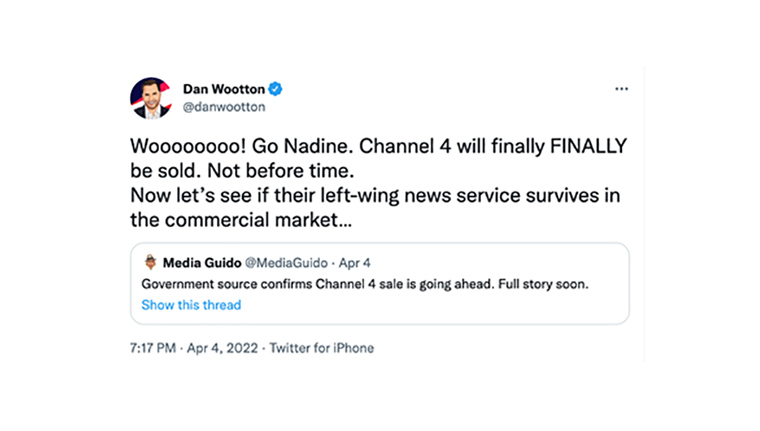 Valuation and loss
Two days after the announcement, BBC News shared the estimation that Channel 4 is worth between £600m and £1.5bn—which has since been quoted 60 times across several UK sources (BBC News, 05.04.22).
Aside from the impact on Scottish employment, The Guardian reported that analysts believe the company would face 40% to 50% cuts to its £660 million programming budget – which, in turn, could lead to cuts to content (Metro.co.uk, 04.04.22).
Key facts of the study
• Over 4,186 articles were analysed from 3 – 8 April, with a focus on UK media and occasional focus on the international response.
• The analysis was a blend of Vuelio Media Monitoring and Analysis, enriched by the Vuelio Insights team.
• When discussing controversies embedded in the privatisation of Channel 4, a sample of coverage was studied in depth in order to provide reliable and trust-worthy insights from the top international, national and business news sources.
Want to understand more about this story and data, or find out how the Vuelio Insights team can support you? Get in touch.
https://www.vuelio.com/uk/wp-content/uploads/2022/04/Channel-4-privatisation.jpg
430
760
Hollie Parry
https://www.vuelio.com/uk/wp-content/uploads/2019/09/vuelio-logo.png
Hollie Parry
2022-04-12 09:46:27
2022-04-22 14:47:57
Media Response and Controversy Behind Channel 4's Privatisation