Music Blogger Spotlight with Mark Millar, XS Noize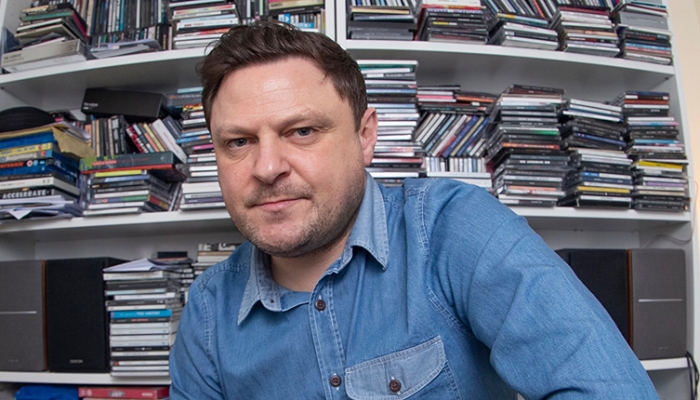 'I pinch myself when I think I have interviewed people like Jim Kerr from Simple Minds, the guitar legend Johnny Marr and many more.' Music blogger Mark Millar of XS Noize has met many music monoliths since starting his blog back in 2014, but also loves giving new bands and artists a platform for their music to be heard.
Writing about music has changed a lot since the days of Smash Hits magazine – read on for what Mark counts as the pros of digital publishing and which platforms for new musicians aren't the best route to take if you want longevity in the charts and music collections.
How did you get started with writing about music?
I have loved music for as long as I can remember. My aunt made me sing along to Bye Bye Baby by the Bay City Rollers when I was three. So I suppose I was hooked from then! My parents played everything from Meatloaf to Simon & Garfunkel around the house growing up so I was exposed to loads of great stuff. Then I started buying my own records and tapes as I got older. I read all the music magazines like Smash Hits, Number One and NME from cover to cover.
I did an HNC in Interactive Multimedia. I planned to get into web design, but that didn't work out. So I decided to marry my knowledge of web design and my passion for music and created XS Noize in 2014. It started as a hobby and now XS Noize is recognised as an authority in music, which is amazing.
What's your favourite thing to post about?
I like to feature new bands and artists to give them a platform for their music. Also, I love to interview musicians who I admire and have been a fan of. It's always interesting to hear about their process. I pinch myself when I think I have interviewed people like Jim Kerr from Simple Minds, the guitar legend Johnny Marr and many more.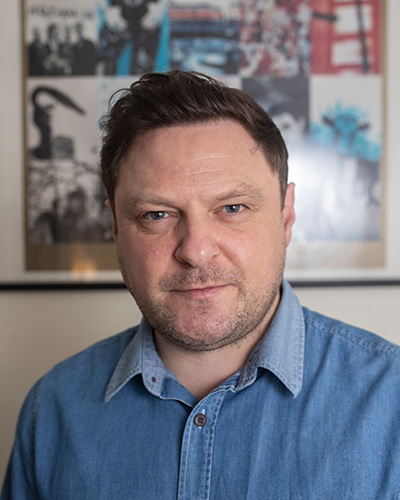 What makes the music blogging community different (and better!) than others?
People love listening to music either on radio, streaming or by playing records and CDs, so it's a real pleasure to be able to inform those people about new music. To do that I have to have my finger on the pulse by regularly checking my emails throughout the day because I never know when I'll receive news about the next big release or confirmation about a band or artist I will be interviewing. My laptop is with me everywhere I go (even on holiday) to enable me to publish on XS Noize immediately. XS Noize is a team effort – we have contributors worldwide who are passionate about music and what they do, and it's a real pleasure to work with them all.
Do you think shows like The Voice and Britain's Got Talent are still a good route into the music industry for wannabe musicians?
No, not really – they are only entertainment shows. If you want 15 minutes of fame then go for it but today no one remembers who wins these shows. I don't think any winner of The Voice has ever been successful. I suppose it's a foot in the door for the acts, but ultimately those shows are about the judges. The best route for musicians is to play the circuit to as many people as they can and write loads of songs.
Do you see the increase in the intersection of tech with music (VR shows/holograms) as a good thing?
I have no problem with it – it's novelty and fun, but it's not the kind of show I would go and see. I would rather see the real thing.
What was the first song/album you bought and would you still listen to it?
The first single I bought with my own money was Wide Boy by Nik Kershaw. And yes, I would stick on his greatest hits now and again.
Favourite song lyric of all time?
'Life's a bag of Revels/And I'm looking for the orange one/She's gone' – Polar Bear by The Charlatans.
How do you work with PRs and brands?
Working with PRs is the lifeblood of XS Noize. I have built amazing relationships over the past six years with PRs. We work closely every minute of the working day on new content by arranging interviews, gig passes, photo passes, reviews and loads more. With brands, we have sponsored live events and organised competitions.
For PRs looking to work with you and your blog/website, how would you prefer they approach you?
PRs can get in touch with me mainly via email, but sometimes they get hold of my phone number and call me directly – I don't mind either way. I get sent hundreds of emails daily from PRs and it's impossible to go through them all, which I feel terrible about.
What other blogs do you read (whether music-related or not)?
I like The Quietus, it's great! And Chordblossom and The Thin Air. The latter two are also based in Northern Ireland, and I like Nialler9, who is based in Dublin. They write fantastic coverage of the local music scenes and beyond, so check them out.
https://www.vuelio.com/uk/wp-content/uploads/2020/02/Mark-Millar-Featured.jpg
430
760
Holly Hodges
https://www.vuelio.com/uk/wp-content/uploads/2019/09/vuelio-logo.png
Holly Hodges
2020-02-25 15:01:10
2020-02-25 15:01:10
Music Blogger Spotlight with Mark Millar, XS Noize