news:rewired – the long and the short of it
The juxtaposition of long-form multimedia visualisations and quick-fire breaking news dominated the sessions at the latest digital journalism conference news:rewired. While digital media is still in an experimentation phase (something it may never leave) these two distinct types of telling stories are clearly establishing themselves.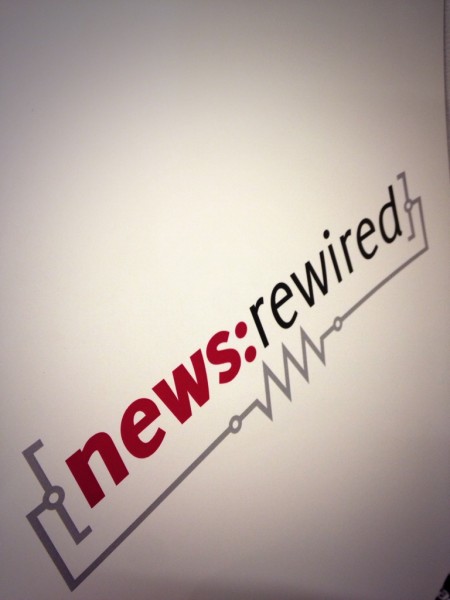 Breaking news is, of course, nothing new to the web. With a dedicated morning session on the topic though, it is clear that its importance to major news organisations' approach is growing. The social media editor for BBC News, Chris Hamilton, talked about social being the under 35s' go-to source for news.
As such, the @BBCBreaking account is still learning best practice for maximum impact; Chris pointed out that while pictures and videos perform very well, tweets that are too long or contain too many hashtags get shared less.
Speed is obviously a huge factor in the world of breaking news and for ITV News' web editor Jason Mills, it is key. The ITV News website is built round a live-feed model with updates to individual stories as and when they occur, and a target time of less than one minute from source to site. Jason revealed that 80% of ITV News' audience are skimmers (opposed to the 20% that are diggers) and it is these people the site's structure is targeting.
While the art of breaking news was made to look significant, Chris made an excellent point: 'Everyone can break the news, it's what you do in the minutes afterwards that counts'. But for the rest of the news:rewired sessions it wasn't the minutes after so much as the hours, days and weeks. The idea that an online audience's attention span only lasts 140 characters is a thing of the past, and the rise of long multimedia articles is being hailed as the future of digital publishing.
An issue print publishers have had with digital innovation is transposing their product online and making it interesting to an online audience. Often this requires taking advantage of the variety of digital tools at their disposal. Video, we are constantly told, is a necessity online and if you're not doing it you're missing a key slice of audience. Yes, YouTube is popular and yes kittens playing are adorable, but if you're telling a story that doesn't need audio and visual then don't try and squeeze it in unnecessarily.
Full multimedia projects, combining text, video, maps, graphics and audio, take a long time to produce but can yield high visitor numbers. The Guardian's interactive Firestorm article is one such example but was an expensive, drawn-out project that would be difficult to replicate on a regular basis. The content also needs to fit the delivery method and most news stories wouldn't benefit from such a structure.
There is also a question of monetising such pieces and publishers are currently working on sponsorship. Without the financial support that comes with a paywall or serious ad revenue, multimedia articles may never make it off the ground. New projects invariably attract more attention which make them appealing for publishers and the current phase of experimentation is likely to produce more boundary-breaking concepts and digital innovations.
Priyanka Dayal
https://www.vuelio.com/uk/wp-content/uploads/2019/09/vuelio-logo.png
Priyanka Dayal
2013-09-23 14:06:45
2013-09-23 14:06:45
news:rewired – the long and the short of it