Parenting Blogger Spotlight: Jamie Beaglehole, Daddy & Dad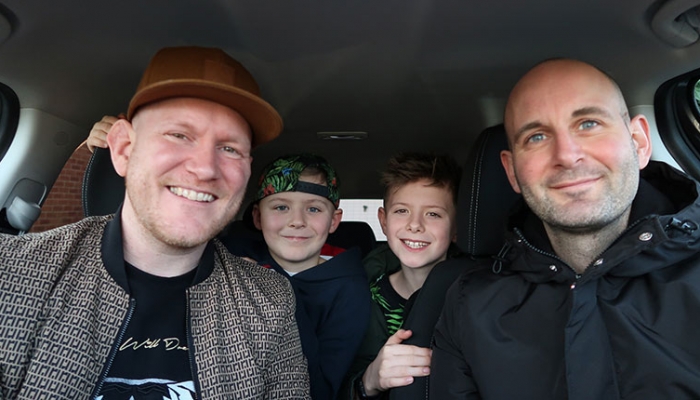 Finding a lack of real-life accounts of the adoption process when adopting their own children around seven years ago, Jamie and Tom started Daddy & Dad to share their experiences with others starting on the same journey.
Jamie tell us what goes into creating a super successful parenting blog (Daddy & Dad feature in our Top 20 UK Parenting Blogs and Top 10 UK Dad Blogs), how you can join in with Pride At Home UK on Saturday 29 August and why there's no better time to get political.
How did you originally get started with writing about LGBTQ+ parenting?
When we adopted our sons almost seven years ago, there was a void where 'real life' accounts of the adoption process should have been. We were presented with loads of corporate information about adoption, but it lacked feeling. I was already writing blogs for brands at work, so I decided to put my creative aptitude to good use and start a blog about our experience. And so, Daddy & Dad was born!
Before I started the blog, I consumed Helen Fielding's and Dawn French's novels and Miranda Hart's book – I really wanted my blog to read as a first-hand, humorous peek into our lives.
The fact we're LGBTQ is supplementary, really, to the key message of adoptive parenting with all its unique challenges and milestones.
What's your favourite thing to post about and why?
While we plan content about adoption, tech reviews and travel, my favourite blog posts and articles to write are off-the-cuff, spontaneous accounts of something funny that's happened that day. The boys squabble (a lot) and they're quite a handful, with bags of personality. They have a wonderful, innocent sense of humour. Their chirpy outlook on life provides me with more engaging content than any parent blogger would ever need! I often write about their behaviour, or their reaction to punishments or household chores – that kind of thing is a joy to write.
How have you had to change your approach to blogging, or your content, during the COVID-19 crisis?
As a Leicester-based family, we've been looking forward to the light at the end of the COVID-19 tunnel. Life at home used to be quite varied, spontaneous and interesting. But over the last five months-or-so our routine has become quite repetitive – not so easy to draw inspiration from.
However, our work with brands has flourished during the pandemic, as businesses utilise blogging families like ours to promote a healthy, active lifestyle at home. As a result, we've produced a lot of home, baking and garden-based content in partnership with brands like eBay, Google and Tesco. It's a new direction for us as we were previously quite an out-and-about, 'days out' type family but it's kept us very busy and we've made some excellent memories.
How are you celebrating Pride this year?
When we heard our local Pride events were cancelled, I teamed up with mum-blogger Kate (of LesBeMums fame) to come up with a positive way to celebrate our LGBTQ community and boost our visibility.
So… on August bank holiday weekend, Saturday 29 August, we are hosting this year's biggest family-friendly virtual Pride event – Pride At Home UK! We're encouraging our LGBTQ friends, families and allies (so, basically everybody) to get out into their garden with their pride flags, to enjoy a picnic or BBQ together and to flood social media with pics using the hashtag #PrideAtHomeUK.
Meanwhile, Kate and I been very busy assembling a team of amazing LGBTQ pop and drag stars to put on an exclusive set in the afternoon of the event. It'll be broadcast from our Facebook pages and it's free to join in (https://www.facebook.com/events/296640968012578/).
Have you been covering the intersection of race and LGBTQ+ issues on your blog?
Our blog is home to parenting content, predominantly although we do host LGBTQ special guests, Q&As and opinion pieces, too. In support of the #BLM movement, I enlisted the help of some influential BAME and ally friends, including Beverley Knight, Gabriel Sey and Steven McKell to produce a blog post, celebrating our BAME childhood heroes.
Instagram has become our main channel for sharing supportive stories, posts and comments about LGBTQ and race issues. As a same-sex family, we're well-tuned into issues of discrimination and prejudice. So, we're using our biggest platform to share messages of inclusion and diversity wherever we can.
What is one thing you wish straight cis people would take on in their day to day lives to be better allies to LGBTQ+ people?
Oh god – I don't wish to get political; there is a time and place, but I think this is it. We know that people generally subscribe to issues that affect them directly – Brexit, COVID-19, the BLM movement and the economy are top of the pile. That's what our allies are currently focused on. Meanwhile, we've noticed they're not being nearly as loud and outraged when LGBTQ rights are debated.
Behind the smokescreen caused by these prevailing issues, our Government, and particularly our Minister for 'equalities', are quietly rolling back the rights of LGBTQ people. That might sound a little extreme, but unfortunately it's true. Our leaders are aligning with trans-exclusionary radical feminists and far-right leaders from other countries. Our own PM sent a public message of congratulations to the Polish PM, Andrzej Duda – a dangerously anti-LGBTQ political figure. He's declared 'LGBT-free zones' in Poland, equal in size to a country like Hungary, forcing innocent LGBTQ people into hiding and removing all their rights. Where is the outrage from our allies? We're not seeing it.
We'd like straight, cis people to speak out – be outraged, stand up for us. As LGBTQ influencers, our audiences are modest and arguably niche – we depend on our straight allies to shine the spotlight on issues affecting us. After all, a country that's inclusive to LGBTQ people is a country that's inclusive to everybody.
How do you collaborate with brands and which kind of brands do you really like working with?
We partner with brands to create social media content for Instagram. We incorporate our sponsored content into our feed and stories naturally so we generally look for campaigns that fit seamlessly into our everyday family life. At the moment, that means home and garden, supermarkets, home technology, home entertainment and toy brands are working with us to promote an active, healthy lifestyle at home.
Our favourite campaigns tend to run over several weeks or months, adding consistency and taking our followers on a fun journey with us. eBay work with us each month on a 'mini-makeover style' challenge where we spruce up a corner of our home or garden with items sourced from their small businesses. We also work with Tesco Food ad-hoc on their Food Love Stories – creating recipes and dedicating them to people we love. Also, brands like Google, Fitbit, Vodafone, Mars and Sky have appeared on our Instagram feed this year.
When we collaborate with a brand, we get the whole family involved. Content featuring the family performs really well because people love to see all four of us having fun together.
For PRs looking to work with you and your blog/website, how would you prefer they approach you and with what kind of content?
We love to hear from brands and their PR agencies. We're very approachable – happy to be contacted via Instagram DM, although email or phone are best for a quick response. What kind of content? We're open to suggestions!
What other blogs do you check out regularly?
Oh gosh, loads. I love the LesBeMums for their days out and Howeydon for his stylish 'father and son' and skincare ideas. Fran at Whinge Whinge Wine is great for a dose of parenting realness and the girls from Our Transitional Life are inspiring. My favourite dad bloggers are probably John and Tim from Dad Blog UK and Slouching Towards Thatcham, respectively – they're both great fun to read but include serious, enlightening opinion pieces. I do a lot of blog-reading in the evenings; I could probably list about fifty faves!
https://www.vuelio.com/uk/wp-content/uploads/2020/08/Daddy-Dad.jpg
430
760
Christina Pirilla
https://www.vuelio.com/uk/wp-content/uploads/2019/09/vuelio-logo.png
Christina Pirilla
2020-08-21 15:19:32
2020-08-21 15:19:32
Parenting Blogger Spotlight: Jamie Beaglehole, Daddy & Dad