Peter Capaldi is Doctor Who
The twelfth hour has struck, proving both the bookies and social media right. Peter Capaldi was announced as the next actor to play Doctor Who during a live programme on BBC One. Cue reaction. 
The topic was hugely popular on social media, even though there was a 'Twitter Silence' protest. Doctor Who received hundreds of thousands of mentions on social networking sites, peaking to coincide with the BBC One show.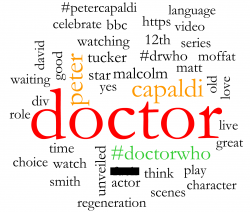 Using Cision Social Media, we can see that the discussion was inextricably linked with the swearing spin-doctor role that made Peter Capaldi famous. Malcolm Tucker's mentions were joined by the character's favourite four-letter expletive, which has been blurred in case there are children reading this. 'Malcolm Tucker' is trending again this morning, with the YouTube video: 'Malcolm Tucker IS Dr Who!' making the rounds [NSFW language, surprisingly].
Cision's UK Influencer Search tool reveals how widely the topic appeals and how many niche blogs can find an angle to include the story.
Political and social blog, Mars Hill, published a short post saying: 'A Good Choice as the 12th Doctor!' The blog included the trailer for Peter Capaldi's breakout film Local Hero.
No Rock and Roll Fun.com published: 'How Altered images and Spandau Ballet made the new Doctor Who'. The post reports that Peter Capaldi once supported Spandau Ballet on tour.
Sofeminine went with: 'Congratulations pour in for new Doctor Who Peter Capaldi – but some think he's too old'. The article examines the reactions from people connected with the show and the general public.
Contactmusic.com chose to highlight a small segment of the actor's on-air interview, in a post titled: 'Peter Capaldi Lied To His Family Over Doctor Who Role'. It sounds more dramatic than it is.
WhatsOnStage highlighted Peter Capaldi's previous theatre work, with roles in The Ladykillers and Twelfth Night. The article also examines the relationship previous Doctor Who actors have with the stage.  
Fat Frocks focused completely on the Doctor Who Experience, an exhibition in Cardiff, with the only tie-in a P.S. stating, 'CAPALDI!! Are you excited?!'
And finally, Live Like a VIP included the news in its 'Mega Monday Music And Party Gossip' alongside Eva Longoria looking 'angelic' and Rihanna 'having fun' in Barbados. Apparently Peter Capaldi will: 'Excite the parents (and the mums) more than the kids'.
The news is still gaining coverage and is almost certainly the biggest PR stunt of the Doctor's career. Have you read an interesting article about Peter Capaldi's appointment? Let us know in the comments below.
The Conversation Cloud was made with Cision Social Media via CisionPoint. All of the blogs are listed in the CisionPoint Media Database and were found via Cision's UK Influencer Search.
Priyanka Dayal
https://www.vuelio.com/uk/wp-content/uploads/2023/09/vuelio-logo-200px.png
Priyanka Dayal
2013-08-05 11:55:36
2013-08-05 11:55:36
Peter Capaldi is Doctor Who