Political Headlines – 100 Tories oppose May, no debate, more time and doctors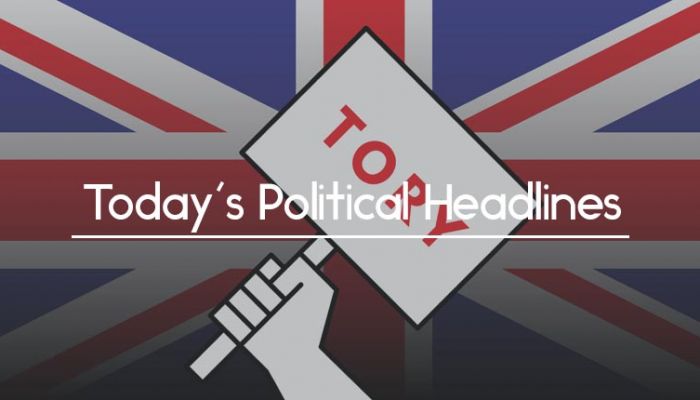 Today's political headlines include 100 Tory MPs opposing May's Brexit agreement, May rules out debating Brexit campaigners, EU prepared to give UK more time and Government relaxes doctor rules. 
100 Tory MPs now oppose Brexit agreement
The Daily Telegraph reports that a hundred Conservative MPs have now declared that they will vote against the Government's Brexit agreement. The hundredth to declare his position was Matthew Offord, who warned that it would leave the UK 'bound' to the EU. The paper adds that Theresa May's de-facto deputy David Lidington has promised the UK would follow the same single market rules as Northern Ireland if the backstop came into force, providing 'reassurance to people that the commitment to the Union is very, very deeply felt.'
May rules out debating with Brexit campaigners
The Guardian says that Theresa May has agreed to participate on a TV debate on the Brexit deal so long as it is only against Jeremy Corbyn. Campaigners for a People's Vote and hard Brexiteers, such as Boris Johnson, have called for their inclusion in any debate, so that a wider spectrum of views are represented. May has agreed to debate plans put forward by the BBC, but Labour prefers a proposal put forward by ITV.
EU prepared to give the UK more time to agree softer Brexit
The Times suggests that European leaders would be prepared to extend Article 50 by three months, allowing a second referendum or Norway-style Brexit to be agreed. However, this would only be offered if Parliament was clear on the form of Brexit it wanted. Yesterday, May claimed that extending Article 50 would lead to negotiations reopening and a potentially worse deal emerging.
Government relaxes limit on non-EU doctors
In an exclusive, The Guardian reports that the Government will relax rules on immigration in order to allow more non-EU medics to work in the UK under the medical training initiative, potentially increasing the cap from 1500 to 3000 and the amount of time spent in the UK as part of the scheme from two to three years.
Whips threaten to shorten Christmas break
The i claims that Conservative MPs have been warned by their whips that a defeat to the Government's Brexit deal could lead to their Christmas break being curtailed and Parliament being recalled before the New Year. Rebels have apparently also accused whips of using 'emotional blackmail' and threatening that they risked Brexit not happening.
May to raise journalist's death with Saudi crown prince
According to The Guardian, Theresa May has said that she intends to speak about the killing of Jamal Khashoggi and the conflict in Yemen when she meets the Crown Prince of Saudi Arabia, Mohammed bin Salman at this weekend's G20 summit, calling for a 'full and transparent investigation' into the journalist's death, and a 'political solution' for Yemen.
Labour MP uses debate to reveal he's HIV-positive
The BBC reports that Labour MP Lloyd Russell-Moyle used a House of Commons debate to reveal that he is HIV-positive, making him the first to do so in the Commons and the second in total. He called on ministers to review cuts to sexual health budgets which were taking the country in the 'wrong direction', and talked about his 'long journey' to acceptance.
BBC defends itself against 'fake pastor' accusation
The Daily Mail claims that the BBC is 'under fire' after Lynne Hayter, an actress who claims to be a pastor but seems not to have an actual church, appeared on Newsnight to discuss Brexit, leading Lord Adonis to dub her a 'fake pastor'. Presenter Emily Maitlis warned Adonis against becoming 'a peddler of fake news', while the show claimed that Hayter was a 'genuine participant'.
Want to know what's happening with Brexit as it happens? Get Vuelio Political Services.
https://www.vuelio.com/uk/wp-content/uploads/2018/11/Tory-party.jpg
430
760
Thomas Stevenson
https://www.vuelio.com/uk/wp-content/uploads/2015/10/vuelio-logo-transparent.png
Thomas Stevenson
2018-11-30 10:42:19
2018-11-30 10:42:19
Political Headlines - 100 Tories oppose May, no debate, more time and doctors