Political Headlines – Brexit security, Brexit finance, Brexit referendum and Brexit deal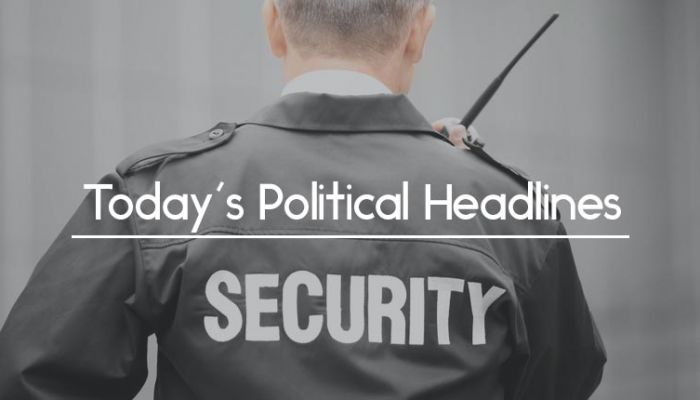 Today's political headlines include warnings over the UK's security with a no-deal Brexit, no-deal Brexit to cause worst financial crisis since 1930s, McDonnell claims Labour would inevitably back a second referendum and Leadsom backing Theresa May's deal. 
Minister warns of no-deal Brexit's impact on the UK's security
The BBC reports that Security Minister Ben Wallace is to warn that a no-deal Brexit 'would have a real impact on our ability to work with our European partners to protect the public', adding that the Government's agreement laid the foundations for the broadest security relationship between the EU and another country. However, Diane Abbott, the Shadow Home Secretary, has described the proposed agreement as 'dangerously flimsy' and 'simply unacceptable'.
No-deal Brexit to cause worst financial crisis since 1930s
The Times says that analysis by the Bank of England shows that the UK 'would be plunged into its deepest recession since the 1930s' in a no-deal Brexit scenario. In the worst case, house prices would plummet by 30%, interest rates grow to 5.5%, and the economy reduce by 8%. This followed the release of Government analysis which showed that the UK would become worse off under all versions of Brexit.
McDonnell claims that Labour would 'inevitably' back a second referendum
The Guardian reports that Shadow Chancellor John McDonnell has said that Labour will 'inevitably' back a second referendum if the Government loses a vote on the EU withdrawal agreement, admitting that while the party would prefer a general election, this would be 'very difficult to do'. Theresa May has claimed that this shows that Labour wants 'to overturn the will of the British people'.
Leadsom backs Brexit deal
The Daily Mail reveals that Andrea Leadsom, the leader of the House of Commons, has written to constituents to confirm that she is backing Theresa May's Brexit deal, claiming that it 'delivered' on the referendum vote, though she admitted that she still had concerns about the Irish backstop.
NHS plan delayed by Brexit row
According to The Sun, the Government has delayed Monday's planned release of the NHS's 10-year plan after internal objections to the Prime Minister's claim that extra funding could only be guaranteed by backing her Brexit deal. The plan will now be revealed after the vote on the deal, with Government sources claiming that this was because it is not yet complete.
Police defend knocking suspects off mopeds
The Times says that the Metropolitan Police is defending itself after Shadow Home Secretary Diane Abbot criticised its new 'tactical contact' technique of knocking suspected criminals off mopeds, claiming that it should 'not be legal'. Inspector Richard Bern, of Camden police, said that the technique had helped deliver a 90% reduction in moped-enabled theft.
Social media risks creating loneliness, minister warns
The Daily Telegraph reports that Digital Minister Margot James will today tell social media companies that their networks risk making people lonely, by acting as a substitute for meeting face to face, and that they should do more to bring people together in person. She said that the Government's Online Harms White Paper would 'ask searching questions about the effect new technology has on mental health and wellbeing'.
MPs want law on rapist fathers changed
The Guardian says that MPs and campaigners are calling for changes to a law which allows rapists to apply for a role in the life of children born as a result of the rape they committed. The campaign, inspired by a case in Rotherham, has been backed by the victims' commissioner, Lady Newlove, and MPs Louise Haigh and Sarah Champion.
Want to know what's happening with Brexit as it happens? Get Vuelio Political Services.
https://www.vuelio.com/uk/wp-content/uploads/2018/11/Security.jpg
430
760
Thomas Stevenson
https://www.vuelio.com/uk/wp-content/uploads/2015/10/vuelio-logo-transparent.png
Thomas Stevenson
2018-11-29 10:30:11
2018-11-29 10:30:11
Political Headlines - Brexit security, Brexit finance, Brexit referendum and Brexit deal