Political Headlines – Brexit warnings, DUP threats, legal advice and no confidence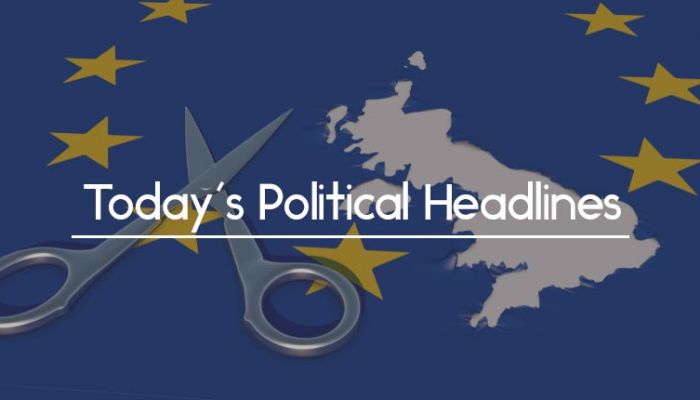 Today's political headlines include Brexit adviser warned May against customs backstop, DUP threatens to withdraw support, former attorney general rejects Government's legal advice position, Labour would table vote of confidence if Commons rejects deal. 
Brexit adviser warned May against customs backstop
The Daily Telegraph reveals that Oliver Robbins, the Prime Minister's chief Brexit adviser, warned her that the backstop on customs would be a 'bad outcome' for the UK, and that an extended transition period would provide a 'cast iron escape route' instead. The letter was given to the paper by 'a concerned minister'.
DUP threatens to withdraw support in confidence vote
The Times says that the DUP has threatened not to support Theresa May in a confidence vote, should the Brexit deal fail to get through the Commons. A source said that the party felt that the Conservatives were not keeping to the terms of the confidence-and-supply deal, by risking creating a sea border between Northern Ireland and the rest of the UK.
Former attorney general rejects Government's legal advice position
According to The Daily Telegraph, Lord Goldsmith, who served as Attorney General under Tony Blair, has said that the Government's use of the Iraq War as precedent for keeping its legal advice on Brexit secret is wrong as the Commons never formally requested it. The Government is to publish a legal position statement today, with Attorney General Geoffrey Cox taking question from MPs.
Labour would table vote of confidence if Commons rejects deal
The Guardian says that Labour's Shadow Brexit Secretary Sir Keir Starmer has indicated that his party would almost certainly try to hold a vote of no confidence in the Government if its Brexit deal is rejected by the Commons. He said that if it couldn't obtain a general election, it would then 'press on to other options such as a public vote', which should not include a no-deal Brexit as this would be too damaging.
Gove warns there's a 'real risk' of another referendum
The Times reports that Environment, Food and Rural Affairs Secretary Michael Gove has warned rebel Conservative MPs that there was a 'real risk' of a second referendum if they failed to back Theresa May's Brexit deal, but did not rule out backing a Norway-style deal is the Commons rejected May's. The Sun suggests that the Government has considered scrapping the vote on the deal so that May can reopen negotiations, either to extract concessions or to demonstrate that there is no better deal on offer.
Brexit TV debate dispute continues
The Guardian reports on the dispute over the proposed Brexit television debate. Several Conservative Brexiteers have written to the BBC complaining about their exclusion, while Sir Vince Cable, the Lib Dem leader, has made a similar complaint to the BBC, ITV and Sky. Theresa May and Jeremy Corbyn still haven't agreed on a format or a broadcaster.
Questions raised about Osamor following resignation
The Times reports that Sir Alistair Graham, former head of the Committee on Standards in Public Life, has claimed there are 'questions about' Kate Osamor's 'suitability to be an MP'. She stepped down as Shadow International Development Secretary at the weekend after the paper reported that she knew about her son's conviction on drugs offences earlier than had been claimed, and she threatened one of the paper's journalists, throwing water at him.
Javid and May in low-skilled migration disagreement
In an exclusive, The Sun says that Home Secretary Sajid Javid and Theresa May are arguing about how quickly to restrict low-skilled immigration after Brexit. Javid wants to keep the system as it is for a period, while May favours more immediate restrictions to encourage firms to recruit British workers instead.
Want to know what's happening with Brexit as it happens? Get Vuelio Political Services.
https://www.vuelio.com/uk/wp-content/uploads/2018/12/Brexit-cut-out.jpg
430
760
Thomas Stevenson
https://www.vuelio.com/uk/wp-content/uploads/2019/09/vuelio-logo.png
Thomas Stevenson
2018-12-03 10:37:42
2018-12-03 10:37:42
Political Headlines - Brexit warnings, DUP threats, legal advice and no confidence