Political Headlines – air pollution advice, at least five men killed after being deported and Home Office to review charge for calling police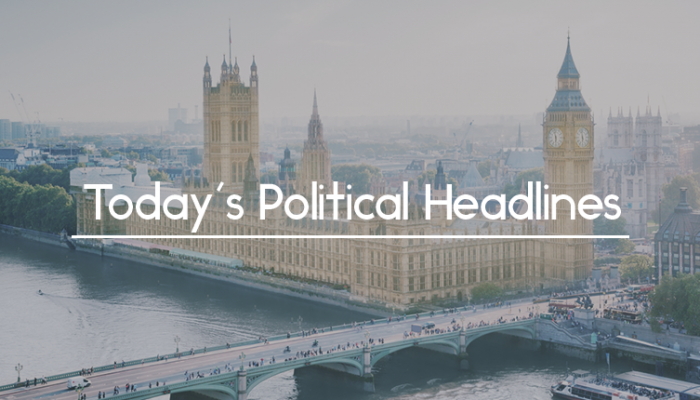 Today's political headlines includes medics warning Government is ignoring air pollution advice, at least five men killed after being deported to Jamaica, Home Office to review charge for calling police, emergency services communications overhaul delayed and over-budget. 
Medics warn Government is ignoring air pollution advice
The Times says that the Royal College of Physicians and the Royal College of Paediatrics and Child Health are warning that the Government is ignoring medical advice and doing the 'minimum possible' to tackle air pollution, focusing on a 'series of distractions' including wood-burning stoves, instead of concentrating on the problems caused by traffic fumes.
At least five men killed after being deported to Jamaica
The Guardian claims that at least five men have been killed in Jamaica since last March after being deported there by the Home Office, despite rules banning it from deporting individuals to countries where their life might be at risk. The Home Office does not monitor what happens to deportees, but following an investigation the paper was able to verify at least five deaths, with one deportee telling it that he feared they were being targeted.
Home Office to review charge for calling police
The Daily Telegraph says that the Home Office has said that it will review the charges for calls to 101, meaning that victims of crime may no longer have to pay to call the police. The department might pay the £3.3m cost itself, or make telecoms firms pay for it. Vodafone has already announced that it will stop charging customers for calling the number.
Emergency services communications overhaul delayed and over-budget
The Daily Mirror reports that a National Audit Office report warns that a 'critical' overhaul of the communications network, Airwave, used by the emergency services is likely to be further delayed, despite the Home Office having already put it back by three years, to 2022. The project will cost £3.1bn more than planned, and key technology has yet to be proven.
Fox says he sympathises with Brexit Party voters
International Trade Secretary Liam Fox has told The Sun that he sympathises with Conservatives who are considering voting for the Brexit Party in the European elections. He said he would be campaigning for Tory candidates as the election was about 'more than one issue' and revealed that his department has increased no-deal Brexit preparations this week.
Tories fear coming sixth in European election
The Guardian claims that Conservative Party officials fear coming sixth in the European elections, with candidates claiming that the party was 'almost in denial' about the election happening and that it was 'seriously embarrassing'. The party plans to spend no money on candidate campaigning, won't have a manifesto and isn't having a campaign launch.
May considering new indicative votes
According to The Daily Telegraph, Theresa May has been warned by a Cabinet minister that she could end up with an 'Auf Wiedershen, Pet' Brexit deal that nobody wants if she presses ahead with new indicative votes (a reference to an episode of the TV show in which the builders paint their shed yellow based on second preferences, despite it being no-one's first preference). May is reportedly considering making MPs rank their preferred Brexit outcomes.
Attempt to stand joint pro-remain candidate in Peterborough fails
The Times reports that an attempt by the Liberal Democrats, the Green Party and Change UK to stand a joint candidate at the Peterborough by-election has failed, resulting in 'chaos and bitter recrimination' and resulting in Change UK not standing. The parties would have backed Femi Oluwole, of Our Future, Our Choice, but he pulled out at the last minute, with Change UK blaming 'senior Labour figures' for warning they would 'disrupt the campaign'.
Need to stay up to date with the latest in domestic policy? Get Vuelio Political Services.  
https://www.vuelio.com/uk/wp-content/uploads/2017/11/Todays-Political-Headlines.png
430
760
Thomas Stevenson
https://www.vuelio.com/uk/wp-content/uploads/2023/09/vuelio-logo-200px.png
Thomas Stevenson
2019-05-10 09:43:29
2019-05-10 09:43:29
Political Headlines - air pollution advice, at least five men killed after being deported and Home Office to review charge for calling police