Political Headlines – Brexit talks unlikely to conclude early and a new expenses scandal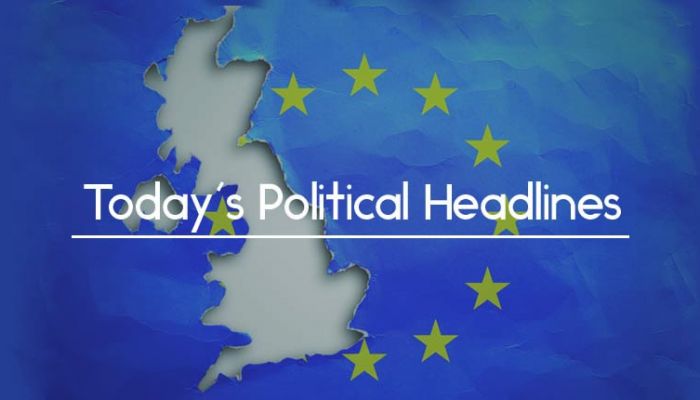 Today's political headlines includes Brexit talks unlikely to conclude early, the watchdog that tried to suppress details of MPs' credit cards, defence space strategy leaked and a UKIP EU election candidate investigated over rape threat. 
Early conclusion of Brexit talks unlikely as May given deadline to set resignation roadmap
The Financial Times says that the chances of a cross-party deal on Brexit being reached soon have faded, with talks ending without a 'firm conclusion'. A Labour figure told the paper that the talks had been 'robust'. Cabinet Office Minister David Lidington admitted that the UK would take part in the European elections and suggested that the Government now aimed to agree a deal by the summer recess, which would imply Brexit occurring on 1 August. The Daily Telegraph adds that at a meeting yesterday Sir Graham Brady, Chair of the 1922 Committee of backbench Conservative MPs, gave Theresa May until 4pm today – when the committee next meets – to lay out a 'roadmap' for her resignation as Prime Minister.
Watchdog tried to suppress details of MPs' credit card suspensions
The Daily Telegraph reports that the Independent Parliamentary Standards Authority tried to prevent the revelation that 377 MPs, including nine Cabinet ministers and Jeremy Corbyn have had their official credit cards suspended after breaking rules on expenses. However, the watchdog's decision was overturned following a review by the former High Court judge Sir Robert Owen, who is a member of its board.
Defence space strategy leaked
The Times has obtained a copy of the UK's first defence space strategy, which identifies ten key risks to British satellites and proposes new methods of protecting them, including a greater role for Defence Intelligence, a new National Space Operations Centre and a constellation of small satellites run by the RAF to help with intelligence, surveillance and reconnaissance.
UKIP European election candidate investigated over rape threat
The Guardian reports that Carl Benjamin, a UKIP candidate for the South West in the European elections better known online as Sargon of Akkad, is under investigation by police over a YouTube clip in which he made comments about raping the Labour MP Jess Phillips.
High streets must shrink, Brokenshire says
In an exclusive, The Sun reports that James Brokenshire, the Housing, Communities and Local Government Secretary, has said that high streets would need to shrink in order to survive, with former shops becoming housing. He also said that there was a limit to what the Government could do, but that 'councils have an important role to play'.
'Incoherent' climate change aid policy criticised by MPs
The Times carries details of a new report by the Commons International Development Committee which criticises the Government's 'incoherent' aid policy for spending £4.9bn on projects to tackle climate change in developing countries, while simultaneously spending £4.8bn on schemes which produce carbon emissions.
Home Office to scrap asylum target
The Guardian reports that the Home Office is to scrap its target of processing most asylum claims within six months, causing consternation amongst human rights lawyers, who warned that the number of vulnerable asylum seekers facing delays might become even worse and that the Home Office would be likely to face more legal challenges.
Pensioners could oust Tory MPs over free TV licence cuts
The Daily Mirror says that research unveiled by Labour today shows that pensioners, set to lose their free TV licences, could oust enough Tory MPs to ensure that the Government loses its majority. MPs will today participate in a debate aimed at saving the benefit, the cost of which is due to be transferred to the BBC, which has suggested scrapping it.
What does Brexit mean to you, your business and your industry? Find out with Vuelio Political Services.  
https://www.vuelio.com/uk/wp-content/uploads/2018/11/EU-Brexit.jpg
430
760
Thomas Stevenson
https://www.vuelio.com/uk/wp-content/uploads/2023/09/vuelio-logo-200px.png
Thomas Stevenson
2019-05-08 09:29:45
2019-05-08 09:29:45
Political Headlines - Brexit talks unlikely to conclude early and a new expenses scandal