Political Headlines – NHS to boost overseas recruitment and Farage criticised over antisemitic conspiracy theories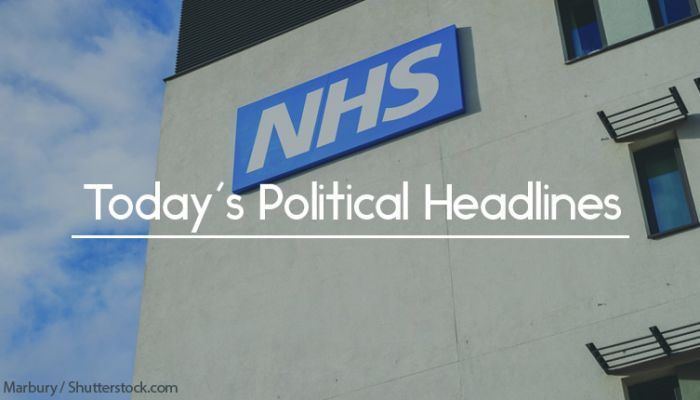 Today's political headlines includes the NHS to increase overseas recuitment, Farage criticised over antisemitic conspiracy theories, May to unveil customs arrangement and McDonnell welcomes basic income report.  
NHS to boost overseas recruitment
A study by the NHS on increasing staffing has been leaked to The Times. It reveals the health service is to set targets of recruiting 5,000 nurses a year from overseas for the next five years in a bid to fill staff shortages, and concedes that doctors and nurses are leaving the service because they feel exhausted owing to the failure of the NHS to plan for an aging population. However, even if the plan goes into action the present shortfall will be barely reduced.
Farage criticised over antisemitic conspiracy theories
In an exclusive, The Guardian reveals Nigel Farage is facing criticism from Jewish and other groups after for repeatedly appearing and discussing conspiracy theories on the show of Alex Jones, including some linked to antisemitism, with terms such as 'globalists' and 'new world order' and claiming members of the Bilderberg gathering are plotting a global government.
May to unveil customs arrangement
The Times claims that Theresa May will today unveil plans for a customs arrangement with the EU until the next general election in a bid to win support from Labour for a Brexit deal. She will also meet Sir Graham Brady, chair of the 1922 Committee of backbench Conservative MPs, who is expected to tell her to announce when she will quit, regardless what happens with Brexit.
McDonnell welcomes basic income report
The Daily Mirror reports that Shadow Chancellor John McDonnell has welcomed a new report by the Progressive Economy Forum which calls for the UK to pilot the idea of giving every citizen a £100 a week 'basic income'. Appearing at the report launch today, McDonnell will describe it as an 'important contribution' which he will study carefully.
Gwynne warns Labour against shift to remain
The Guardian says Labour's campaigns chief Andrew Gwynne has warned the party against pivoting to further towards remaining in the EU following the local election results. Writing in the paper, he says Labour shouldn't back what he calls '"stop Brexit" simplicity'. He warns a second referendum is a 'difficult message' to the party's 'traditional supporters'.
UKIP may be about to have seventh leader in two and a half years
The Daily Telegraph reports that Labour may be about to have its seventh leader in two and a half years after Gérard Batten suggested that he may not stand for the position when his term ends in June. He said it would depend on the European election results and how he felt, adding that being leader 'costs me money'.
Sadiq Khan accused of climate hypocrisy
The Daily Mail says that the Mayor of London, Sadiq Khan, has been accused of being a 'hypocrite' for warning of a 'climate emergency' while he and his team accumulated 280,000 air miles, emitting 180 tonnes of carbon dioxide. Conservative London Assembly Member Susan Hall said that 'it is clear that his own actions fail to match his words'.
Northern Ireland talks to restart
The Financial Times says that powersharing talks in Northern Ireland are to resume today but that 'hopes for an early deal are low' despite the success of the centrist cross-community Alliance Party in last week's local elections. However, neither the DUP or Sinn Féin suffered a backlash in the elections.
Want to understand what the council results mean to you? Download our exclusive guide to local elections.  
https://www.vuelio.com/uk/wp-content/uploads/2018/06/NHS.jpg
430
760
Thomas Stevenson
https://www.vuelio.com/uk/wp-content/uploads/2019/09/vuelio-logo.png
Thomas Stevenson
2019-05-07 09:39:55
2019-05-07 09:39:55
Political Headlines - NHS to boost overseas recruitment and Farage criticised over antisemitic conspiracy theories