Political Headlines – Bercow to stay as Speaker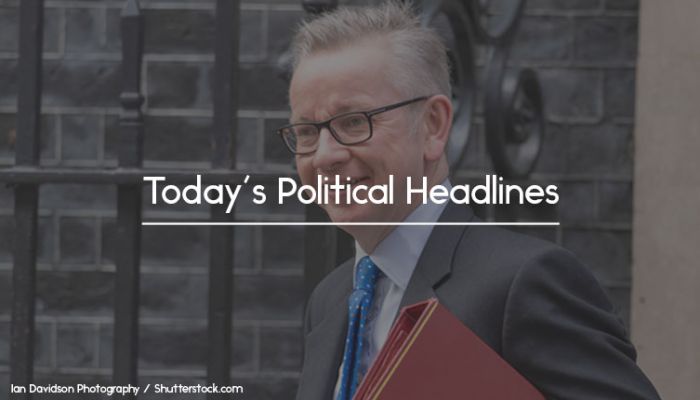 Today's political headlines includes Bercow says that he's staying as Speaker, Hunt is losing support to Gove and Corbyn faces mutiny over Campbell expulsion and antisemitism investigation.
Bercow says that he's staying as Speaker
The Guardian has been told by Commons Speaker John Bercow that he now intends to remain in post as it would not be 'sensible to vacate the chair' while there were 'great issues to be resolved'. He described as 'unimaginable' the suggestion that Parliament would 'be evacuated from the centre-stage of the debate on Brexit' despite Conservative leadership candidates advocating a no-deal Brexit.
Hunt loses support to Gove
According to The Times, Jeremy Hunt is losing support to Michael Gove in the Conservative leadership contest after suggesting a no-deal Brexit would be 'political suicide' for the party, despite previously claiming he would rather no-deal to no Brexit. Crispin Blunt said that Hunt 'has the best personal skill' but he had 'to have a plan B'. Brexit Minister James Cleverly has now also announced his candidacy, saying he would prefer to leave with a deal and the party needed to be united, which could not happen 'if it is led from the fringes'.
Corbyn faces mutiny over Campbell expulsion and antisemitism investigation
The Daily Telegraph reports that Jeremy Corbyn is facing a mutiny following a 'series of crises'. The party has expelled Alastair Campbell, Tony Blair's old communications director, for revealing that he voted for the Liberal Democrats in the European elections, prompting former Cabinet ministers Charles Clarke and Bob Ainsworth to reveal that they had also done so. The Equalities and Human Rights Commission announced that it was launching a statutory investigation into antisemitism in the party, prompting MP Margaret Hodge to say that yesterday was 'one of the most depressing in my 56 years as a member'.
Corbyn could announce support for a second referendum this week
The Daily Mirror claims that Jeremy Corbyn could announce his support for a second referendum 'within days', following Labour's poor showing at the European elections. Welsh Labour leader Mark Drakeford said that Corbyn was continuing to receive advice, the party's position was 'still evolving' and more would be revealed 'over this week', while Shadow Home Secretary Diane Abbott said the party was 'supporting a people's vote strongly now'.
IFS warns that council spending has fallen by over a fifth since 2010
The Guardian carries details of a report by the Institute for Fiscal Studies which finds that spending by councils on local services has fallen by 21% since 2010 and that the funds available for them would become ever-more inadequate in the 2020s, making the current financing system unsustainable.
Stewart doubles aid spending on global warming
The Times says that International Development Secretary, and Tory leadership contender, Rory Stewart has announced that the Government will double the amount of aid spending on the environment, investing in British research to prevent a 'climate cataclysm'. The doubling will take place over five years, with spending reaching £2.2bn in 2025.
Hancock criticises Johnson for his anti-business position
In an interview with the Financial Times, Matt Hancock has criticised Boris Johnson for his anti-business position, saying that 'to the people who say "fuck business", I say "fuck, fuck business"'. He said that if he were elected as leader, he wouldn't pursue a no-deal Brexit, adding that Speaker John Bercow would ensure that MPs blocked such an option.
Javid promises to recruit more police officers
Writing in The Sun, Home Secretary Sajid Javid says he will recruit 20,000 extra police officers if he becomes Prime Minister, spending £1bn over three years to end criminals' 'culture of impunity', claiming 'more police on the beat means less crime on our streets'.
Stay up to date with the latest political news with instant alerts from Vuelio Political Services.  
https://www.vuelio.com/uk/wp-content/uploads/2019/05/political-headlines-29.05.19.jpg
430
760
Thomas Stevenson
https://www.vuelio.com/uk/wp-content/uploads/2019/09/vuelio-logo.png
Thomas Stevenson
2019-05-29 14:04:24
2019-05-29 14:04:24
Political Headlines - Bercow to stay as Speaker