Political Headlines – Brexit borders and understanding & the four-day week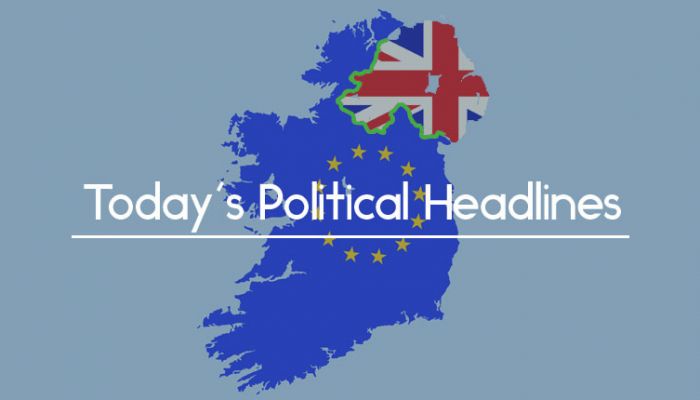 Today's political headlines continue with the Brexit theme, with a border in the Irish Sea proposed for a no-deal scenario, Raab criticised for a lack of understanding of UK trade. McDonnell looking into the case for a four-day week and crisis on the high street. 
Border in the Irish Sea if there is no Brexit deal
The Times reports on a leaked letter from Theresa May signalling that in the event of a no deal Brexit a customs border in the Irish Sea will be put in place. The PM has previously promised the DUP that she would not sign up to any deal that would result in Northern Ireland being separated from the rest of the UK. DUP MP for East Antrim, Sammy Wilson, has accused the PM of betrayal.
Raab criticised for lack of understanding of UK trade
The BBC reports that Brexit Secretary, Dominic Raab is facing criticism for saying that he 'hadn't quite understood' how the UK relies on trade in goods from the Dover-Calais crossing. Raab made these remarks when speaking about the deal the UK is seeking after it leaves the EU. In his comments the Brexit Secretary also accepted that UK consumers may face less choice of products if frictionless trade is not maintained.
McDonnell may look further into the case for a four-day week
The Shadow Chancellor has been working with economist Lord Skidelsky about an inquiry into changing the working week from five days to four as reported by the Guardian. McDonnell has previously said that Labour would investigate ways to reduce the working week. Skidelsky has said he is looking at reducing the standard working week and hopes his findings will be open to anyone to look at the results. France and Germany have higher levels of production than the UK and work less.
Crisis on the high street continues
Sky report on research produce by PwC and the Local Data Company that shows that 14 shops a day are closing on the high street and the crisis will continue. As well as shops closing at a rapid rate there is also fewer new shops starting up. Larger chains as well as independent retailers have been forced to close shops this year.
Fund set up to tackle rogue landlords
The Guardian reports on a Government fund that has been launched that will help councils in England tackle rogue landlords. The funding is intended to give councils more power to combat rogue landlords and ensure homes are of a good standard; £2m has been put forward but this works out at less than £6,000 for each council. Campaign groups hope that more funding will be put forward when the changes to the law are in place.
More than 450 missing foreign criminals lost by the Home Office since 2016
The Sun reports that the Home Office has lost more than 450 foreign criminals since 2016, 223 of those who absconded have since been found. Conservative MP, Tim Loughton said the findings are horrifying and that we should immediately deport these criminals. Since 2010, 44,500 foreign national offenders have been deported.
Don't get criticised for a lack of understanding, get Vuelio Political Services.
https://www.vuelio.com/uk/wp-content/uploads/2018/04/Irish-border-Brexit.jpg
430
760
Jennifer Prescott
https://www.vuelio.com/uk/wp-content/uploads/2019/09/vuelio-logo.png
Jennifer Prescott
2018-11-09 12:49:08
2018-11-09 12:49:08
Political Headlines - Brexit borders and understanding & the four-day week