Political Headlines – Brexit votes, NHS funding, Grenfell Tower and care costs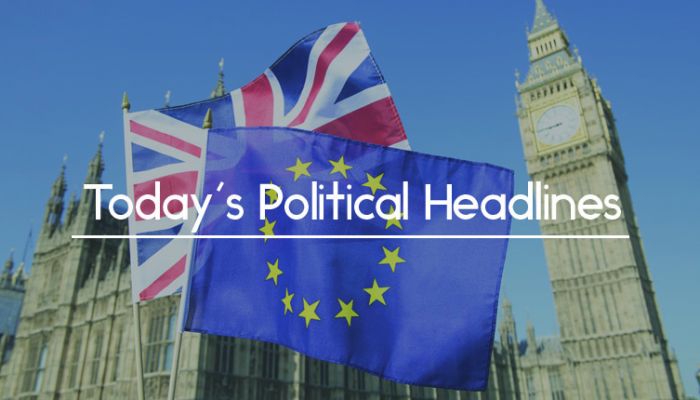 Today's Political Headlines include Brexit votes in parliament, Hammond giving the NHS more money, May regrets her Grenfell Tower response and councils warn of cuts to care costs. 
Tory rebels may defeat Government on meaningful vote on Brexit deal
The Guardian says that it has been told by 'several leading Conservative rebels' that they are not satisfied by changes to the meaningful vote on the Brexit deal proposed by ministers, but that a defeat over the customs union has been avoided. The Government is to back an amendment on the issue backed by Nicky Morgan and Jacob Rees-Mogg, and the issue will be deferred until the customs and trade bills. A compromise amendment on the meaningful vote has been tabled by Dominic Grieve, but has not been accepted by the Government.
Hammond prepares to raise up to £10bn for NHS
The Times claims that Chancellor Philip Hammond is preparing to raise up to an extra £10bn to find the NHS, while Theresa May is to lift a cap on skilled workers from outside the EU which is blocking Foreign doctors from working in the service. Hammond wants a real terms increase of under 3% a year, funded through tax increases and borrowing, and has defeated Cabinet proponents of a dedicated NHS tax.
May regrets Grenfell Tower response
The Guardian reports that Theresa May has admitted that her response to the fire at Grenfell Tower was not good enough and that she would 'always regret' not meeting survivors. She has pledged to learn lessons from the tragedy and to light Downing Street in green on Thursday as part of a wider series of commemorative events.
Councils warn of cuts to care costs
The BBC carries the results of a survey by the Association of Directors of Adult Social Services which shows that councils expect to spend £21.4bn on care services this year. The organisation warns that that this is not enough, with three-quarters of councils cutting services and almost half planning to introduce higher charges.
Arron Banks denies receiving Russian money
As the BBC reports, Leave.EU founder Arron Banks is to give evidence to the Commons Digital, Culture, Media and Sport Committee today, following claims that he met Russian officials ahead of the Brexit vote. He has denied receiving Russian money, saying that this was 'part of a fake news narrative'. According to The Guardian, Home Secretary Sajid Javid told MPs that the Government are treating the allegations 'very seriously'.
Johnson backs 'Brexit Bridge' between Scotland and Northern Ireland
According to The Daily Telegraph Foreign Secretary Boris Johnson has thrown his support behind proposals for a £15bn 'Brexit bridge' between Scotland and Northern Ireland. A source close to Johnson told the paper that it was 'an interesting idea which ought to be looked at more seriously'.
EU outlines reasons for rejecting UK's Irish border proposals
The Financial Times says that the EU has outlined its reasons for rejecting UK proposals on the Irish border. According to slides published by the European Commission, British proposals 'leave key questions unanswered', 'do not cover regulatory controls' and are 'time-limited'. The paper also reports that the UK will apply to remain in the European standards system.
May describes G7 summit as 'difficult'
The BBC reports that Theresa May told MPs that the G7 summit at the weekend was 'difficult' and that there were 'strong disagreements' between President Trump and other leaders. She said that US trade policies had 'deeply disappointed' her and praised Justin Trudeau for the 'skilful' way in which he had hosted the meeting.
Receive bespoke political briefings directly to your inbox. Find out more about Vuelio Political Services.
https://www.vuelio.com/uk/wp-content/uploads/2018/06/Brexit-parliament.jpg
430
760
Thomas Stevenson
https://www.vuelio.com/uk/wp-content/uploads/2019/09/vuelio-logo.png
Thomas Stevenson
2018-06-12 09:26:09
2018-06-12 09:26:09
Political Headlines - Brexit votes, NHS funding, Grenfell Tower and care costs