Political Headlines – Labour rebels, Dominic Grieve, immigration and SNP MPs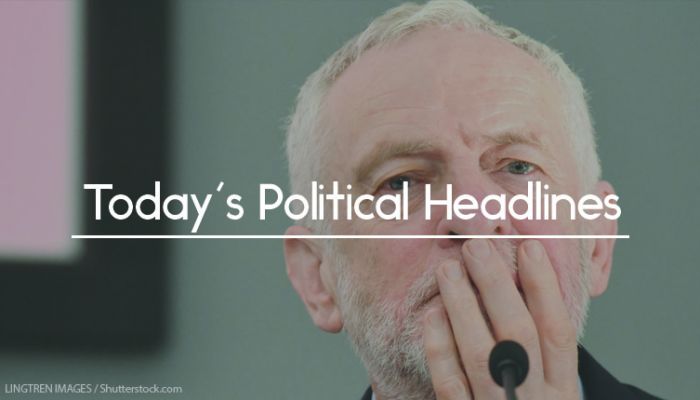 Today's Political Headlines include rebel Labour MPs, Grieve's visit to the European Commission HQ, the easing of immigration restrictions and Sturgeon's pride. 
90 Labour MPs rebel on single market vote
As The Times reports, 90 Labour MPs defied Jeremy Corbyn's instructions to abstain on a vote on remaining in the European Economic Area, with 75 voting in favour and 15 against. Laura Smith, Shadow Cabinet Office Minister, resigned to vote against the amendment, with five parliamentary private secretaries also resigning to vote for it. The Guardian says that it has learnt from Downing Street sources that a compromise amendment on a meaningful vote on the deal, which must be tabled today, has not yet been agreed.
Grieve spotted visiting European Commission HQ
The Daily Mail reports that Conservative rebel Dominic Grieve visited the European Commission's London headquarters yesterday for a private meeting of anti-Brexit campaigners. Other attendees included Alastair Campbell, Conservative and Lib Dem peers and members of pro-EU campaign groups. Grieve claimed that he was attending to 'explain something about what was going on Parliament, just as I go and talk to all sorts of groups.'
Immigration restrictions to be eased for highly-skilled migrants
The Daily Telegraph says that Home Secretary Sajid Javid is to announce a 'major easing' of the immigration system, allowing thousands more highly-skilled people to move to the country. Foreign doctors and nurses are to be excluded from the cap and, as a result, businesses will be able to recruit an extra 8,000 skilled migrants a year.
Sturgeon 'proud' of SNP MPs for walking out of PMQs
As the BBC reports, Scottish First Minister Nicola Sturgeon has said that she was 'proud' of SNP MPs' decision to walk out of Prime Minister's Questions yesterday, and that it had made sure that 'Scotland's voice was heard'. The row erupted after Ian Blackford, the SNP's leader at Westminster, demanded the Commons sit in private as a protest about the 'lack of debate' over the Scottish Government's concerns about the EU (Withdrawal) Bill.
Rees-Mogg defends firm's decision to establish Irish fund
The Daily Telegraph reports that Somerset Capital Management, set up by Brexiteer Jacob Rees-Mogg, has established an investment fund in Ireland and is warning clients of the dangers of a hard Brexit. Rees-Mogg, who still works part-time for the firm, claimed that the launch of the new fund 'was nothing whatsoever to do with Brexit.'
Serjeant at Arms under investigation over verbal abuse
The Daily Telegraph claims Kamal El-Hajji, the Serjeant at Arms, is under investigation over claims that he verbally abused a female security official last week. Yesterday, he defended the Speaker, John Bercow, against bullying allegations, describing them as a 'witch-hunt'.
Lib Dems confident of coming second in by-election
According to the Financial Times, the Liberal Democrats are confident they can overtake the Conservatives and come second in the parliamentary by-election in Lewisham East today, increasing their share of the vote from 4% to 25%, because of concerns over Brexit. Labour, which holds the seat, warned in an internal email that turnout was a 'huge issue'.
EU members vote to exclude UK from Galileo contracts
The Guardian reports that a 'fresh row' has broken out over UK participation in the EU's Galileo satellite navigation programme, after a majority of member states voted to procure the next round of contracts, despite a British request for a delay to permit negotiations over continued British involvement. Science minister, Sam Gyimah, claimed that the UK was ready to 'walk away' from the project as a result.
Receive bespoke political briefings directly to your inbox. Learn more about Vuelio Political Services.
https://www.vuelio.com/uk/wp-content/uploads/2018/06/Jeremy-Corbyn-hands-on-face.jpg
430
760
Thomas Stevenson
https://www.vuelio.com/uk/wp-content/uploads/2019/09/vuelio-logo.png
Thomas Stevenson
2018-06-14 09:52:18
2018-06-14 09:52:18
Political Headlines - Labour rebels, Dominic Grieve, immigration and SNP MPs