Political Headlines – NHS funding, Brexit deal, Universal Credit and the Lewisham by-election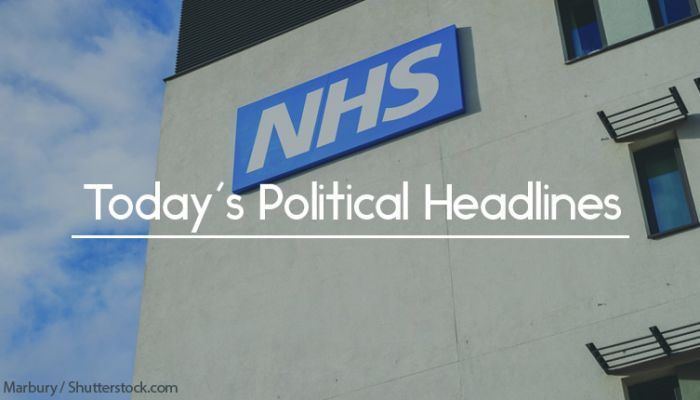 Today's Political Headlines include extra funding for the NHS, Government abandons deal with rebels, Universal Credit unlikely to ever be value for money and Lib Dems cut Labour's majority in Lewisham by-election. 
May set to announce £4bn a year extra for the NHS
The Daily Telegraph expects Theresa May to announce a £4bn a year increase in NHS funding on Monday. The 3% per annum boost will be funded through a 'Brexit dividend', a possible freeze of some tax thresholds, and some borrowing. Speaking to the Oxford Union this week, NHS England chief, Simon Stevens, reportedly told students that an increase of 3.5-4% was needed to ensure a 'responsive, well-functioning health service'.
Government abandons deal with rebels
The Times claims that pro-EU Conservative rebels are 'up in arms' after the Prime Minister abandoned a compromise over allowing Parliament to influence the direction of Brexit in the event of no deal. Lead rebel Dominic Grieve said that the Government's decision to abandon an agreement was 'incomprehensible and unacceptable'.
Universal Credit unlikely to ever deliver value for money, NAO finds
The Guardian carries details of a critical report on Universal Credit by the National Audit Office. It finds that the policy is unlikely to ever deliver value for money as it may end up costing more than its predecessor, can't prove that it has helped claimants back to work and has left many in hardship.
Lib Dems cut Labour's majority in Lewisham by-election
As The Guardian reports, Labour's Janet Daby has won the by-election in Lewisham East, with the Liberal Democrat candidate Lucy Salek finishing second, cutting Labour's majority from almost 45% to 25.6% and forcing the Conservatives into third. Lib Dem leader Vince Cable claimed the party benefited from Labour's 'failure' to oppose hard Brexit.
Government backs bill against 'upskirting'
The Daily Mail reports that the Government is to support a private members' bill to crack down on 'upskirting', introduced by Liberal Democrat MP Wera Hobhouse. The bill will see perpetrators face sentences of up to two years and put on the sex offenders' register.
Introduction of new maximum stake on betting machines delayed
The Times claims that the new £2 maximum stake for fixed odds betting terminals will not be introduced until April 2020, following a deal between bookmakers and the Treasury. Bookmakers claim they need time to reprogramme the machines, but this claim has been disputed by campaigners and, privately, by manufacturers.
Split over post-Brexit security partnership
According to The Daily Telegraph, the EU is 'fighting' to avoid an internal split over the post-Brexit security partnership. It claims that Horst Seehofer, German's interior minister, has told French and Dutch counterparts that 'nothing must change' which could threaten citizens' security after Brexit. This stance is in opposition to that of the European Commission and Chancellor Angela Merkel.
More pensioners to benefit from 'warm home' scheme
The Sun reports that Claire Perry, the Minister of State for Energy, is to announce that thousands more pensioners will receive the 'warm home' discount on their energy bills. The threshold over which suppliers must participate in the scheme is to be reduced, so that smaller energy firms are included, following a campaign run by the paper.
Want your own political briefings about a particular area, subject or issue? You need Vuelio Political Services.
https://www.vuelio.com/uk/wp-content/uploads/2018/06/NHS.jpg
430
760
Thomas Stevenson
https://www.vuelio.com/uk/wp-content/uploads/2019/09/vuelio-logo.png
Thomas Stevenson
2018-06-15 09:26:54
2018-06-15 09:44:44
Political Headlines - NHS funding, Brexit deal, Universal Credit and the Lewisham by-election