Political Headlines: Brexit won't be extended, May will be 'forced to quit' in Spring and rail chaos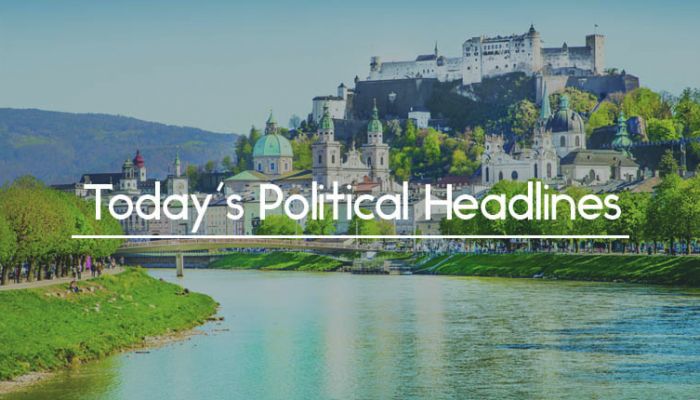 Today's Political Headlines include May's insistence that Brexit negotiations won't be extended, the leaked memo suggesting May will be forced to quit next Spring, rail timetable chaos caused by systematic failings and Paisley recall petition fails. 
May insists Brexit negotiations won't be extended
The BBC says that Theresa May used a dinner with her EU counterparts in Salzburg last night to tell them that Brexit negotiations wouldn't be extended and a deal must be struck in the next two months. She insisted that the bloc rethink its position on the Irish border, but there are also suggestions that the UK will propose new regulatory checks to try to resolve the issue. The Maltese and Czech Prime Ministers told the BBC that they hope the UK will hold another referendum on Brexit. Meanwhile Sir Mike Penning, who helped to run May's leadership campaign, has told The Daily Telegraph the Chequers plan is as 'dead as a dodo'.
Leaked memo suggests May will be forced to quit next spring
The Daily Telegraph has obtained an internal memo, originally written in April but shared among Tory MPs recently, which claims that Theresa May will be forced to stand down 'soon after March 2019' and assesses potential successors. It claims that Michael Gove is 'on manoeuvres', Philip Hammond has 'not a hope', Liam Fox is 'fading', Boris Johnson won't win as 'the front-runner never wins' and Jacob Rees-Mogg is unlikely to be in the last two.
Rail timetable chaos caused by 'systematic' failings, inquiry finds
The Times reports that an inquiry into this summer's rail timetable chaos has found that it could happen again owing to 'systematic' failings. Companies knew that there would be disruption, but did not warn passengers, the Department for Transport didn't ask them enough questions, and Transport Secretary Chris Grayling signed-off a key change to services. Grayling announced a 'root-and-branch' review of the rail system yesterday, to be led by John Lewis's deputy chairman Keith Williams.
Paisley recall petition fails
The BBC reports that DUP MP Ian Paisley has held onto his seat after a recall petition against him gained the support of 9.4% of the electorate, rather than the 10% needed to trigger his recall. The petition, the first of its kind, was caused by Paisley's suspension from Westminster for failing to declare holidays paid for by the Sri Lankan government.
Labour plans to speed up handling of antisemitism cases
According to The Guardian, Labour's National Executive Committee has endorsed plans to double the parties disciplinary body in order to expedite the processing of antisemitism allegations. The plans, which the party's conference will need to vote on, would see the National Constitutional Committee gain 14 more members, amongst other changes.
Law changes to make it easier for leaseholders to buy freeholds
The Times says that plans to be announced today by the Law Commission, at the request of the Government, will make it easier for leaseholders to buy their property's freehold by abolishing the minimum period before a purchase is possible. Additionally leases will be able to extended for longer, multiple times, and at lesser cost.
Watson announces plans for £140m tax on gambling operators
The Sun reports Labour's deputy leader Tom Watson has announced plans to introduce a 1% compulsory levy on gambling operators' gross yield, which would raise £140m each year. The money would be used to fund treatment for problem gamblers. Other policies include banning gambling promotions during live sport events and on using credit cards to gamble.
Number of new social rent houses cut by over 200,000
The Daily Mirror claims that the number of new social rent homes per year has been cut by over 200,000 since 2010, according to statistics it says are 'buried' in a Government report. Labour's John Healey has accused the Conservatives of 'making the housing crisis worse'.
Want comprehensive coverage of the Labour Party Conference direct to your inbox? Free sign up here.
https://www.vuelio.com/uk/wp-content/uploads/2018/09/Salzburg.jpg
430
760
Thomas Stevenson
https://www.vuelio.com/uk/wp-content/uploads/2019/09/vuelio-logo.png
Thomas Stevenson
2018-09-20 09:22:55
2018-09-20 09:22:55
Political Headlines: Brexit won't be extended, May will be 'forced to quit' in Spring and rail chaos