Political Headlines – May's pitch, People's Vote, immigration limits and council house pride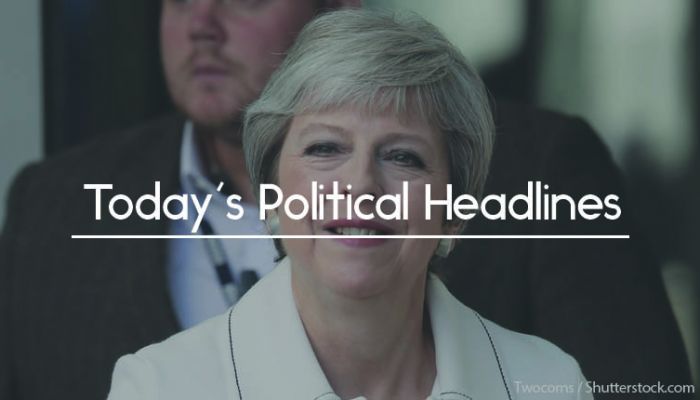 Today's Political Headlines include May pitching her Chequers deal to EU27, People's Vote's plans for a second referendum, new immigration limits and May says take pride in living in a council house. 
May set to pitch Chequers deal to EU27
Prime Minister Theresa May flies to Salzburg today to meet with leaders of the EU27, with The Guardian reporting that chief EU negotiator Michel Barnier has rejected calls for the EU to soften their stance on the Irish border. The FT reports that May is planning to appeal directly to other EU leaders in order to reach a compromise on the issue.
People's Vote publishes plan for second EU referendum
The BBC have reported on a document released by the People's Vote campaign, which sets out the route towards securing another public vote on Brexit. The Daily Express have splashed on an exclusive with Theresa May, who has heavily criticised the calls, saying that 'we've had the people's vote – it was the referendum'.
Plans for new immigration limits given boost
The Times are reporting that Government plans for new restrictions on low-skilled migration have been bolstered by a report released by the Migration Advisory Committee. The committee called for an end to low-skilled migration from the EU, with a move towards a global system whereby EU citizens are treated the same as those from non-EU countries. The Guardian have led with the response from business groups, who have reacted with anger, saying that major industries may collapse due to labour shortages.
Take pride in living in a council house, says May
The Telegraph are reporting on a speech set to be made by Theresa May later today, in which she will indicate a major shift in Conservative housing policy and commit to spending an extra £2bn on social housing. In the speech, May will say people should feel 'proud' of living in council housing, and both politicians and society should stop 'looking down' on council housing residents.
Hunt impresses on visit to Japan
Sky News have reported on praise for Foreign Secretary Jeremy Hunt, who became the first UK minister to give a speech in Japanese. Hunt is visiting Japan to strengthen UK relations with the country and took the opportunity in his speech to pledge a 'new era of friendship'.
Watson furious at conference snub
The Sun have details of a row between Deputy Labour leader Tom Watson and leader Jeremy Corbyn, after Watson was unhappy with his speaking slot at the upcoming Labour conference. Watson is said to have directly challenged Corbyn in a shadow cabinet meeting, and is alleged to have criticised a member of Corbyn's staff for leaking discussions.
Do you want complimentary political monitoring over Conference Season? Sign up for free here.
https://www.vuelio.com/uk/wp-content/uploads/2018/09/Theresa-May-2018.jpg
430
760
Jake O'Neill
https://www.vuelio.com/uk/wp-content/uploads/2019/09/vuelio-logo.png
Jake O'Neill
2018-09-19 09:43:38
2018-09-19 11:16:53
Political Headlines - May's pitch, People's Vote, immigration limits and council house pride