Political Headlines – Corbyn rejects 'stupid woman' claim and Brexit latest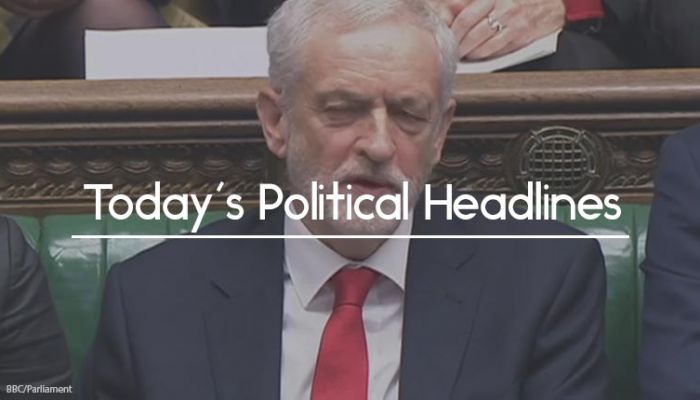 Today's political headlines include Corbyn rejecting the claim that he called May a 'stupid woman', ministers expecting May to back down over immigration income threshold, the Polish prime minister calling on EU leaders to support May and Rudd describing a second vote as plausible. 
Corbyn rejects claim he called May a 'stupid woman'
The Times claims that Jeremy Corbyn's credibility is 'on the line' after he had to deny that he called Theresa May a stupid woman at Prime Minister's Questions. Several lip-reading experts believe that he did say the words in question, but Commons Speaker John Bercow has ruled that MPs should accept Corbyn's assertion that he instead said 'stupid people'. Andrea Leadsom, the Leader of the House of Commons, accused Bercow of calling her a 'stupid woman' and not apologising earlier this year.
Ministers expect May to back down over migrants' income level
According to The Guardian, rebellious ministers believe that Theresa May will ultimately be forced to lower the minimum income threshold for workers wishing to migrate to the UK from £30,000 to £21,000, with intense lobbying from business groups expected. Home Secretary Sajid Javid admitted to the Commons that the proposed level was 'not set in stone', while the CBI said that the 'proposals must change'.
Polish prime minister calls on EU leaders to support May
Interviewed by The Daily Telegraph, Mateusz Morawiecki, the Polish prime minister, has said that EU leaders need to be 'unequivocally supportive' of Theresa May, and that the 'strong statements and harsh words of some politicians in Brussels do not help'. He added that he believed that May, who he visits today, 'can navigate through the storm'.
Rudd describes second vote as 'plausible'
Amber Rudd has told ITV's Robert Peston that she could see a 'plausible argument' for a people's vote on Brexit, 'if Parliament absolutely fail to reach a consensus', adding that it was 'incumbent on MPs to find the centre ground' as most people don't want to be asked to vote again.
Gove unveils plans for new environmental watchdog
The Guardian reports that proposals for a new environmental watchdog after Brexit will see it empowered to sue the Government, although campaigners have raised concerns that the body will not be sufficiently independent because the Environment Secretary will decide on its chair and its budget. Greener UK warned that while the plans showed 'ambition', without 'further work', protection after Brexit would be 'weaker'.
Javid describes research on adverts on child abuse websites as 'horrifying'
The Sun says that Home Secretary Sajid Javid has described as 'horrifying' research by the Internet Watch Foundation showing that one in ten child abuse websites host adverts for legitimate companies. He called on advertisers to 'do everything in their power to prevent unscrupulous websites from making money from this horrendous crime'.
MP convicted of perverting the course of justice
The BBC reports that the MP for Peterborough, Fiona Onasanya, has been found guilty of perverting the course of justice after she lied to police about who had been driving a speeding car. The Labour Party has 'administratively suspended' her, and said that 'she should now resign'. She, and her brother, will be sentenced on a future date.
Homeless man found dying outside Parliament
The Mirror reports that a homeless man, Gyula Remes, who had been sleeping rough outside the entrance to Parliament has died after being taken to hospital. MPs were told about the death by Sir Keir Starmer. A friend of the man believed that Remes' death came after he smoked a cigarette allegedly laced with the drug spice.
Want to know who's saying what? Get Vuelio Political Services.
https://www.vuelio.com/uk/wp-content/uploads/2018/12/Corbyn-stupid-woman.jpg
430
760
Thomas Stevenson
https://www.vuelio.com/uk/wp-content/uploads/2019/09/vuelio-logo.png
Thomas Stevenson
2018-12-20 10:28:14
2018-12-20 10:28:14
Political Headlines - Corbyn rejects 'stupid woman' claim and Brexit latest