Political Headlines – Good Friday Agreement, Syria strikes, serious violence strategy and the war on prostate cancer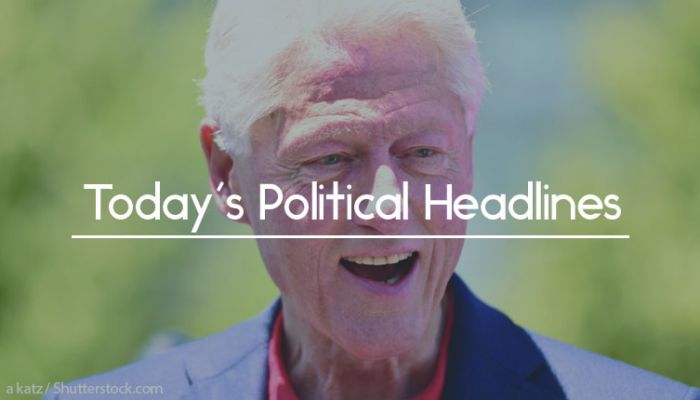 Today's Political Headlines include the anniversary of the Good Friday Agreement, May under pressure to join US strikes, the serious violence strategy and May's £75m prostate cancer strategy.  
Good Friday Agreement anniversary marked, but Gardiner and Davis criticise Irish government over its Brexit stance
The BBC reports that former US President Bill Clinton is visiting Northern Ireland to mark the 20th anniversary of the Good Friday Agreement and will speak at a conference also featuring Tony Blair and Bertie Ahern. The BBC adds that Barry Gardiner, Labour's Shadow International Trade Secretary is facing criticism after he suggested that the Irish government and Sinn Fein have 'played up' concerns about the impact of Brexit on the agreement, while The Times says that David Davis has accused the Irish government of bowing to political pressure from Sinn Fein and adopting a hardline stance on Brexit.
May under pressure to join US strike against Assad regime
According to The Times, Theresa May is under pressure from ministers and allies to join a US-led military strike against the Assad regime in Syria. Officials have suggested it is unlikely that MPs will be recalled from their Easter break in order to authorise action, but a senior military source told the paper that options are being examined and that a parliamentary vote is not necessary.
Serious violence strategy overshadowed by row over impact of police numbers
The Guardian reports the Government's new serious violence strategy claims that tackling serious violence is not a law enforcement issue alone and fails to discuss the impact of police levels, despite a leaked Home Office report having linked the two issues. The paper claims that the leak 'threatened to overshadow the broader findings of the strategy, such as the impact of drug markets, social and economic disadvantages and social media'.
May to set out £75m prostate cancer strategy
The Daily Mail says that Theresa May is to set out a 'five-year campaign to wage war on prostate cancer' today. She is to announce £75m of spending to help spot the disease earlier and improve treatment, with the amount spent on research to be roughly equal to that spent on breast cancer.
Norway offers to roll-over trade deals, as Denmark warns of post-Brexit bureaucracy
The Financial Times reports that Norway has signalled that it will co-operate with the UK's desire to roll over trade agreements with non-EU countries in the post-Brexit transition phase. However, The Guardian says that the Danish Prime Minister said, following talks with Theresa May, that while he was in favour of 'an enhanced trade agreement' between the EU and the UK, there will be more bureaucracy after Brexit.
UK one of just five countries to meet foreign aid target
The Daily Telegraph reports that the UK is now one of just five countries which meet the UN's foreign aid target of 0.7% of GDP. The UK is bound by law to keep the target, and gives almost double the average of all countries according to new figures from the OECD. The UK is responsible for £1 of every £8 given by developed countries.
Gove considers banning live animal exports
According to The Times, Environment Secretary Michael Gove is considering a ban on the export of live animals for slaughter abroad after Brexit. A call for evidence has been issued by the Government today, with animal welfare groups warning that travel can be stressful for animals and that some foreign abattoirs have lower standards.
Social media junk food adverts face ban
The Times reports that junk food adverts are to be banned on social media, with ministers examining the possibility of identifying social media users by age and banning targeted advertising accordingly, under plans to combat obesity, with minister considering whether to force restaurants to label unhealthy foods as they finalise a strategy before the summer.
Learn more about Vuelio political services.  
https://www.vuelio.com/uk/wp-content/uploads/2018/04/Bill-Clinton.jpg
430
760
Thomas Stevenson
https://www.vuelio.com/uk/wp-content/uploads/2019/09/vuelio-logo.png
Thomas Stevenson
2018-04-10 08:44:35
2018-04-10 08:44:35
Political Headlines - Good Friday Agreement, Syria strikes, serious violence strategy and the war on prostate cancer