Political Headlines – Syria, Barry Gardiner, British Gas and David Davis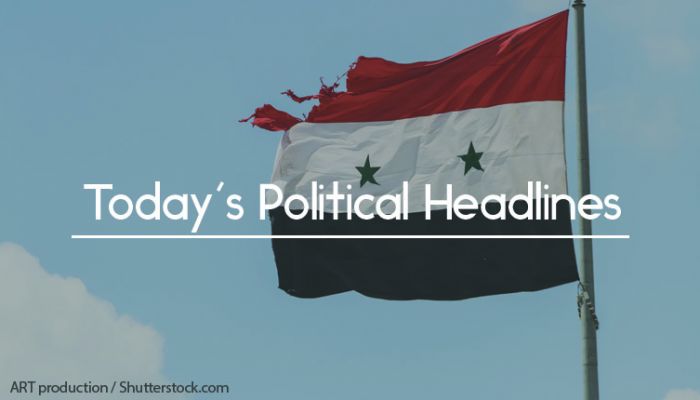 Today's Political Headlines include the Syrian chemical attack, Labour's Barry Gardiner, British Gas price rise and Davis' internal victory.  
UK and allies agree that international community must respond to Syrian chemical attack
The BBC reports that Theresa May has agreed with her counterparts in the US and France that the international community must respond to an alleged chemical attack in Syria, and that those responsible must be 'held to account'. A report in The Times suggests that Theresa May has rejected a swift retaliation, telling the US that the UK needed more evidence. The paper adds that Julian Lewis, Chair of the Commons Defence Committee, has said that the UK should not take action without the approval of the House of Commons.
Barry Gardiner 'fully supports' Labour policy on Brexit, despite calling it 'bollocks'
Labour has claimed that its Shadow International Trade Secretary Barry Gardiner 'fully supports' the party's policy on Brexit, The Guardian reports, despite it having emerged that he described one of Shadow Brexit Secretary Keir Starmer's six tests for judging the final deal as 'bollocks'.
Energy Minister criticises British Gas price rise
The Daily Mail reports that Energy Minister Claire Perry 'savaged' British Gas last night, telling customers to switch providers, after the firm announced a 5.5% rise in the cost of gas and electricity which she said was 'unjustified'. Separately, The Sun says that Environment Secretary Michael Gove has been asked for stronger powers by Ofwat in order 'to get the water sector back in balance'.
Davis wins internal battle over Brexit negotiations
The Times says that David Davis has won an internal battle with Oliver Robbins, Theresa May's chief Brexit negotiator, over how much the UK could realistically agree with Brussels before October. Robbins was pushing for 'a broad, high-level document' agreeing the principles for the future EU-UK relationship, similar to the approach put forward by the European Commission, while Davis argued that it was possible to 'get pretty substantively close to a free trade agreement by October'. The paper adds that a study of 23 sectors by the CBI has found that 18 'favoured complete alignment with European rules and regulations' after Brexit. The Daily Telegraph says that EU chief negotiator Michel Barnier has demanded the UK signs a 'non-regression clause', pledging not to undercut standards.
Bill Clinton praises Good Friday Agreement, as Blair warns of Brexit challenge
Former US President Bill Clinton has called the Good Friday Agreement a 'work of genius' at a conference to mark its 20th anniversary, the BBC reports. The Guardian adds that Tony Blair has said that the UK and Ireland would have to 'overcome the challenge' posed by Brexit, and urged Northern Irish leaders 'not to cast aside' the gains from the agreement.
Rudd to announce £9m fund to tackle dark web
According to The Sun, Amber Rudd is to announce a £9m fund to ensure that every UK police force has a dedicated cyber crime unit, to tackle the 'sickening shopping list of services and products' available on the dark web. She will also ask tech and social media firms to do more to help authorities to capture criminals.
New centrist party claims to have links to Tony Blair and son
The Guardian claims that the new centrist party being funded by Simon Franks has told potential recruits that it has links to Tony Blair and his son Euan. One person was told that Euan Blair sat on the board and that Tony Blair had recommended potential donors. Euan Blair has not commented, while Tony Blair denied having direct involvement.
Israeli Labor Party cuts ties with UK Labour Party
The BBC reports that Israel's Labor Party has suspended relations with the UK's Labour Party over claims that Jeremy Corbyn has allowed 'anti-Semitic statements and actions' and exhibited 'very public hatred of the policies of the government of the state of Israel'.
Find out more about Vuelio political services.  
https://www.vuelio.com/uk/wp-content/uploads/2018/04/Syria.jpg
430
760
Jake O'Neill
https://www.vuelio.com/uk/wp-content/uploads/2019/09/vuelio-logo.png
Jake O'Neill
2018-04-11 08:51:55
2018-04-11 08:51:55
Political Headlines - Syria, Barry Gardiner, British Gas and David Davis